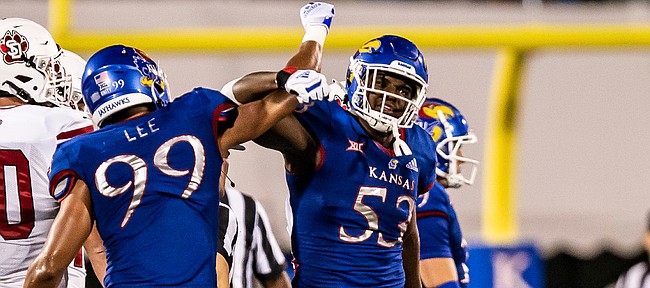 When Kansas football's starting nose tackle, super-senior Sam Burt, suffered an arm injury in the first quarter of the Jayhawks' season opener, the defensive line needed one of its younger interior players to step in and fill Burt's important role. It turned out redshirt freshman Caleb Taylor was the man for the job.
Taylor impressed immediately, recording two tackles for loss in KU's Week 1 victory over South Dakota. And the 6-foot-2, 275-pound lineman from St. Louis has started every game since then.
It's a job Taylor wasn't anticipating, and that's partly why he said he hasn't even "fully realized" how much he's contributing at this stage of his career.
"I don't know if I've really had a second to sit back, like, 'Wow. This is my dream. And I'm doing it,'" a smiling Taylor shared. "It's definitely been nice stepping into that role so early."
KU head coach Lance Leipold said Taylor isn't "the biggest defensive tackle," and praised Taylor for doing an "outstanding" job of handling his difficult task in the trenches since replacing Burt, who is still rehabbing toward a return.
"It's not a position that gets a lot of notoriety," Leipold said. "He just goes in there and, like a lot of defensive tackles, he doesn't say a heck of a whole lot, comes in each day and does his work. And I appreciate what he does for us."
After five games, Taylor has 11 total tackles, two TFLs and a quarterback hurry for the Jayhawks (1-4 overall, 0-2 Big 12). Often times, D-tackles such as Taylor are asked to take on offensive linemen and blockers as other teammates accumulate tackles and sacks.
Defensive coordinator Brian Borland said because Taylor is still young, he's "probably giving away a few pounds right now to the guys he's matching up with" on game days.
"So he's really got to come off the ball and he's got to do all he can to win at the line of scrimmage," Borland said.
Taylor thinks approaching each defensive snap with that knowledge — what it takes to succeed at a lower weight — has helped him keep his starting job. He said one of the D-line unit's strengths is its speed.
"And I feel like I'm one of those guys," he added. "So I've just been able to use that, do what I can, play to my strengths."
Leipold and the staff want Taylor to continue to add weight to his frame going forward, but still make sure he's able to utilize his athleticism up front. Borland said that's also the reality facing most of the young players on KU's defense.
"We've gotta get bigger and stronger," Borland said. "That's a process. That's not going to happen tomorrow."
Due to Burt's injury, the D.C. said, Taylor has been thrust into more reps than he likely otherwise would have been this early in the season. Borland said when Burt gets healthy and is cleared to play, Taylor's role and reps might decrease somewhat.
"That's probably good for him, because then the reps that he gets he can really go," Borland added, explaining because Taylor is regularly taking on larger O-linemen fatigue can play a factor over the course of a game.
Through KU's first five outings, Taylor has been on the field more than a lot of KU's other D-linemen, but the unit also does enough substituting to keep him from having to be on the field for every snap of every series.
"That definitely helps a lot. Even if you do play a lot of snaps, most of the time it won't be back to back," Taylor said. "Being able to get a breather, take a breath, cheer everybody else on means a lot."
With Burt possibly returning in the near future, there could be more of those chances for Taylor, and as Borland described, that could make the redshirt freshman more effective, too.
Taylor said he's all for the D-linemen sharing the load.
"If you're a unit you have to play together. You need that type of cohesiveness to be successful," he said. "We're coming together and we know what we need to clean up."