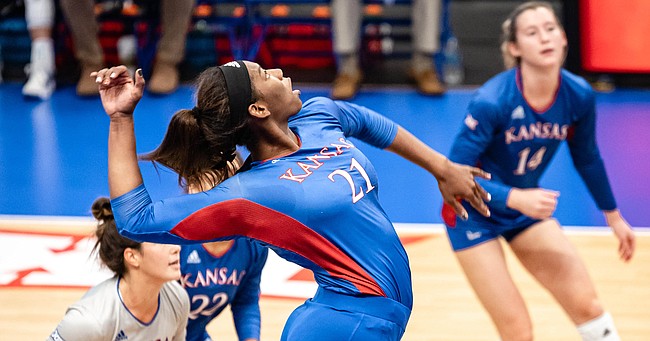 The Kansas volleyball team is well aware of what awaits this weekend, with big, bad, No. 1-ranked Texas coming to town.
But rather than being nervous or intimidated by the task, the Jayhawks are beaming with excitement.
"We've grown up watching these girls play," freshman outside hitter London Davis said after Friday's practice. "And having the opportunity to play against them is really exciting. I can even imagine the big points happening on our side and that just gives me goosebumps."
Davis is one of several Jayhawks who will be getting her first taste of Texas, a perennial powerhouse program that finished as the national runner-up a season ago. And in order to protect against the moment being too big, KU coach Ray Bechard and his staff have tried to emphasize the point-at-a-time mentality the team has operated with all season.
"The coaches, all week, have been like, 'Don't treat this like it's some kind of crazy game,'" freshman Caroline Bien said Friday. "So we're just excited."
Excited and loose.
The Jayhawks (11-4 overall, 3-1 Big 12) enter the weekend at No. 18 in the RPI rankings. Win or lose at 4 p.m. Saturday and 3 p.m. Sunday, just playing the Longhorns (11-0, 2-0) figures to boost KU's ranking. But this team is off to a hot start in Big 12 play and is hoping to do much more than just play with Texas this weekend.
"Easier to say, harder to do," Davis said. "But I think we see it as another Big 12 match. We have all the pieces to do it. We've been working really well together lately. And I'm excited to see what this group can do."
In order to even be in the match, Bechard said his team would have be solid everywhere and extra sharp in one particular area.
"You've got to serve tough," he said. "You've got to get their setter off the net so they can't play with that speed and that tempo."
Tough Texas teams is nothing new for KU, but Bechard said this bunch is a little different than many of the UT teams from the past.
"In the phases of pass, serve and defense behind the block, they're better than they've been, with the same level of Terminator athlete," he said. "So that's an interesting dynamic."
As athletes like that tend to do, Bechard said he has drilled his team on how to handle the highlight-reel points that will inevitably come this weekend.
"When they make one of those spectacular plays, it's still just worth one point," Bechard said of his message to his girls. "Don't let it create momentum to where it's four or five points.
"OK, you guys just bounced a ball that we haven't seen for a while? Well, it's one point (and) that's the same as a tip or hitting a ball off the block or one clipping the net.'"
Both Davis and Bien said this week's preparation focused as much on what Kansas needs to do right as what Texas does well, and that helped the Jayhawks maintain a free mind throughout the week.
"In the preseason, you kind of saw teams play that way against us," Bien said. "Like they had nothing to lose and that's how we want to play this weekend.
Bechard likes that approach and believes his team will bring its best to Horejsi Family Volleyball Arena over the next two days.
"They're excited," he said. "And it's hard to imagine that they'd do anything but have a good time and compete hard. Somebody said an underdog role is fun to be in, especially when the underdog's got some talent themselves."
Both matches will be televised, with Saturday's action streaming on Big 12 Now via ESPN+ and Sunday's match on ESPNU.