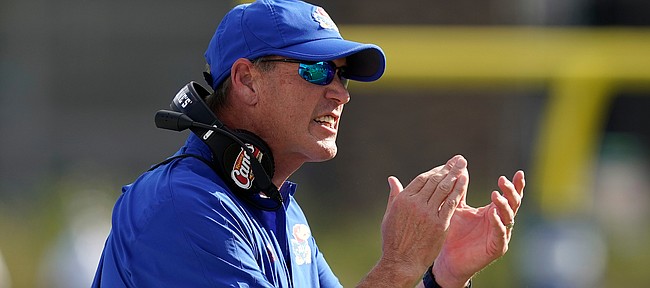 When his Kansas football team returns to competition on Oct. 16 after an open week on the schedule, head coach Lance Leipold expects to see in-game evidence that the Jayhawks maximized their extra practice time.
And Leipold will be looking for upgrades all over the field.
"The good and the bad of this is we have to improve in every area," Leipold said of the Jayhawks, who entered their bye week on a four-game losing streak and fresh off a 52-point beating at Iowa State.
As Leipold brought up during his press conference this week, it's not as if one side of the ball is playing "lights out" and the performances on the other side of the ball are holding KU (1-4 overall, 0-2 Big 12) back.
"There's plenty of improvement to go around," Leipold said. "And that can help during these type of times, because you can speak candidly and everyone's got to own it in the locker room, which keeps the locker room together."
The Jayhawks practiced Tuesday, Wednesday and Thursday during their bye week, and Leipold said the coaching staff wanted to just "keep taking the right steps" with the players.
That's been a key component of the process since Leipold and his staff got to KU after the conclusion of the program's spring practices. And as they work their way through a challenging season for both the offense and defense, Leipold said the coaches aren't looking for moral victories but are tracking progress in numerous facets of the program.
"I say it every week. There are areas of improvement happening. We had our fewest missed tackles," Leipold noted of one aspect of KU's loss at ISU. "Again, that doesn't mean we're not giving up big plays. And there's certain things — we've got to defend the quarterback better and things like that."
By the time the Jayhawks play again versus Texas Tech on Oct. 16, two weeks will have passed since their blowout loss at ISU. The extra days to prepare afforded KU the opportunity this week to get a head start on preparing for the Red Raiders (4-1, 1-1), who will face TCU on Saturday before making the trip to Lawrence next week.
During KU's practices earlier this week, Leipold said players spent a decent amount of time with the offense facing the defense. Some team segments were similar to preseason camp, with rapid fire huddles to make sure more players got reps and younger players would have opportunities to be involved.
"A lot of positives for these three days of practice," Leipold said, adding the players got Friday, Saturday and most of Sunday off once they were done with their Thursday requirements.
Leipold said he hoped the players would take advantage of that three-day break between practices to get better in every way they could, be that with their academics, watching video clips, putting in extra work on their own and/or finding time to get their bodies some rest.
"But hit the field Sunday night with great enthusiasm," Leipold added.
Saturday plans
With no game this week, Leipold said his calendar got freed up to do something he usually doesn't have as much time for on Saturdays in the fall: "I'm gonna be a dad and a husband," he said.
The KU football coach said the Leipolds Saturday plans this week were to make a quick trip to watch his daughter, Lindsey, play volleyball.
This weekend is the only chance Leipold has this year to see one of his daughter's games. Lindsey is a senior setter and libero at Stetson, in DeLand, Fla.
"It's starting to hit me a little bit it might be the last time I get to see her play a sport competitively," he said.
Much of the KU coaching staff, Leipold added, will be out recruiting on Saturday. The head coach was on the road doing the same earlier this week, and said he will be able to get away to do some more recruiting this coming week, as well.