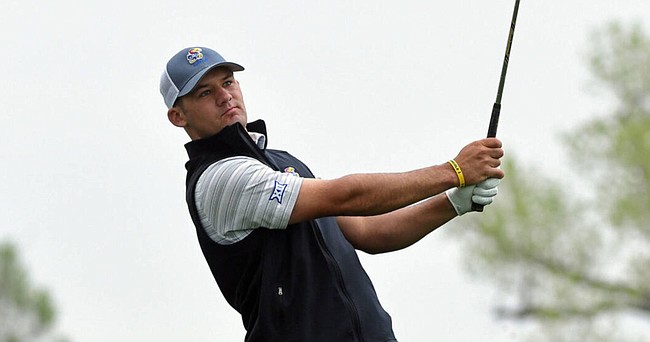 University of Kansas sophomore Luke Kluver was named the Big 12 Conference golfer of the month for September this week after a stellar start to the fall season.
The Norfolk, Neb., native won the Gopher Invitational at 10-under par and also carded two other top-10 finishes, tying for sixth at the Marquette Intercollegiate and tying for 10th at the Windon Memorial.
Kluver was at even-par or better in all nine of the competitive rounds he played in September and under par in eight of them. His single-round scoring average in September was 69 and he shot a 67 in the opening round of the Gopher Invitational and a 66 to close.
Kluver is the sixth Jayhawk golfer in KU history to earn a Big 12 golfer of the month honors, the first since Chase Hanna in 2017. Hanna won the award twice during his KU career. He was joined by Chris Marshall (2002), Andrew Price (2003), Nate Barbee (2010) and Ben Welle, who was a three-time Big 12 golfer of the month.
Kluver and his teammates will return to action next week for Big 12 Match Play in Houston. The tournament runs Monday through Wednesday at Houston Oaks Golf Course.