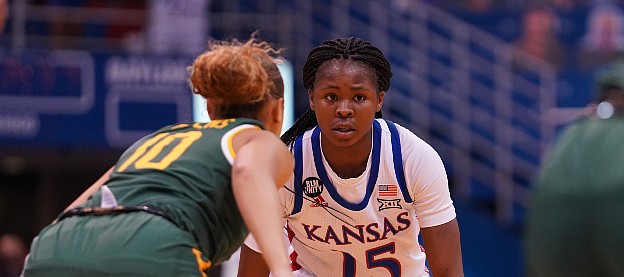 The Kansas women's basketball program has been picked to finish last in the Big 12 Conference by the league's head coaches, the Big 12 announced on Thursday.
KU, which finished in last place last season with a 3-15 conference record, received 17 points during the voting for this season's preseason coaches poll.
Kansas State and Texas Tech finished in an eighth-place tie with 26 points apiece, while Baylor (79), Iowa State (67) and Texas (67) landed in the top three spots.
Baylor received seven of the 10 first-place votes, while Texas received two and Iowa State one. It marked the 11th time since 2006 that BU had been picked to win the conference during the preseason.
Coaches were not allowed to vote for their own teams.
The KU women's roster will enter the season with several new faces, and seventh-year head coach Brandon Schneider said at last week's Late Night in the Phog event that KU fans would be proud of the way this team competes and plays on the floor.
"We have a group that's extremely fun to coach," Schneider said.
KU will be led by preseason all-Big 12 honoree Holly Kersgieter, who was tops on the team in scoring last season at 17 points per game.
Other returners on this year's team who played meaningful minutes a season ago include: senior guards Julie Brosseau and Aniya Thomas, junior guard Zakiyah Franklin, junior center Chisom Ajekwu, sophomore forwards Ioanna Chatzileonti and Katrine Jessen and sophomore guard Chandler Prater.
The Jayhawks will open the 2021-22 season on Nov. 10 at home against SIU-Edwardsville. Big 12 play is slated to begin on Jan. 2, 2022 at TCU.
2021-22 Big 12 Preseason Poll
Team (First-place votes) Points
1 - Baylor (7) 79
2 - Iowa State (1) 67
Texas (2) 67
4 - West Virginia 58
5 - Oklahoma 44
6 - TCU 32
7 - Oklahoma State 30
8 - K-State 26
Texas Tech 26
10 - Kansas 17