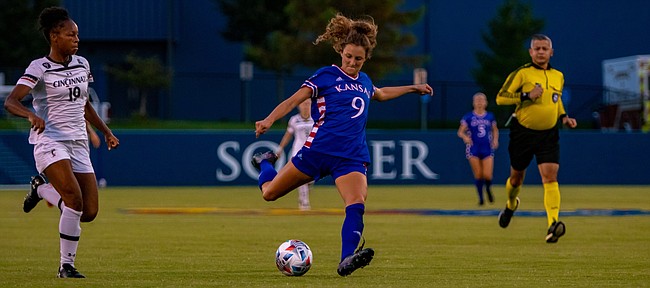 The Kansas soccer team eradicated a five-game losing streak and secured its first Big 12 victory of the season in one fell swoop Thursday night at Rock Chalk Park, where the Jayhawks knocked off No. 23 Baylor.
The Bears arrived in Lawrence on a three-game winning streak before KU jumped ahead early and preserved a 2-1 victory.
Senior midfielder Rylan Childers struck early for the Jayhawks (6-8-1 overall, 1-4 Big 12), with a goal on a penalty kick in the fourth minute, setting the stage for KU's first win since Sept. 16 at Dartmouth.
Sophomore forward Brie Severns scored seven minutes later to put the Bears (7-3-3, 3-1) in a 2-0 hole.
Baylor added some drama late, when Kayley Ables cut the KU advantage in half with a goal in the 80th minute before the Jayhawks held off the Bears for the final 10 minutes.
KU junior goalkeeper Emilie Gavillet finished with four saves in the win.
The Jayhawks are back in action on Sunday, when they play host to No. 9 West Virginia at 1 p.m.