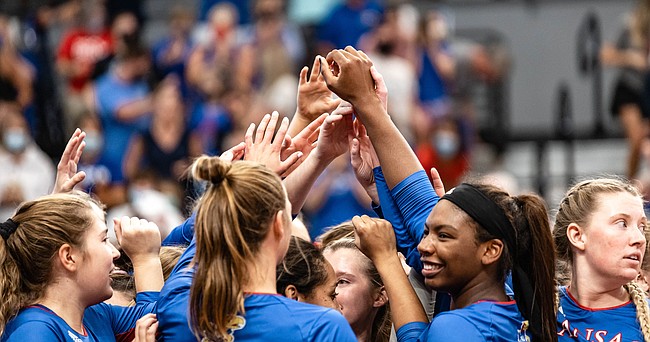 A 10-1 September and a 3-1 start in Big 12 Conference play landed the Kansas volleyball team back in the national rankings.
KU, which moved to 11-4 on the season after a split with Iowa State over the weekend, is ranked No. 18 in the country in the first RPI rankings of the 2021 season.
The Jayhawks have yet to crack the American Volleyball Coaches Association's top 25, but the next couple of weeks could change that.
KU plays host to No. 1 Texas, which received all 64 first-place votes in this week's AVCA poll, for two matches this weekend. And the Jayhawks will follow that up with a trip to Waco, Texas, for two matches with No. 12 Baylor the following weekend.
The unbeaten Longhorns (11-0) checked in at No. 2 in the season's first RPI rankings. Baylor (8-4) was No. 6 in the RPI rankings.
After KU's four-set victory over Iowa State last Friday, Kansas coach Ray Bechard said he was pleased about his team's approach to their nine-game winning streak that followed a 2-3 start to the season.
"It feels like momentum (is building)," Bechard said. "That trip (to Texas Tech to open Big 12 play) really did a lot."
Now, Bechard said, the goal is to keep the good results coming.
"October's really a grind-it-out kind of month in college volleyball and so that's what we're going to have to do," he said. "We just talk about being intentional one point at a time."