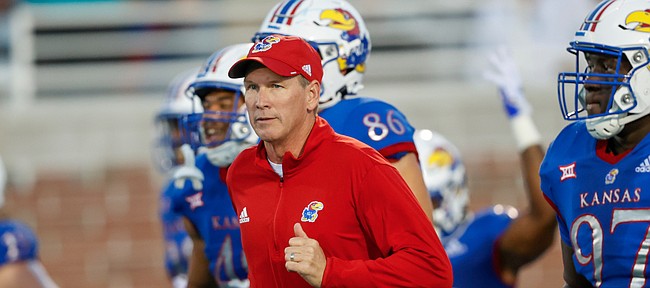 There's no game on the schedule this week for the Kansas football team, but head coach Lance Leipold and his staff have a long list of plans and tasks to accomplish, with the Jayhawks on a four-game losing streak.
"We've got a lot of balls in the air," Leipold said of the days ahead, with some extra time available during the bye week and his team not playing again until Oct. 16, when Texas Tech comes to Lawrence.
Leipold said following KU's 52-point loss at Iowa State on Saturday that the coaches already had this off week mapped out "before the score of this game or anything else," and the staff knew what needed to be addressed. As disappointing as this latest defeat may have been for the coaches, he added, it wouldn't change their to-do lists.
"You don't coach mad. You don't modify. You look at some different things you can do to improve on," he said. "But it's not like you're going to drastically change everything you do, because otherwise you're just grasping at straws."
Although Leipold and the former Buffalo assistant coaches who followed him to KU may have been tempted to have full-blown practices every day this week, given they've been playing catchup since coming in after spring football already had concluded, Leipold said that wasn't the best option.
"You've got to remember: they did have spring practice," the head coach said of the players. "There is a mental part of this. There is a physical part of this for them to be healthy. So we have to be smart."
The staff, which also will be able to get out and do some recruiting this week, plans to look closely at various aspects of the team and where the Jayhawks (1-4 overall, 0-2 Big 12) are at this stage of the first season of Leipold's rebuilding project.
The coach said, unlike most weeks, the Jayhawks wouldn't practice on Monday, instead using their time that day to meet, watch video and go over corrections. Part of having an open week, Leipold said, also involves trying "to get healthy," as some players are dealing with nagging injuries and/or soreness. That's why the Jayhawks get an extra day of rest before practicing Tuesday through Thursday.
In some ways, this week's practices will look a little more like what the Jayhawks did during preseason sessions in August. Some of the younger players who aren't counted on during games will get opportunities for increased reps, Leipold said.
Another benefit of not having a game looming is the Jayhawks can add to their play book, too. Offensive coordinator Andy Kotelnicki said he'll be able to install "a few more things" that the offense didn't have time to get to during preseason practices.
Obviously the Jayhawks can't just take a break and press pause for a week, Kotelnicki added, "because we need to view it as more of an opportunity for us to grow."
The O.C.'s bye week agenda includes a thorough self scout of KU's offense, to evaluate what the players are doing well and ways they need to improve, as well as what's working and what isn't from a play-calling perspective.
"We have a better understanding (now) of our players and our personnel," Kotelnicki said.
KU defensive coordinator Brian Borland described the bye week as an ideal time for the players to get back to some fundamentals.
Borland also said the practices will allow some of the younger players to continue their development, with more reps than they get during a game week.
Plus, Borland said the defense can get a head start on some of its preparation for Texas Tech (4-1, 1-1).
"We've got a lot to work on. We just do. And we all know it," Borland said. "We've just got to keep harping on those kind of things on a daily basis. And drill them and coach them and point things out off of film. Correct ourselves, try to go back out there and do it better the next day. If we can keep doing those things, eventually some of the difficulty we're having right now will certainly improve."