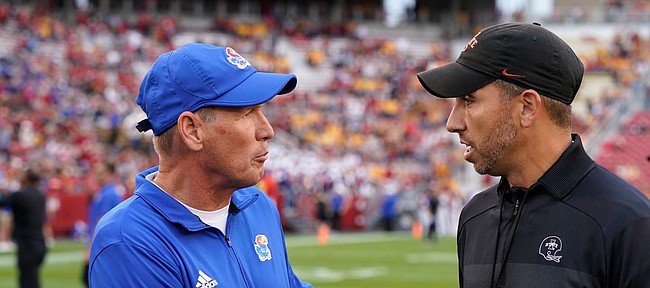 Ames, Iowa — Though his presence alone might not have saved the Kansas football team in a devastating first half at Iowa State Saturday night, the Jayhawks' secondary surely missed starting safety Kenny Logan Jr.
The Cyclones led by 38 points before Logan, a junior and team leader serving a one half suspension for a targeting penalty at Duke a week earlier, could even get on the field in what became a 59-7 rout.
ISU and quarterback Brock Purdy had 216 passing yards before halftime.
Seven different Cyclones caught at least one pass from Purdy in the opening two quarters, when the senior QB completed 15 of his 18 passes, with four touchdowns.
Super-senior Ricky Thomas and true freshman Jayson Gilliom were KU's starting safeties with Logan out for the first half. As expected, true freshman safety O.J. Burroughs played, too.
With Logan unavailable, junior KU receiver Jamahl Horne handled kickoff return duties. However, the speedy Horne didn't get any chances to show off his skills, as ISU kicker Andrew Mevis routinely boomed the ball to the back of the end zone for touchbacks.
Logan finished with two total tackles in the second half. He didn't get a kickoff return chance, either.
Leipold a fan of what Campbell's building
In the days leading up to Saturday's game, first-year KU football head coach Lance Leipold said he knows his ISU counterpart, Matt Campbell, "decently" from their brief time overlapping as MAC coaches.
Campbell's last season at Toledo was 2015, which was Leipold's first season at Buffalo. Their teams didn't face each other that season.
Leipold called Campbell an excellent coach.
"I really admire him and what he's done at Iowa State," Leipold added.
Photo Gallery
KU football at Iowa State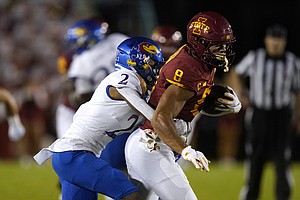 Photos from KU football's loss at Iowa State, on Oct. 2, 2021.
The Cyclones, once one of the Big 12's bottom feeders, have won at least seven games four years in a row under Campbell, who is currently in his sixth season leading the program.
Given ISU's climb to prominence in recent years, Leipold called this week's game "a huge measuring stick for us."
On his "Hawk Talk" radio show earlier this week, Leipold said he was looking forward to seeing the ISU program up close. KU's head coach said he would be looking around the stadium and facilities at Jack Trice Stadium, and taking mental notes if he spotted things he would like to implement at KU. Leipold said he wants the Jayhawks' program to eventually reach the level where Campbell and his staff have ISU.
ISU star a former Sunflower State standout
Just a few years back, Breece Hall was one of the top high school prospects in the state of Kansas. Now he's one of the most prolific running backs in ISU football history.
Liepold said on "Hawk Talk" with Brian Hanni last week, that, in the future, he wanted to keep a player as talented as Hall in state — and suiting up for the Jayhawks.
Rated a three-star prospect by Rivals in the Class of 2019, Hall, a standout for Wichita Northwest, chose the Cyclones over several Power Five programs from the Big 12 and Big 10, including KU.
Hall, an ISU junior, entered this week's matchup with KU already in possession of the program's career total touchdowns record (40). Leipold called Hall an excellent player and said he hopes the running back has a great career for ISU going forward.
"Those are things that we want to be a priority," Leipold said of keeping top prospects in state. "We can't take everyone, but it's going to be a goal that the top players we want in our program, they're right here from the state and they're going to stay in the state in the future."
With KU's bye week up next on the schedule, Leipold and his staff will get more time than usual in the days ahead to recruit.
"We're going to be on the road, and Wichita's going to be one of those stops for me right away," he said.
Big 12 road losing streak lives on
The Jayhawks weren't able to put an end to the program's lengthy conference road losing streak in their first Big 12 road game of 2021.
Though Jack Trice Stadium was the last league road venue that the Jayhawks left with a victory, that was in 2008. With another loss at ISU on Saturday, the Jayhawks' Big 12 road losing streak reached 55 games.
KU's next opportunity to put the kibosh on the skid, which has spanned more than 12 full seasons, is on Oct. 30 at Oklahoma State. The Jayhawks' other Big 12 road games this season are at Texas and at TCU.