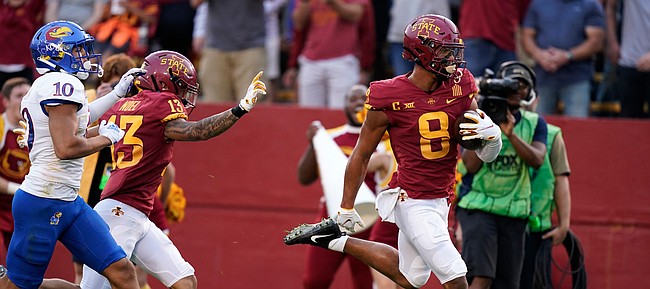 Ames, Iowa — A ruinous first quarter for Kansas football in all three phases of the game allowed Iowa State to make quick work of the Jayhawks in a 59-7 blowout Saturday night at Jack Trice Stadium.
Slip-ups and miscalculations mounted for KU early, and long before the Jayhawks could even think about steadying themselves, the Cyclones had established an insurmountable lead.
"Obviously they jumped on us quickly and there were some things we didn't respond to," a disappointed Lance Leipold said afterward.
The havoc, which played out in front of an ISU home crowd of 60,446, began just minutes into KU's fourth consecutive loss.
A gamble by KU freshman cornerback Jacobee Bryant on ISU's sixth snap of the evening marked the first of the Jayhawks' damaging mistakes in the game's opening minutes. Bryant anticipated ISU quarterback Brock Purdy throwing his way, but the angle Bryant took and his timing while making a break on the pass were off. Xavier Hutchinson snagged the ball and made a quick turn upfield to cruise to a 30-yard touchdown. 
Photo Gallery
KU football at Iowa State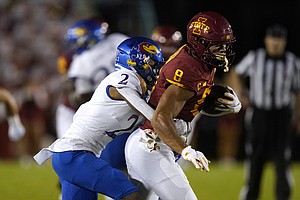 Photos from KU football's loss at Iowa State, on Oct. 2, 2021.
The next gaffe came on offense for KU (1-4 overall, 0-2 Big 12). After recovering his own fumble on a botched exchange on the first play of the series, junior quarterback Jason Bean on second down completely lost his grip on the football while racing away from ISU pursuers on a scramble. 
Said Bean of what transpired: "It was just a mental error. Had the ball in the wrong hand and as I was striding hit the ball with my leg. It's something that just can't happen."
Cyclones defensive end Zach Petersen found the freebie on the ground for his first career fumble recovery. Three plays and 24 yards later, a Charlie Kolar touchdown reception had KU in a 14-0 hole less than seven minutes into the game.
"It was tough to get on track today," Leipold said. "We turn it over uncharacteristically just running."
The Jayhawks didn't give the ball away on their next offensive series. But the last two plays of the abbreviated possession made it possible for ISU to get the ball back quickly yet again. A third down throw from Bean (10-for-20 passing 120 yards, no touchdowns, one interception) to Kwamie Lassiter II near the sticks on the left sideline didn't result in a first down, as Lassiter came up shy by less than a yard.
Leipold decided to go for it on fourth-and-short from KU's own 45-yard line. However, the Cyclones snuffed a run by Devin Neal (15 carries, 83 yards) in the backfield to take over.
ISU (3-2 overall, 1-1 Big 12), in turn, decided to exert its dominance and go for the jugular. The Cyclones' third drive was actually just one play: a deep 44-yard Purdy bomb to a wide open Joe Scates for a TD and a 21-0 margin.
After remaining competitive at least into the third quarter in recent games, the trip to ISU played out much differently for the Jayhawks. Bean said he didn't know for certain why that was.
"I think that's a really good team we played tonight. And I think it was a great test for us," Bean added. "I think overall we played not as bad as the scoreboard looked. I think there's stuff we've got to work on every week."
The calamitous first quarter wasn't done with the lost fumble either. After Bean and Neal helped the visitors actually pick up some significant yardage for a change, as well as three first downs, KU tried to just get some points on the board when faced with fourth-and-7 on the ISU 17. 
However, Eyioma Uwazurike thwarted Jacob Borcila's 34-yard field goal attempt, smacking it out of the air. Greg Eisworth returned the denied field goal try 55 yards to put ISU right back in plus territory.
Four plays later, Purdy's field day of a first quarter concluded with another TD throw. 
The Cyclones took a 28-0 lead into the second quarter, and Purdy was 5-for-5 passing, for 96 yards and four TDs after just 15 minutes. Purdy later would exit the game late in the third quarter, with ISU up 38 points and the QB enjoying a final stat line of: 17-for-22, 245 yards, four TDs and no interceptions, plus five carries for 37 yards.
Not long after the rain began to fall from the night sky for a bit in the second quarter, a rare productive drive for the KU offense ended with the second turnover of the first half for Bean and the Jayhawks.
A 26-yard Bean connection with receiver Trevor Wilson (three catches, 55 yards) and 13 yards on the ground via a Bean scramble keyed the Jayhawks' possession, getting them into the red zone.
However, on third-and-4 at the ISU 10-yard line, Bean tried to execute a difficult throw into the end zone while on the move. 
The decision allowed Kym-Mani King, one of several ISU defenders in that area of the end zone, to nab an interception and maintain the shutout for the time being.
Leipold said Bean was trying to make a play.
"But any time you throw late and a little bit across your body, especially in shortened spaces, there's usually somebody that's following your eyes," KU's head coach said. "That was disappointing."
Keeping with the theme of the first half, the ISU offense kept its foot on the gas, soon after extending its lead to 35-0 after Breece Hall (17 carries, 123 yards, two TDs) ran in from 9 yards out, giving him ISU's all-time record for career rushing TDs, with 37.
On seven first-half possessions, KU punted three times, lost two turnovers, got denied on a fourth down attempt and had a field goal blocked.
Contrastingly, the Cyclones put on a clinic, punting just once in the first half. It concluded with a 3:01 drive that closed with a 26-yard Connor Assalley field goal sailing through the uprights as the clock clicked down to 0:00, putting KU in an even deeper 38-0 cavern just before intermission.
Finally, with 9:17 left in the third quarter, the Jayhawks crossed the goal line to put some points on the board. Redshirt sophomore running back Torry Locklin, who scored twice at Duke in Week 4, followed his blockers and then cut right on time to speed to a 12-yard touchdown run. 
That would prove to be the lone highlight of the third quarter for the overmatched Jayhawks, though.
And on the final drive of the night for ISU's starters, the Cyclones answered with little resistance, putting a prompt end to even the smallest amount of KU momentum. Hall finished his night with a 1-yard TD run on 4th down, setting up a 45-7 margin and a view from the sideline for the rest of the night for the Cyclones' stars.
Adding to the Jayhawks' misery, ISU's backups promptly delivered the team's seventh scoring drive of the night, as backup QB Hunter Dekkers ran away from the KU defense for a 41-yard TD that helped the Cyclones pass the 50-point mark before the fourth quarter of the drubbing began.
Following the one-sided defeat, Leipold was asked what he told his players.
"I still love 'em. I still care," KU's coach said of his message. "And we're not going to change what we're doing. We're going to keep demanding the little things to be done right. We're going to keep coaching them. And we're going to keep getting better."
In the locker room, Leipold shared, he asked the players if they're still in, and they told him, "yes."
The Jayhawks have a bye week Oct. 9, and don't return to action until Oct. 16, when they play host to Texas Tech at David Booth Kansas Memorial Stadium.
The Jayhawks were reminded, Leipold said, that what's ahead is an open week and not an off week, as the team continues to address its problems and find ways to improve each and every day
"That's all I can ask them," he said.
SCORING BY QUARTERS
FIRST QUARTER
10:33 — Xavier Hutchinson 36 pass from Brock Purdy. Andrew Mevis kick. Six-play drive for 70 yards, in 3:07. (ISU 7, KU 0.)
8:51 — Charlie Kolar 6 pass from Purdy. Connor Assalley kick. Three-play drive for 24 yards, in 1:08. (ISU 14, KU 0.)
6:10 — Joe Scates 44 pass from Purdy. Mevis kick. One-play drive for 44 yards, in 0:07. (ISU 21, KU 0.)
0:48 — Jirehl Brock 7 pass from Purdy. Assalley kick. Four-play drive for 32 yards, in 1:28. (ISU 28, KU 0.)
SECOND QUARTER
3:01 — Breece Hall 9 run. Mevis kick. Seven-play drive for 80 yards, in 3:53. (ISU 35, KU 0.)
0:00 — Assalley 26 field goal. Eleven-play drive for 58 yards, in 2:02. (ISU 38, KU 0.)
THIRD QUARTER
9:17 — Torry Locklin 12 run. Jacob Borcila kick. Nine-play drive for 66 yards, in 4:03. (ISU 38, KU 7.)
5:27 — Hall 1 run. Assalley kick. Seven-play drive for 75 yards, in 3:45. (ISU 45, KU 7.)
2:27 — Hunter Dekkers 42 run. Mevis kick. Four-play drive for 58 yards, in 1:33. (ISU 52, KU 7.)
FOURTH QUARTER
3:13 — Deon Silas 16 run. Assalley kick. Six-play drive for 57 yards, in 3:26. (ISU 59, KU 7.)