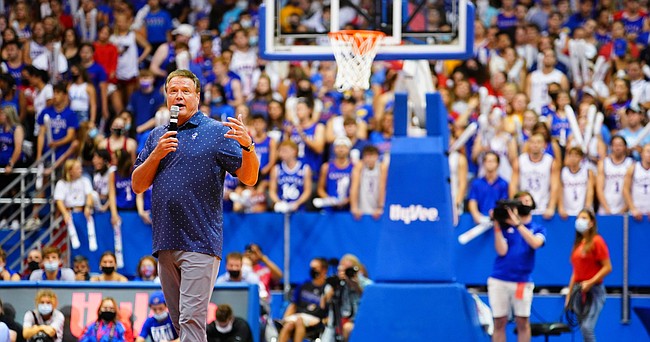 The plan going in was certainly to shoot better than 7 for 36 from 3-point range in their first action in front of a packed Allen Fieldhouse in more than a year.
But it turns out there was a reason for the Jayhawks' 19.4% 3-point shooting during Friday's 41-30 victory by the Crimson team over Blue at the 37th annual Late Night in the Phog.
"We've got a lot of guys that can shoot," said senior transfer Jalen Coleman-Lands. "But it was our first time actually playing in Allen Fieldhouse. We haven't practiced there at all. So for us to be playing there, it gets hot in there, and it's just a different atmosphere."
Senior Ochai Agbaji, who has attempted his fair share of outside shots inside KU's home gym, said the excuse was valid.
"That's why everyone was shooting balls long and airballs," Agbaji said. "The depth perception (was off). We were just thrown into it — no practice or nothing. But it's always fun."
Luckily for the Jayhawks, Kansas coach Bill Self never has — and probably never will — put much stock in how his team looks during the Late Night scrimmage.
No matter what the stat sheet says, Self typically utters some variety of the same line after every one. And it came again on Friday night — "That's not real ball."
"When you go 7 for 36 from 3, I wouldn't say anybody played great," Self said. "And that's not how we're going to play at all. But, you know, I saw some decent things. We're definitely a lot better than what we played tonight."
In light of the poor shooting percentage from behind the arc, Self was asked if he was happy to see his shooters willing to pull the trigger even though the shots weren't falling.
"Yeah," he said. "I like that they're confident enough to shoot them and they'll be told shortly not to.
"Jalen Coleman and Jalen Wilson have both shot it great and they were 1-for-10. We're better shooters than what we shot. They (were) nervous, too."
Agbaji and Coleman-Lands agreed with that last part and said they saw evidence of the nerves long before the team ever took the court for any portion of Late Night.
But Agbaji believed everybody settled in by scrimmage time and went out there and did what they've been doing in practice thus far.
"We always want to go out there and play hard," he said. "And it was competitive, for the most part, until the end there. But that's all coach can ask from us is to get better and compete."
Added Coleman-Lands: "It was a great experience."
Now that it's in the rearview mirror, Agbaji said the team would move forward with an even sharper focus. Late Night's a lot about fun and games, but things from here start to get serious fast.
"Yeah. This is kind of that moment," Agbaji said. "Late Night, everyone's first introduction to the fans. You get kind of warmed up to the crowd that way, but this is the starting point for us."