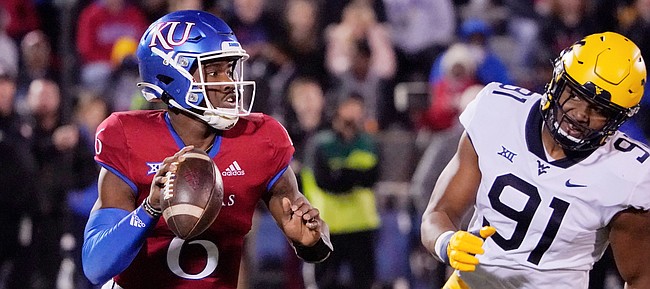 Jalon Daniels' improbable sophomore season, when he went from a redshirting third-stringer to the starting quarterback in the final weeks, had just come to an end this past Saturday night when Daniels already had 2022 on his mind.
"I'm glad that we showed a lot of grit and a lot of fight towards the end of the season," Daniels said after the Jayhawks played their third consecutive one-score game in his third start. "But next year, I want to come in with a bang."
Injuries to KU's former starting QB, Jason Bean, and the Jayhawks' No. 2 QB, Miles Kendrick, on the same day in early November propelled Daniels to the top of the depth chart. From there, the Jayhawks, who were blown out by 25 points or more six times in their first nine games, ended the program's 56-game Big 12 road losing streak with a 57-56 overtime win at Texas, lost 31-28 on a field goal in the final seconds at TCU, and suffered a 34-28 defeat versus West Virginia in the finale.
Daniels envisions KU's next season building off of what the team did in the final three games of 2021.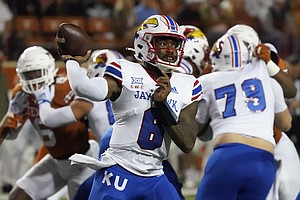 "I want to be able to compete with every single team in the Big 12, no matter who they are. I don't care the name," Daniels said. "I want to be able to compete, and this offseason is going to allow us to be able to do that."
A 6-foot, 215-pound QB from Inglewood, Calif., Daniels played a starring role in KU's late-season recovery. Over the course of his three starts, Daniels went 65-for-92 (70.7%) as a passer, averaged 235.3 passing yards a game and threw six touchdown passes, with two interceptions.
Both of Daniels' turnovers came in the fourth quarter of the finale, as the Jayhawks (2-10 overall, 1-8 Big 12) tried to rally back against WVU. The second of those was a desperation throw into the end zone on fourth-and-11, with KU trailing by 13 points.
Daniels said immediately after the game he would be watching the video clips of his errors the next day.
"Because I made some mistakes that were definitely pivotal to this game. And there's just stuff that I need to clean up, you know, mentally," Daniels added.
KU head coach Lance Leipold, like the QB, wished Daniels could have a couple of those throw back. Even so, when asked what he learned about Daniels late in the season, Leipold called him "a gritty performer."
"You can knock him down and he just keeps battling," the head coach said of the QB.
Case in point, when KU's defense forced a punt against WVU late in the fourth quarter and the offense had to get a TD drive just to have a chance at an onside kick and one last possession, Daniels completed four straight passes — one apiece to receivers Trevor Wilson and Lawrence Arnold, and two to tight end Jared Casey — before breaking an ankle tackle at the 3-yard line while scrambling and diving with the ball extended to secure a rushing TD that made it a one-score game with 1:46 to play.
Leipold called it "a very appropriate touchdown" for Daniels.
"Just by the way he strains and just the grittiness that he goes about it," Leipold said. "That can be contagious for an offense and for a football team."
Many Jayhawks credited Daniels with reenergizing the team late in the season. Offensive coordinator Andy Kotelnicki said during the final week of the season that Daniels' emergence involved more than his production, as well.
"Obviously you guys can see that he's he's been throwing the ball really accurate and been able to do things with his feet as an athlete, to keep plays alive," Kotelnicki said. "And so the physical things that you see on the field, from the anticipation of open throws and keeping plays alive, those are things that are evident to a lot of people. But what they're probably not seeing is what he's starting to become as a leader."
Kotelnicki is up in the booth calling plays during games, but he heard from other staffers about the way Daniels rallies teammates down on the sidelines.
"Coach, man, Jalon's all over these dudes, getting them going here," Kotelnicki said of one account from KU's second half comeback at TCU on Nov. 20.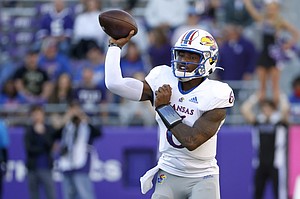 "That's what's really kind of stuck out to me lately in the last couple weeks. For him to do that, especially at such a young age," the O.C. said of the QB, who turned 19 during the season.
The Jayhawks trailed by eight at halftime versus WVU in the finale when Daniels again exuded leadership. Junior linebacker Gavin Potter said the QB stepped up and gave an impromptu speech that "got everybody fired up."
"Are we going to fight? Or are we going to lay down?" Potter shared of Daniels' message.
"Everybody wanted to fight," Potter continued. "You could just tell the energy that he was putting out, and then everybody was receiving the energy and everybody wanted to fight. And you could just see it in everybody's eyes."
Now that the offseason is here, Daniels said he planned to get right to work with his preparation.
"Football is a year-round sport for me as a quarterback. As a quarterback, there's always ways that you can get better — no matter if it's actually doing physical work or if it's working on yourself, mentally," he said.
Leipold said during his most recent "Hawk Talk" radio show that Daniels is the type of positive leader he loves having around the the facility every day.
The head coach hopes the approach Daniels takes will emanate throughout the program. And Leipold still found himself marveling about the way the QB abandoned his redshirt plans late in the season for the good of the team.
"What he's been doing and has done for the program the last few weeks and his unselfishness will be something I never forget in my career," Leipold said.