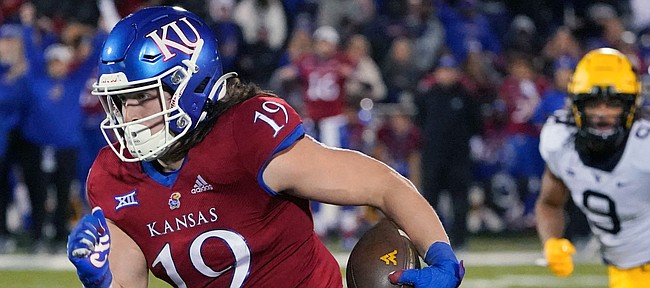 In the 24th start of his college football career, Kansas junior linebacker Gavin Potter put together the most prolific individual outing of his time with the Jayhawks.
Not only did Potter record a season-high 10 total tackles against West Virginia, he also came away with the first fumble recovery of his career, and when he secured his first interception as a Jayhawk, Potter went ahead and returned it to the end zone for his first defensive touchdown.
His night of firsts didn't have Potter in a celebratory mood, though.
"At the end of the day, none of those plays really matter, unless it's a win," Potter said, following the Jayhawks' 34-28 home loss to West Virginia in their season finale. "So that's really what I'm wanting."
The impact made by the 6-foot-2, 225-pound linebacker from Broken Arrow, Okla., wasn't lost on his teammates or coaches.
Potter's first of two takeaways came on the first WVU play from scrimmage, with KU already up 3-0. And his pick-six early in the third quarter put the home team in position to tie the game at 21.
Head coach Lance Leipold said his team had "some flashes" in the loss, and credited the junior linebacker for contributing on that front.
"Obviously Gavin Potter's play was a huge momentum shift for us," Leipold said, referring to his interception return for a TD.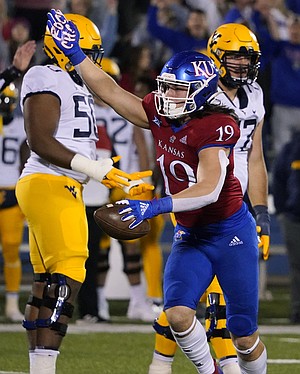 Potter also made drive-ending third down tackles in both the third and fourth quarters that forced the Mountaineers to kick field goals.
KU junior safety Kenny Logan Jr. couldn't stop himself from smiling when asked about Potter's impact.
"Gavin has taken major steps this year," Logan said. "He's been balling all year, and I'm just glad to play behind him. And I'm glad he's on my team."
Potter started in 11 of KU's 12 games in 2021, and finished third on the team with 78 total tackles, while also chipping in five tackles for loss and one sack.
After the finale, Potter said he felt good about the big plays he was able to make against WVU, in his best performance of the season. Still, the outcome was weighing on him, and he said he made mistakes at other points in the game.
"We've got to work as a team. Everybody makes mistakes. So we've got to get better on those. Because we're right there," Potter said of KU (2-10 overall, 1-8 Big 12) being more competitive during the final three weeks of the season.
"We're coming so close to getting them and we're fighting — everybody can see it. And it just feels a lot different."
Potter insisted there were other plays he could've made in the finale that would have put KU in even better position to end the year with a victory.
As he headed into the lengthy offseason, Potter said he wasn't planning to take any time off to relax and recuperate.
"It starts tomorrow," Potter said of the work he wanted to put in, as he looks to improve throughout the offseason. "We're behind. So we need — I need — extra work, as much as I can get. Especially to close the gap."