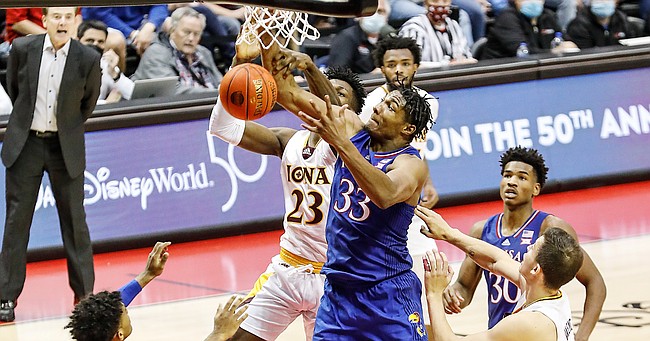 Kissimmee, Fla. — By all-conference and All-American standards, Kansas senior David McCormack's 13 points and five rebounds in 14 minutes on Sunday weren't exactly eye-popping numbers.
But when put up against the production and performances he had delivered so far this season, the Kansas big man's showing in KU's 96-83 win over Iona at HP Field House was worth a deeper look.
"I think today was a step in the right direction," KU senior and McCormack back-up, Mitch Lightfoot, said following Sunday's win. "Dave's going to continue to get better. You saw it last year. As he got going, he became one of the best bigs in the Big 12, if not the best big in the Big 12. I think he can grow back towards that, and I think it starts on the defensive end, with him altering shots and blocking shots like he does and getting that confidence back."
McCormack did a little of that on Sunday, but the bulk of his step forward came from his 4-of-6 shooting from the floor and five trips to the free throw line which resulted in five Kansas points.
"I think it was better than it has been," KU coach Bill Self said of McCormack's play. "I still don't think that he's rebounding or playing to his presence at all, but I think it was better. At least he saw the ball go in the hole a little bit."
An all-Big 12 preseason pick, and the reigning Big 12 Conference Most Improved Player, McCormack has started his senior season in the same way that he started his junior year — slow out of the gate and a little out of sorts.
Through six games, he has missed far too many bunnies in close, and he continues to foul when the coaches ask him to play straight up and flails whenever he gets near the rim or feels contact.
It's those issues, and his teammates' desire to see him power past them, that had a handful of Jayhawks doing whatever they could to get McCormack going on Sunday.
Midway through the first half, after throwing McCormack the ball in the post, KU point guard Remy Martin, yelled repeatedly, "Do your work, Dave, do your work, Dave," trying to instill confidence in the KU big man.
McCormack did go to work on that particular possession, missing the shot but getting to the free throw line for a pair of charity shots.
McCormack hit all five free throws he attempted on Sunday and he earned a loud ovation from the KU fans in attendance when he checked out of the game for the final time.
Junior guard Christian Braun said McCormack's ability to hang in there and keep fighting was a good indication that the senior forward would be "fine."
"Everybody on the team's confident in what he does," said Braun, who earned all-tournament team honors last weekend. "Everybody knows what he can do. So, once he gets his legs under him and gets back to being him — being confident — he'll be great."
Through six games, McCormack is shooting 45.2% (19 of 42) from the floor, while playing 18.5 minutes per game. He currently carries averages of 8.2 points and 5.2 rebounds per game and ranks third on the team with 31 total rebounds, behind guards Braun (43) and Remy Martin (32).
He also leads the team in blocked shots as the only Jayhawk in double digits (10) so far.
After an off day on Monday, Kansas will return to practice Tuesday to begin preparations for Friday's game against St. John's at newly opened UBS Arena in New York.