When the Kansas football season ended this past Saturday night with a six-point home loss to West Virginia, the emotions in the locker room minutes after the finale reflected not only the conclusion of a challenging year, but also a growing sense of hope about the program's future.
"It's always sad, because we're losing guys," junior safety Kenny Logan Jr. said, while describing the scene, referring to the seniors and super-seniors who played for the last time.
"But the team sees how close we are, how close it's coming," Logan continued.
KU's play in the final three weeks of the season — the first under the direction of head coach Lance Leipold — produced the optimism about what's to come. The Jayhawks (2-10 overall, 1-8 Big 12) spent the majority of their first nine games getting blown out. They lost by 52 points at both Iowa State and Oklahoma State, and suffered four other defeats by margins of 25 points or worse.
Then, beginning with an attention-grabbing, 57-56 overtime victory at Texas on Nov. 13, the Jayhawks proved they could be competitive for more than a quarter or two here or there. KU lost in the final seconds, 31-28, at TCU and fell, 34-28, to WVU to finish the season.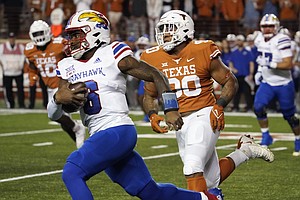 The team's starting quarterback in all three of those games, sophomore Jalon Daniels, described the mood of the team following the finale.
"It's definitely hard, especially when you come so close, especially in the past two games. It's definitely heartbreaking," Daniels began.
"We just wanted to be able to send the senior guys off. The one thing that they said was they wanted us to compete to the very end. And, honestly, I believe that we competed to the very end. I don't believe that we lacked any competition," Daniels said. "I'm just proud of all the seniors for sticking with us and just being able to start the Coach Leipold movement."
Leipold, the latest head coach hired in hopes of reviving the long-struggling program, didn't take over until the conclusion of spring football. Four months after arriving in Lawrence, Leipold and his newly formed staff, which included a number of his former Buffalo assistants, made their collective KU debut in the 2021 season opener.
Minutes after he coached the Jayhawks for the 12th time, Leipold was asked late Saturday night how far he thought the team had come, comparing the first three games of the season to the final three. (KU beat FCS opponent South Dakota, 17-14, in the opener, then lost 49-22 at Coastal Carolina and suffered a 45-7 home defeat against Baylor during the first three weeks.)
"I'd like to think we've made a lot of progress," Leipold replied. "I guess I'll let many of you decide that, because you've watched it a lot longer than myself. But, yeah, we stood here on a Friday night in September and we squeak out a win, and we're happy, but we know we had a long way to go."
KU's head coach was quick to point out there were other games that "weren't very close," before he started to see much more out of the Jayhawks the past three weeks.
"That part of the competitiveness, and the passion and pride and work ethic that we've been emphasizing has resonated," Leipold said of what he witnessed, "and I'm very pleased with that part."
On the same night that his first season at KU concluded, Leipold gave his big picture perspective of what the team was able to accomplish and where he thinks it's headed.
"I think consistently people have seen that we've improved as a football program. That said we have a lot to work on yet," Leipold said.
A year ago, in what would be former head coach Les Miles' final season at the helm, KU went 0-9.
Logan was asked what the program looks like now, compared to how it did at the end of 2020.
"I don't really do the comparisons. But this year's team, we're actually executing," Logan said. "We're starting to come together as a unit. We're starting to actually put it together. I feel like we're steps away from actually being a dominant team."
That seemed to be a prevailing sentiment in the locker room, as the Jayhawks contemplated their relatively improved play to finish out the season.
Said junior linebacker Gavin Potter: "I think we are getting close. We've closed the gap on a lot of teams, and we're getting real close to start winning these games."
Daniels, though disappointed that the Jayhawks couldn't ride into the lengthy offseason on a three-game winning streak, thinks the program could be on the verge of changing course.
"I believe that this is just the beginning. You know, we all have faith in the plan that Coach Leipold has for us," Daniels said, adding how beneficial it will be for the Jayahwks to have their first spring ball with the new staff in a few months.
"I believe that this offseason is probably going to be one of the most pivotal offseasons for KU football," Daniels said.
https://www.youtube.com/watch?v=hMJLKDAE16Q