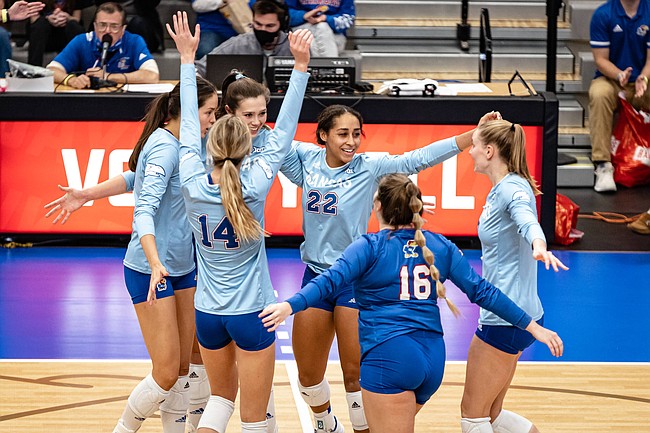 Moments after completing a comeback from two sets down against in-state rival Kansas State on Saturday night, Kansas volleyball coach Ray Bechard shared a message with his team about its postseason fate.
"The first thing I said was, 'Well, number one, I know you're going to at least be tied for third in the league, and, number two, I can't imagine they're going to keep you out of the NCAA Tournament," Bechard told the Journal-World on Sunday night.
Bechard's words took some of the drama — but none of the joy — out of the Jayhawks' Sunday watch party, where they learned that they had, in fact, received an invitation to this year's NCAA Tournament.
This year's trip will mark the 10th NCAA Tournament appearance in program history.
Kansas (16-11) will play Pac-12 powerhouse No. 19 Oregon (22-8) at 4:30 p.m. Thursday in the first round at Creighton University in Omaha, Neb.
"We felt like we were 90-95% sure, and there was a lot of reason to think it was going to be a good night," Bechard told the Journal-World.
There's plenty of time to get into what type of challenge that will be and what KU will have to do to have a chance. But on Sunday, it was all about celebrating.
The Jayhawks' trip to this year's tournament will be their first since 2017 and the first for every player on the roster other than super-senior outside hitter Jenny Mosser, who got there with UCLA before transferring to KU.
"We had to do a little rebound a year or two ago and we valued certain things and players and how we were going to move forward and it's obviously showing," said Bechard, who coached the 2015 team to the program's first Final Four appearance. "It just means we're doing the right thing here and we've got players who are doing the right thing and we're on a great trajectory."
The Jayhawks closed the 2021 regular season with back-to-back sweeps of TCU and Kansas State and moved up to No. 34 in the RPI rankings (Oregon is No. 23), largely because of their success in the nation's No. 1-ranked RPI league and their No. 11 strength of schedule.
KU recorded five top-50 wins this season and demonstrated the ability to compete with the likes of Texas, Baylor and other Big 12 powers.
In all, seven of the conference's nine teams earned a spot in this year's NCAA Tournament. According to the selection show broadcast, Iowa State, Kansas State and West Virginia were three of the last four teams to earn an invite. Texas, Baylor and Texas Tech also made their way into the bracket.
While that type of success in that type of league gives Bechard and company reason to be excited, the veteran KU coach said he was also encouraged by the fact that this year's team was so young and still found a way to get in.
Several key contributors, including freshmen Caroline Bien, Camryn Turner and London Davis, along with sophomore Caroline Crawford, played huge roles in this team's success. And Bechard said that young talent has him feeling like this is just the beginning of a special stretch for KU volleyball.
"It does," he said. "And it feels like something that can be sustainable. We're building it with really good area talent and players from outside the area, too."
Beyond that, Bechard said he was thrilled for seniors Lacey Angello, Audri Suter and Mosser, who are getting the chance to play in the postseason during their last season at KU.
I'm thrilled for those kids, who this will be the last time around for them," Bechard said. "But I'm also really excited for our young kids to get an opportunity this early in their career to experience something like this. … We're thrilled to be a part of it."