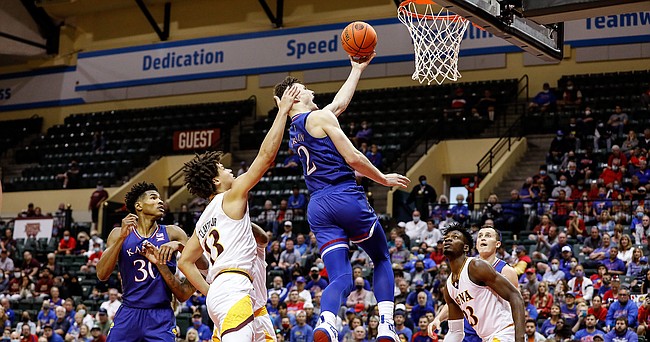 Kissimmee, Fla. — No one in the Kansas locker room was overly thrilled with the Jayhawks' 96-83 win over Iona in Sunday's third-place game at the ESPN Events Invitational, and there were many reasons for the ho-hum vibe.
For the third game in a row, the fourth-ranked Jayhawks lacked a killer instinct, showed deficiencies on defense and had momentary lapses from several players on one end of the floor or the other.
While all of those factors left a little to be desired, it was the bottom line that hurt the most.
"We didn't accomplish the goal (we had) coming down here," said junior guard Christian Braun after dropping 18 points in Sunday's victory at HP Field House at Disney's Wide World of Sports Complex. "We came down here to win a tournament."
Photo Gallery
KU vs. Iona - ESPN Events Invitational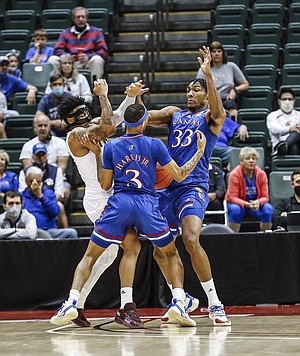 KU basketball vs. Iona at the ESPN Events Invitational
That goal went out the window with Friday's semifinal loss to Dayton. But, after a day off, the Jayhawks (5-1) bounced back on Sunday and rolled past Iona in a game that saw a number of ebbs and flows. From KU jumping out to leas of 19-7 and 41-19 in the first half and building a 23-point lead midway through the second half to the Gaels (6-2) cutting that down to a dozen with five minutes to play, KU's Sunday victory went the way of their week in Orlando. Some good. Some bad. Plenty to work on.
"We obviously are disappointed we lost (to Dayton)," KU coach Bill Self said of Friday's semifinal setback. "But the biggest thing is I don't think we played the way you're supposed to play in any of the games to give yourself a chance to win. We had a chance to crack all three of them and didn't and, obviously, one of them came back to bite us. I'm not displeased, but I'm certainly not leaving out of here giddy about how we played."
The Jayhawks went with the same starting five in what was the first ever meeting between Hall of Fame coaches Self and Rick Pitino. But the biggest reason for the Jayhawks' frustration — beyond the win column — was the way they competed on defense.
Document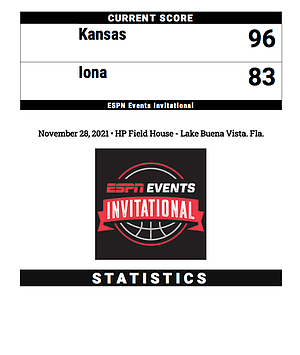 After building that 22-point first-half lead on the strength of several lock-down defensive possessions that led to easy buckets, the Jayhawks surrendered a 12-3 run that allowed Iona to pull within 15 at halftime.
While that lead kept Kansas comfortable and was never truly threatened, Self and his veteran players said there was no excuse for giving up the lead in the first place.
Iona opened the second half on a 5-0 run to cut the KU lead to 46-36, prompting Self to call a timeout 50 seconds into the second half.
At one point, early in the second half, Self could be heard from the sideline yelling, "Where's our energy, blue?" The mere fact that things like energy, effort and defensive toughness need reminders is something that is not sitting well with the Kansas coaches and veteran players right now.
"We've got to take pride in certain possessions," senior forward Mitch Lightfoot, who tallied 10 points and six rebounds in 15 minutes off the bench on Sunday. "We've got to understand that when you do get a lead the defensive pressure has to be the same it was when it was 0-0. Those possessions matter just as much as when the game tips off."
Added Braun, who scored 51 points in the three games in Florida, second only to Ochai Agbaji's 56: "It felt good to get out of here with a win, but it wasn't a win in normal Kansas fashion. I don't think we played to our best ability this whole tournament. We really have to focus on defense and get back to what Kansas does."
There were moments during Sunday's win, when that was the case. The Jayhawks swiped 10 steals and out-rebounded the Gaels 36-22. They also forced 18 turnovers and scored 33 points off of those turnovers.
But there was never a time when the Kansas advantage felt like it came from the defense. The Jayhawks shot 55% from the floor and scored 58 points in the paint, getting several easy buckets in transition, in half-court sets and from lobs.
The highlight of the game came at the end of the first half, when Agbaji finished a lob from Braun at the rim despite the Iona defender sharing his same jersey space.
As the two ran back on defense, Braun could hardly contain his smile and the typically stoic Agbaji clearly had impressed even himself.
"I don't know if you guys have watched it, but he's pretty athletic," Braun joked of the play. "So if you throw the ball pretty anywhere close to the rim, it doesn't have to be a good pass. It wasn't a good pass. He's just really athletic."
While those moments came, and others like, them came in bunches on a day that KU's offense nearly cracked the century mark, it was the opponent's point total in the mid-80s that kept Kansas from celebrating much of anything.
"I think we need to get better," Lightfoot said. "There's stuff to improve upon. The majority of it is defensively. We scored, but we also have to limit teams' ability to score. That comes from either scouting report, keeping our man in front of us, affecting shots at the rim, blocking them, tipping them. There's certain things we can do to grow, but we've got to get better."
Kansas returned home on Sunday night and will take Monday off before practicing Tuesday, Wednesday and Thursday in preparation for Friday's game at UBS Arena in Elmont, N.Y., against St. John's. The game is part of this season's Big East-Big 12 Challenge and is set for a 6 p.m. tipoff on Fox Sports 1.