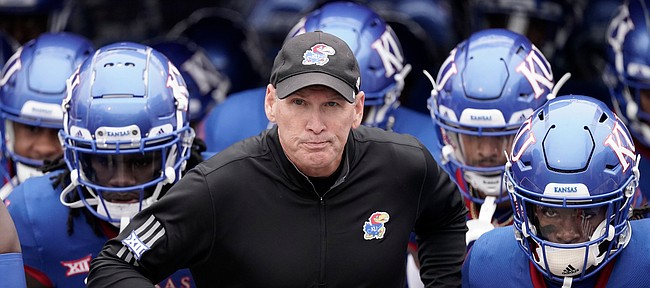 Before the Kansas football team played its season finale Saturday night against West Virginia, the program honored a group of 15 players — which included both seniors and super-seniors — who were about to experience the final game of their KU careers.
Earlier in the week, head coach Lance Leipold called this year's class a "special group" with "outstanding" leaders in it.
"While many (other players) may have chosen to leave, these young men were loyal to this football program and university. And they should be commended for that," Leipold said during the most recent edition of his weekly radio show, "Hawk Talk."
Leipold and numerous members of his staff who followed the head coach to KU from Buffalo didn't take over the program until the beginning of May, and had to establish new schemes, a new culture and more.
"Change is never easy," Leipold said. "This group has been outstanding and never wavered in their commitment to be Jayhawks."
While KU's head coach emphasized that many of this year's seniors and super-seniors have played important roles, Leipold said one who resonated with him was offensive lineman Chris Hughes, a starter in past seasons who is now a reserve.
Hughes has been "unbelievable" behind the scenes, Leipold said. He helps players out, stays positive and does much for the good of the program without ever being asked.
Recently, Hughes asked Leipold if he could address the team, and the head coach said the O-lineman's message was how important it was for the players to not go through the motions as they finish out the season. Leipold called it "really special."
Hughes started at left guard in the season finale, as a way for the staff to honor the veteran. On the second snap, Joey Gilbertson, another senior, came in to take over at left guard.
KU's top receiver this season, Kwamie Lassiter II said earlier this week he was looking forward to the Senior Night experience, as well as playing at home versus WVU for his KU finale.
"I love when my family comes to the games. I think it's going to be great. It's going to be crazy, but it's going to be good," Lassiter said.
Here are the 15 seniors KU honored during a pregame ceremony:
• Nate Betts, LB, Kerens, Texas
• Malik Clark, OL, New Orleans
• Nick Channel, LB, Wichita
• Jay Dineen, LB, Lawrence
• Miles Fallin, QB, Canyon Country, Calif.
• Joey Gilbertson, OL, Wichita
• Chris Hughes, OL, Harker Heights, Texas
• Kyron Johnson, DE, Arlington, Texas
• Miles Kendrick, QB, Morgan Hill, Calif.
• Jamahl Horne, WR, Miami, Fla.
• Kwamie Lassiter II, WR, Chandler, Ariz.
• Adagio Lopeti, OL, East Palo Alto, Calif.
• Ben Miles, FB, Baton Rouge, La.
• Ricky Thomas Jr., S, New Orleans
• Jeremy Webb, CB, East Mims, Fla.
The players were introduced one at a time, beginning 20-plus minutes prior to kickoff. Each ran out of the tunnel as his name was called, and was greeted by KU Chancellor Douglas Girod, as well as KU Athletic Director Travis Goff. Next, each player made his way onto the field to greet Leipold and pose for a photo.
Lassiter was introduced last and received the loudest ovation from the home crowd.
KU's former head coach, Les Miles, as well as his wife, Kathy, attended the ceremony to be there for their son, Ben.
No Neal
The Jayhawks were without their No. 1 running back, Devin Neal, for the season finale. Neal, who got hurt during the second quarter of the Jayhawks' three-point loss at TCU on Nov. 20, missed a game for the first time in his young college career.
Without their top rusher, the Jayhawks turned to redshirt freshman Amauri Pesek-Hickson, who got his first start of the season at running back.
Pesek-Hickson ran for 60 yards on 12 carries.
Casey scores again
Walk-on tight end Jared Casey, who got his first career start for the Jayhawks in the finale, found his way to the end zone yet again.
Two weeks removed from his game-winning two-point conversion catch at Texas, Casey caught a Daniels TD pass for the second week in a row on Saturday night. He also made a game-tying TD reception in the fourth quarter at TCU.
Casey finished with four receptions for 67 yards.
Thanksgiving on game week
For the Jayhawks, this week's Thanksgiving day festivities included a morning practice on Thursday, same as any other game week.
After that, Leipold said there was a Thanksgiving meal at the team's facilities. Also, any Jayhawks who had family within a short driving radius were able to go home for the day, too.
Some coaches had players over to their homes, as well.
Quarterback Jalon Daniels said on "Hawk Talk" earlier in the week that his mother was making a special trip to Lawrence for the holiday. Before she got into town, Daniels said, she ordered ham and turkey for him to go and pick up to make sure the kitchen was stocked and ready.