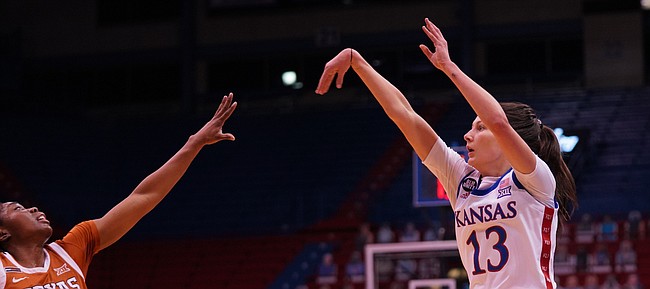 The Kansas women's basketball team bounced back from its first loss of the 2021-22 season by drubbing UTEP, 81-55, at the South Point Shootout on Saturday night in Las Vegas.
After taking a 21-17 edge after one quarter, the Jayhawks (5-1) blew the game open by outscoring UTEP 23-12 in the second quarter to take a 44-29 advantage into halftime.
The Jayhawks did not let up in the second half, outscoring the Miners 37-26 in the final two quarters to cruise to victory.
Holly Kersgieter led Kansas with 22 points in 21 minutes. The 5-foot-11 junior shot 8-of-11 from the floor and 3-of-5 from 3-point range to lead the Jayhawks' offense.
Zakiyah Franklin and Mia Vuksic each chipped in 14 points in the win, with Franklin going 8-of-9 at the free throw line and Vuksic making four of five from 3-point range.
The Jayahwks, who shot 54% for the game, were out-rebounded 34-28, including 14-3 on the offensive glass, but managed to outdo UTEP in just about every other category.
KU forced 19 UTEP turnovers and scored 25 points off of them, and also outscored the UTEP bench 30-14. The Jayhawks held a 16-3 edge in fastbreak points, as well.
Next up, Kansas will play host to Texas Rio Grande Valley at 7 p.m. Wednesday at Allen Fieldhouse.