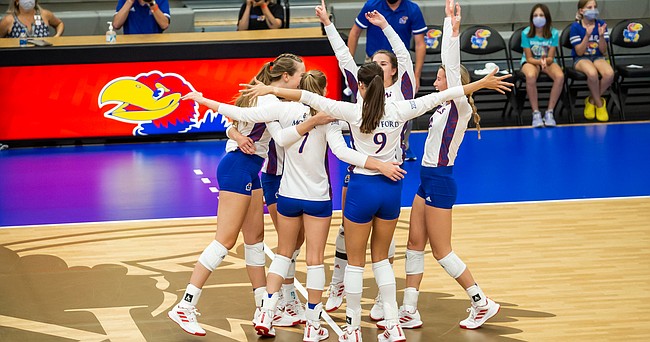 The Kansas volleyball program strengthened its case for an NCAA Tournament bid on Saturday night by coming back from two sets down to top Kansas State in Manhattan.
After dropping the first two sets 25-21 and 25-20, the Jayhawks outscored the Wildcats 65-49 in the next three sets, including a 25-16 edge in Set 3 and a 15-12 margin in the fifth and final set.
The win moved the Jayhawks to 16-11 overall and 8-8 in Big 12 play. KU capped the regular season on a four-game winning streak and should be in position to hear its name called when the NCAA Tournament selection show airs on ESPNU at 7:30 p.m. on Sunday night.
The Jayhawks entered the week ranked No. 39 in the latest RPI rankings. But two wins over Kansas State, which was ranked No. 35 in the RPI rankings when the week began should help KU move up.
What's more, Ray Bechard's Jayhawks finished .500 in the No. 1-ranked conference in college volleyball, which puts another feather in their cap.
The Jayhawks have not earned a spot in the NCAA Tournament since 2017, and Bechard said this week that getting in would be "huge."
"You don't get content with going every year," he said. "But we went a few years in a row there and it just kind of fed off of it. But, man, once you're out a couple years it's hard to get back in."
Equally as challenging is sweeping a Big 12 foe, given the new format of playing opponents on back-to-back nights. But the Jayhawks did that three times this season, including twice in the past two weeks.
The usual suspects led the Jayhawks to their thrilling comeback win over the Wildcats on Saturday night. Freshman Caroline Bien tallied 17 kills and 12 digs. Sophomore Caroline Crawford added 15 kills and six blocks. And super-senior Jenny Mosser tallied 11 kills and 19 digs.
Freshman setter Camryn Turner delivered a stellar double-double for the second night in a row, recording 59 assists and 20 digs.
After allowing the Wildcats (15-12, 6-10) to hit .283 and .263 in the first two sets, the KU defense shut them down in the next two, limiting K-State to .038 and .119 in sets three and four.
The Jayhawks now await their fate in Sunday's selection show, and, if they get in, could open postseason play as soon as Thursday. The Jayhawks almost certainly would have to travel to another host site to begin their postseason run.