Kissimmee, Fla. — The ending was almost too outrageous to believe, but the sobering reality of losing to Dayton as a double-digit favorite on a buzzer-beater was not just a bad dream for fourth-ranked Kansas.
It happened. It hurt. And it came after yet another classic contest between these two programs.
"That was a battle," Dayton coach Anthony Grant said after his team's 74-73 victory at HP Field House in the semifinals of the ESPN Events Invitational.
And it ended in the most improbable way, with Finnish freshman Mustapha Amzil hitting a shot that fell through after the buzzer sounded to send the Flyers to the title game and the Jayhawks to play for third at noon on Sunday.
"The way it went down at the end was just good fortune, bad fortune," KU coach Bill Self said after the loss. "They made the play and we didn't. The guy made an unbelievable shot and CB (Christian Braun) defended it as well as you could defend it. It was an epic shot. And they deserved it. It was a great basketball game. The bottom line is we didn't execute when we needed to."
Leading by one late, with the ball, Kansas watched struggling big man David McCormack pick up an offensive foul that gave Dayton a chance.

Self said the play was designed to get McCormack the ball on a duck-in play for an easy bucket or a foul. But senior guard Remy Martin brought his defender through the lane and into McCormack's area, which forced the play to stall and gave McCormack the ball outside of the paint. Dribbling to try to back his man down, McCormack was called for the offensive foul and Dayton took possession with just under 20 seconds to play.
Before Dayton called timeout, Self looked to his team on the floor and said simply, 'Hey, we've got to guard.'
The Jayhawks did just that for the entirety of the clock but did not reap the reward.
Looking as if he had redeemed himself with a big block of a would-be game winner by Malachi Smith with 4 seconds left on the other end, KU's fate went the way of McCormack's season so far. Amzil picked up the loose ball, pounded a couple of dribbles, jumped high into the air and let a shot fly as the game clock raced toward zero.
Photo Gallery
KU basketball vs. Dayton — ESPN Events Invitational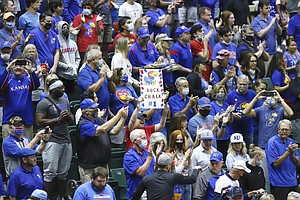 KU basketball vs. Dayton — ESPN Events Invitational
The shot missed, but it bounced soft enough and went up straight enough that it was caught by the rim on the way down. With the red light on and the entire gym stuck on pause, the ball softly fell through to give the Flyers the victory.
"I saw the clock when I was driving and I just had to take the shot," Amzil said.
Asked what he saw from Amzil while defending him, Braun said the Jayhawks were scrambling after McCormack's block and "the guy hit a tough shot."
Added KU senior Ochai Agbaji: "At the time I was thinking he didn't get it off in time. But everyone started shaking hands and stuff so I figured, yeah, he made it in time."
With the Jayhawks (4-1) having a foul to give, Braun said he considered fouling in that moment. But the fact that the clock was under four seconds inspired him play it straight. Asked if he had talked to his team about fouling during the timeout that preceded the final sequence, Self said the strategy came up and noted that he likely would've instructed his team to foul if they had more than one to give.
"I said if you're beat and it's off the bounce go ahead," Self said.
KU didn't. Amzil hit the shot. And the Flyers and their large contingent of fans in the stands joined together for a wild celebration.
For a long time on Friday, a Dayton celebration did not look likely.
The Jayhawks raced out to an 13-2 lead on the strength of an attacking style of offense and relentless defense.
That continued all the way through the game's first six minutes, as Dayton did not see its first shot from the floor fall through the net until the 14:10 mark of the first half. Prior to that it was a pair of free throws and a goaltending call on McCormack that put the Flyers on the board.
Self subbed in four new players shortly after a lob from Dajuan Harris Jr. to Braun made it 15-6 Kansas, and, from there, the Flyers seemed to find their footing. DU (3-3) cut KU's lead to 19-14 at the midway point of the first half and trailed by just six with 7:26 to play in the half.
As Dayton tried to mount a comeback, the Jayhawks begin to benefit from some fortunate bounces. First, Agbaji (21 points) banked in a 3-pointer from the wing to put KU up 27-17. A few minutes later, freshman forward Zach Clemence banked one in from the top of the key to push KU's lead to 32-21. After both, KU players reacted with laughs, smiles and shrugs while Dayton players dropped their heads. KU had chances to extend its lead but settled for a 45-35 lead at the break.
"You've got total control over it and instead of going in up 17 you go in up 10, and that's a big difference right there," Self said. "We've got to improve in those areas."
Added Agbaji: "I feel like we got too comfortable. With that lead, we didn't really keep pushing or keep that same aggressiveness that we had to get that lead."
Back to back KU buckets early in the second half pushed the Jayhawks' lead to 12 (49-37), but, instead of going away, the Flyers responded with added intensity and a 9-0 run that cut the Kansas lead to three points with 16:29 to play.
The run brought the large Dayton crowd to its feet and created a frantic environment that could be felt bouncing off all four corners of the 5,000-seat arena.
Less than a minute later, after one of several dunks by DU big man Daron Holmes II, Dayton took its first lead of the day at 51-50 with 15:20 to play. From there, it was the Flyers who played from in front and dictated the way the game unfolded.
"You would think (Holmes) was Moses Malone," Self said. "He got every rebound, every put-back, he totally dominated our big guys."
Another Holmes dunk put Dayton up 53-50 and capped off a 16-1 Dayton run.
The Flyers unleashed another 11-2 run late to build a 68-61 lead, but the Jayhawks fought back. Kansas responded to that with a 12-2 run of its own to take a 73-70 lead on an open-floor dunk by Agbaji.
But it was Dayton that scored the final four points from there to advance to the championship game.
Disappointed by the loss, the Jayhawks vowed to use it as a chance to grow.
"We haven't become a team yet," Self said. "But I do think we're gaining on it. I do think experiences like this will probably accelerate the learning curve and get us maybe to all buy in a little bit differently."
Agbaji said the most important thing from here was for the team to stay together.
"It's a long season," he said. "A lot more games, a lot more chances to get on the court and get better. It's one loss, but down the road we're going to look back and see that we gained a lot from this."
Added Braun: "I know the loss won't tear us apart. It really exposes some of the things that we need to get better at, so we can take it as a lesson."
KU will play Rick Pitino's Iona squad at noon Sunday in the tournament's third-place game. The Gaels fell to Belmont, 72-65, in Friday's second semifinal.
Belmont and Dayton will play for the tourney title at 3 p.m.
https://www.youtube.com/watch?v=iJfcr9PSZaQ