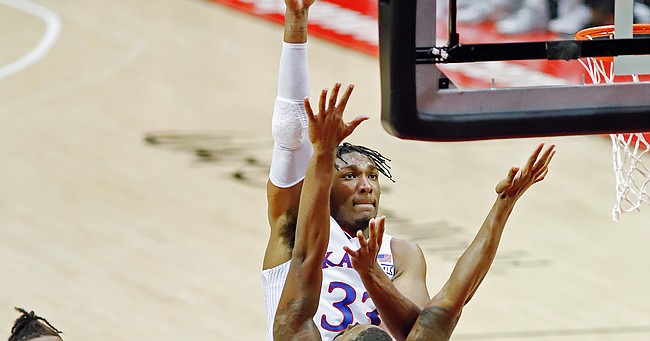 Kissimmee, Fla. — Following Thursday's 71-59 victory over North Texas, Kansas basketball coach Bill Self did not hide his frustration over another sub-par performance by starting big man David McCormack.
"Let's just be real," Self said. "He's 6-10. He's the biggest guy on the court. (He's) got to score the ball. With the shots he took, I mean, that's a 5-of-6 day and he was 1-for-6."
McCormack's offensive struggles kept him on the bench for much of Thursday's victory in the opening round of the ESPN Events Invitational at HP Field House.
Photo Gallery
Kansas 71, North Texas 59 - ESPN Events Invitational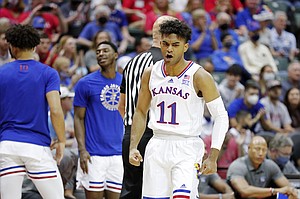 Kansas 71, North Texas 59 - ESPN Events Invitational
He played just three minutes in the second half and 13 for the game.
McCormack is now shooting just 43% for the season (13-of-30) and has yet to show himself as the dominant force down low that earned him preseason all-Big 12 honors.
The 13 minutes of action marked McCormack's lowest total of the season and the fewest he had played since playing 13 in a win over North Dakota State on Dec. 5, 2020.
"We want to play through him and everything," Self said after the win. "But he's got to do better."
The 2020-21 season started much the way this one has, with McCormack struggling to find his rhythm and confidence throughout November and December. He flipped the switch when conference play rolled around and wound up earning second-team all-Big 12 honors and the Big 12's Most Improved Player award.
"I want him to do great and I love him," Self said Thursday. "But we've been better without him in the game. I hope we don't have to deal with last year again."
McCormack is expected to start again during Friday's semifinal game versus Dayton, and Self said Thursday that he believed the 6-10 senior would bounce back quickly.
"He wants to do good so bad and he's a terrific young man," Self said. "But he's kind of wishing it to happen, rather than going out and making it happen."
Rematch of Maui on deck
In Thursday's first game, the Dayton Flyers knocked off Miami, Fla., 76-60, in a game that DU controlled from start to finish.
The win, combined with KU's victory in Game 2, set up a rematch of the Maui Invitational title game from 2019.
The teams are different, of course, but the environment figures to be awfully similar.
KU and Dayton brought by far the most fans of any of the eight teams in the tournament, and their matchup in Friday's semifinal figures to be as electric off the floor as it is on it.
Between the lines, the Flyers (2-3) bring length and depth to the matchup. Both strengths were on full display in their Round-1 win.
"Defensively, our guys really set the tone in the first half and our defense created a lot of opportunities for us," Dayton coach Anthony Grant said after Thursday's win.
Grant said one of the big keys for his team is interior defense and controlling the glass because that gives the Flyers the chance to get out and run.
On Thursday, Dayton was led by four players in double figures, three of which were freshman. Freshman forward DaRon Holmes II (6-10, 220) led DU with 15 points and 6-foot freshman guard Malachi Smith added 14.
While acknowledging Dayton's length as something the Jayhawks would have to contend with, Self said he was looking forward to it, too.
"I almost welcome that," he said. "We played three teams in a row that were tiny, and I actually welcome playing some bigger guys that are more our size."
Tipoff is slated for 12:30 p.m. on ESPN/ESPN2.
Scouting the field
Kansas basketball coach Bill Self drew a comparison between this week's ESPN Events Invitational and the NCAA Tournament when talking about his preparation for the eight-team tourney.
"To me, it's kind of like an NCAA Tournament deal," Self said before leaving for Orlando on Tuesday. "It's a four-team tournament and then if we get the extra day we'll worry about that then."
Doing so in March, of course, would lead the Jayhawks into the Sweet 16 or even the Final Four. But there would be additional prep time between games two and three in those scenarios.
At this event, it's just one day of prep for Game 3, which will come on Sunday, win or lose. If the Jayhawks win their first two contests on Thursday and Friday — starting with the 1:30 p.m. opener against North Texas on Thursday — they'll land in the championship game on Sunday.
So far, Self has worried more about getting to that point and less about what will happen if the fourth-ranked Jayhawks (3-0) get there.
"I've only looked at our side so far," Self said of North Texas, Dayton and Miami, Fla. "Our staff has completed it. Every team's been scouted. But, for me personally, I don't get that far ahead."
Dotson's ideal timing
Former Kansas point guard Devon Dotson caught a break with his schedule this week, which allowed him to attend Thursday's Kansas victory.
Dotson's Chicago Bulls are in town to play the Orlando Magic on Friday, bringing him to Florida in time to catch his old team and some of his old teammates.
The luck didn't stop there. Dotson, who has spent time between the NBA club and the Bulls' G League affiliate was just recently recalled by the Bulls to join the roster.
Hello, old friend
It seems as if former Kansas guard Charlie Moore was destined to play in the ESPN Events Invitational.
Moore, who played for the Jayhawks during the 2018-19 season, started for the Miami Hurricanes in the first game of the event on Thursday.
Moore also redshirted during the 2017-18 season after transferring to KU from Cal. He then went to DePaul for the 2019-20 and 2020-21 seasons before landing at Miami for his super-senior season.
Moore scored just two points in Thursday's loss to Dayton, shooting 1-of-7 from the floor in 27 minutes.
Thanksgiving plans
Following Thursday's victory, Self said the team had plans for a 6:30 p.m. team meal.
Families were invited to the meal, but Self said each player also had the option to go off and have a smaller holiday celebration with his individual family.
"We'll have a good meal," Self said. "And we all have so much to be thankful for, and then we'll be back at work right after."