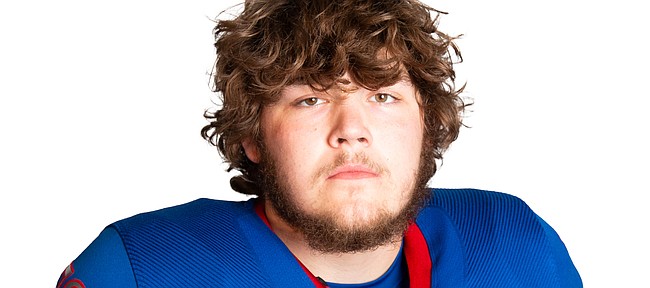 One of the unsung contributors to the Kansas football team's late-season upswing, redshirt senior offensive lineman Joey Gilbertson had never started a game for the Jayhawks until he was called upon for KU's road finale at TCU.
A fill-in starter at left guard for the injured Malik Clark, Gilbertson, who also came in late to help the Jayhawks win at Texas in overtime the week before, played every snap for the offense against the Horned Frogs, in just the fifth appearance of his college career.
"There's another guy that's highly positive. Lots of energy," KU head coach Lance Leipold said of Gilbertson, a 6-foot-4, 305-pound O-lineman from Wichita who the staff named one of the offensive players of the game at TCU.
Gilbertson will be among the players honored on Saturday for the team's Senior Night against West Virginia (6 p.m., FOX Sports 1.) And the Jayhawks (2-9 overall, 1-7 Big 12) are likely to need Gilbertson in the starting lineup again.
Much in the way quarterback Jalon Daniels and walk-on tight end Jared Casey have taken advantage of unexpected opportunities in recent weeks due to injuries, Gilbertson fit right in when KU needed a replacement for Clark, a four-year starter.
Offensive coordinator Andy Kotelnicki said he was "fired up" to see Gilbertson step in and perform for the O-line.
"He plays so hard — and that's what we want," Kotelnicki said.
Starting center Mike Novitisky said he saw all the work and preparation Gilbertson put in, long before he was needed on Saturdays.
"He's played his absolute heart out, and it's been awesome to see him get that opportunity and seize the moment," Novitsky said. "I'm just happy to have him out there. He knows what's going on. He knows what to do."
Because Gilbertson also has been a backup center this year, Novitsky said it's "great" having the former reserve next to him on the O-line, because Gilbertson is looking for the same cues as him and they can spot what the defense might be trying to do.
Even when Gilbertson was just backing up other interior lineman, Novitsky said the veteran was "very attentive" in meetings and remained a positive influence at practices, giving the team "his all" each day.
Daniels actually spent a lot of time in the preseason working with Gilbertson at center. The QB described the versatile O-lineman as someone who puts his head down and goes to work.
"I just appreciate everything that he does for us as a program," Daniels said, crediting Gilbertson for learning to play both guard and center.
As challenging as it was to step out from a behind the scenes role and into a critical post on the O-line, Novitsky said Gilbertson's knowledge and preparation made the transition easy.
"The lights are on, you've got to perform, and he did a great job performing these these past couple games," Novitsky said.
Leipold said having a veteran backup step in and contribute late in the year is not guaranteed.
"I've been places before where things haven't gone well, and guys like that just kind of exist through the rest of the season. And then they might get a chance and they're nowhere near ready," Leipold said.
He saw the opposite from Gilbertson.
"There's a guy who stayed ready, because of his positivity and his work ethic and all those things."