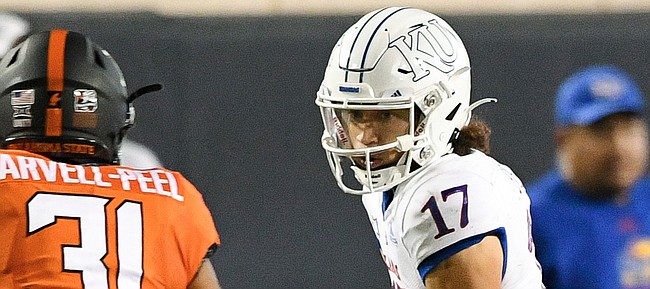 The Kansas football team found a new starting quarterback in Jalon Daniels. Now KU's coaches are trying to concoct ways to keep the Jayhawks' former No. 1 QB, Jason Bean, involved in a different capacity.
Daniels officially supplanted Bean on the depth chart — after filling in for him due to an injury — for KU's road finale this past weekend at TCU. But Bean was still involved in the game plan, just not as a QB. The 6-foot-3, 189-pound junior lined up in the backfield as a running back on a couple of occasions.
The idea behind the new offensive wrinkle, head coach Lance Leipold said, was simple.
"Get — if not our fastest — one of our fastest players on the field," Leipold said.
Bean isn't an every down type of running back, but Leipold said the staff wanted to be creative and find ways to get him the ball if they could.
"As you know, our depth has been challenged in some spots," Leipold said, referring to a slew of injuries at running back and tight end. "We're trying to make the best of that situation."
KU offensive coordinator Andy Kotelnicki said Bean, who had one rushing attempt and one reception in his first week in a new role, has handled the transition "really well" and taken a "professional" approach to the situation.
"I'm sure there's some disappointment and discouragement," Kotelnicki said of Bean, who started the first nine games of the season at QB before getting hurt against Kansas State on Nov. 6. "But he hasn't let it show in his performance. He goes out there, he's still taking a lot of reps at practice and performing well at the level that we'd want him to."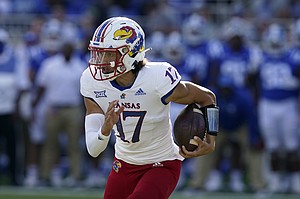 Kotelnicki emphasized that Bean has not switched positions, and he remains KU's backup QB. Most of Bean's game week preparation still involves his traditional spot. But now there are other elements to take on, too.
"It's easy to kind of curl up in the fetal position and maybe whine about things but he's not doing that at all," Kotelnicki said while referring to Bean's demotion. "He's handled it really well, professionally."
While almost all of Bean's production as a rusher came at QB, he enters the season finale on Saturday versus West Virginia (6 p.m, FOX Sports 1) averaging 4.3 yards per carry, with 400 rushing yards and six touchdowns.
With starting running back Devin Neal's availability in question due to an injury he suffered this past week at TCU, the KU offense could use all the help it can get.
The hope for Bean's new role, Leipold said, is that the Jayhawks (2-9 overall, 1-7 Big 12) will put him in situations where he can make something happen with his legs. After all, Bean did go for 100 yards on the ground as a QB during KU's Week 2 trip to Coastal Carolina.
After one game of the experiment, Leipold called the returns "very average." Bean rushed for 1 yard and caught a pass for a 1-yard loss against the Horned Frogs.
"But we'll continue to see what happens there," the coach added.
Even though Bean isn't as heavily involved any more, Kotelnicki said he thinks the former starting QB is happy for his teammates' success.
"And he's ready, because he knows you snap your fingers and your role changes," in the game of football, Kotelnicki said. "He's following the mantra, stay ready so you don't have to get ready."
That's something teammates have noticed, as well.
Said KU super-senior receiver Kwamie Lassiter II of Bean: "He's doing it all. Wherever he can fit in and make plays, that's what matters to him."