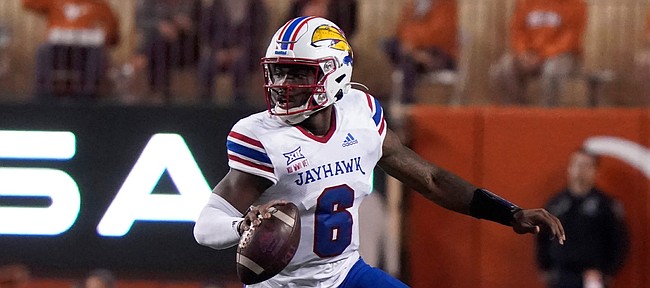 A Kansas football team that looked dead in the water not long ago found a source of revitalization for the season's final weeks when the Jayhawks unexpectedly landed on a new starting quarterback.
"First of all, if y'all are not entertained by Jalon Daniels and the rest of this Jayhawk squad, I don't know what to tell you," super-senior KU receiver Kwamie Lassiter II declared as he sat down for his postgame interview after KU's narrow defeat at TCU, in Fort Worth, Texas.
The Jayhawks had lost the game by three, courtesy of a go-ahead field goal in the final seconds. But it was the second week in a row that a Big 12 road game came down to the final seconds for KU. And that was a concept that seemed inconceivable in recent weeks — not to mention entire seasons over the past decade-plus.

A new sense of belief took over after the Jayhawks (2-9 overall, 1-7 Big 12) won at Texas in overtime on Nov.13, laying to rest the program's unholy Big 12 road losing streak at 56 games. That was Daniels' first start of the season, and the sophomore's impact couldn't go unnoticed.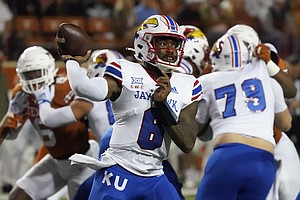 KU head coach Lance Leipold has praised Daniels' leadership, composure and execution since the 6-foot, 215-pound sophomore from Inglewood, Calif., took over at QB — a lineup modification forced by injuries that ultimately coincided with the Jayhawks playing a reinvigorated brand of football.
"He's been a big part of that," Leipold said. "His play, his energy."
Daniels' mindset as a QB
Over the past two games, Daniels has completed 43 of his 60 throws (71.7%), for 457 yards, with five TDs and one interception.
"I've had, I guess, a good couple of games, but that's just the beginning of it for me," the 19-year-old QB said.
His teammates speak more glowingly about Daniels' contributions. Lassiter, KU's leading receiver (52 receptions, 608 receiving yards, three touchdowns), thinks the QB deserves credit for the way the team has performed the past two weeks.
"J.D., when he came in, he played great," Lassiter said. "He makes smart decisions. I tell him that before every game, like make smart decisions, play one play at a time. I feel like he's done that. So I think that's helped him out, and I think that's helped the team out a lot, too, because we've been extending drives and we've been scoring in the red zone — and we've just been doing things that we really weren't doing at first (earlier this season). So that's big."
The young QB is known for his vibrant personality, and Leipold described him as a player who is highly positive. That trait comes in handy on the football field.
KU's head coach noted that Daniels' lone interception this year, in the second quarter at TCU, came because the offense wasn't lined up correctly in the backfield. That led to a TCU linebacker dropping into an area of the field where he was in position to make the pick. The ball shouldn't have been thrown, Leipold pointed out. But he credited Daniels for bouncing back — after that mistake, Daniels went 10-for-13 passing, with two TDs, and KU ultimately fought back from a 14-point deficit in the fourth quarter to tie the game.
"I don't see Jalon as a guy who flinches when things don't go right," Leipold said.
'Being the man'
Another way Daniels has fortified the team, junior center Mike Novitsky said, is through his personality and leadership.
Novitsky said Daniels keeps his teammates' energy up while commanding the huddle and bringing a vocal and confident approach to the offense.
"I think that just kind of rubs off on all of us," Novitsky added. "You know, he's a very confident individual in his abilities, and that's what we like. And he gives us confidence in our abilities out there."
It's that aspect of his job that Daniels takes "a great amount of pride in," in part because those leadership qualities weren't something he always possessed growing up.
The sophomore said he picked up a lot of those traits by watching one of his fellow QBs over the past several months.
"Seeing Miles Kendrick being able to go out on the field, rally up the troops, talk to guys, being able to get their ego up," Daniels said of the senior QB whose lead he followed. "It's something that I definitely had to learn over time. And that's something I'm growing into now."
KU offensive coordinator Andy Kotelnicki has been impressed with Daniels' accuracy, as well as the QB's ability to keep plays alive with his feet and anticipate open throws. Yet Kotelnicki said Daniels' leadership has been powerful, too.
"He's kind of embraced being the man, so to speak," Kotelnicki said. "He was acting that way, and he's been able to perform that way."
Lassiter described the sophomore QB as "an energetic dude," and said Daniels is similar to super-senior defensive end Kyron Johnson in that they're both compelling figures on the team.
"If he brings a lot of people around him and they've all got the same mindset to work and to get better, you can't really be stopped at that point," Lassiter said of Daniels' impact.
Staying ready
Daniels, who was planning to redshirt this year, likely wouldn't even be starting for KU right now if Kendrick, the Jayhawks' backup QB to former starter Jason Bean, hadn't suffered a season-ending injury while coming in for a banged-up Bean during the team's Nov. 6 home loss to Kansas State.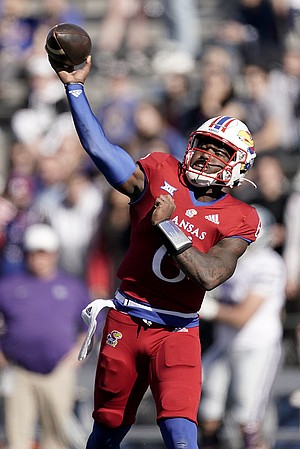 Bean started KU's first nine games of the season. And when he got hurt in the K-State game, and ultimately wasn't healthy enough to play the following week at Texas, it could've been Kendrick who stepped in at QB. But the senior Kendrick took a hit while completing a pass on just his second snap after coming in for Bean versus K-State, and the leg injury that resulted meant Daniels had to come in as an emergency QB.
Daniels acknowledged how unlikely his path to playing was, and that he very easily could have been heading into Saturday's finale versus West Virginia (6 p.m., FOX Sports 1) as a bystander instead of the starter.
"I believe that everything happened in God's timing," Daniels said. "What are the odds that two quarterbacks can get hurt in one game? And then, me redshirting this year, I get thrown into the game. But I stayed ready."
That'e easier said than done, too. The No. 3 QB isn't exactly a priority during practices when reps are being divvied out. So Daniels beefed up on his mental reps, both by mimicking actions while watching nearby, behind his teammates, during practices and by studying up on available video footage.
The third-string QB in the week leading up to the K-State game, Daniels said he was well versed on what plays KU would run because he examined video on his own time.
"I don't want to have to rely on the coaching staff to keep me prepared," Daniels explained. "I want to be able to stay prepared by myself, because when you go to the NFL, they're not just going to help you. You have to do everything yourself. You have to keep developing. You can't sit on a pedestal to where you think that you're good enough. There's always something to improve on and that's just something I've always worked with."
What's next
Daniels came into this season with starting experience, having served as KU's No. 1 QB for much of the 2020 season. He's glad that he's been able to prove that he's made progress as a passer and decision-maker since playing as a true freshman.
But he doesn't consider his late-season emergence a surprise, because he always had confidence in himself. Daniels said a challenging freshman year helped him realize everything he needed to work on, and he wanted 2021 to be about self-progression, whether he was a backup, redshirting or the starting QB.
Now that he's back to his familiar spot atop the depth chart, but older and better equipped to handle the job, Daniels hopes to lead the Jayhawks to a win over West Virginia (5-6, 3-5) to close out Leipold's first season.
Concluding 2021 with a win, Daniels said, would allow the Jayhawks to enter 2022 "with a full head of steam."
"If we win this game this week, this will allow us to be able to go into our very first game next year, wanting to start off 3-0, before we evenget into Big 12 play," Daniels said of his desire to end the year on a high note and keep leading the team into the future.