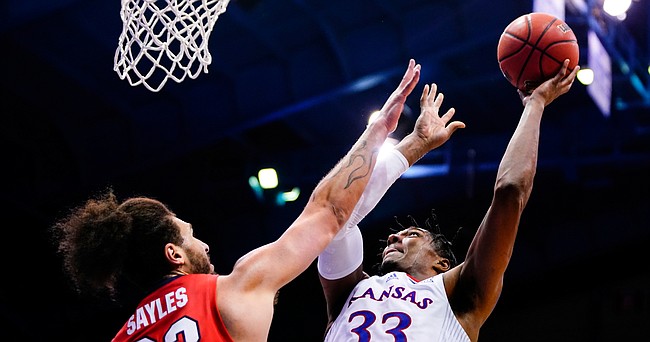 No. 4 Kansas Jayhawks (3-0) vs. North Texas Mean Green (2-1)
Time: 1:30 p.m., Thursday, Nov. 25, 2021
Location: HP Field House, ESPN Wide World of Sports, Kissimmee, Fla.
TV: ESPN2 | Radio: IMG Jayhawk Radio Network
Keys for Kansas
1. Support for Agbaji
During the first three games of the 2021-22 season, the Jayhawks have benefited from an offensive explosion by senior guard Ochai Agbaji, who is averaging a nation's best 26.3 points per game.
But as good as Agbaji has been, there's little doubt that he's going to need help eventually.
KU coach Bill Self went as far as to say KU's first three games — all victories — would have been incredibly close if Agbaji had not played. He did, though. And his newfound approach and focus has unleashed a different type of beast.
Agbaji is scoring off the catch, off the drive and above the rim. As the schedule gets more challenging, though, so, too, will Agbaji's time eclipsing the 20-point mark. That's where Self wants his other starters to come into the picture.
"I don't want to be negative at all because I think the team has been done fairly well so far," Self said Tuesday before departing for Florida. "But I don't think the individuals that comprise the team have done especially well so far. We've been pretty good as a group and I think our bench has been really good. I don't think our starters, with the exception of Ochai, have played near what they're capable of playing."
That puts the onus on veteran Jayhawks like Christian Braun and David McCormack, along with newcomer Remy Martin and starting point guard Dajuan Harris to elevate their play.
Self is not worried about whether that will happen. He simply believes it's a matter of when it will happen. A high-profile event like the ESPN Events Invitational, featuring three games in four days on national television, would be an ideal place for that to take place.
"I think David, CB, Juan and Remy have another level they can all get to," Self said. "So that excites me. I know (it) will happen. It just hasn't happened yet."
2. Welcome back, Mr. Wilson
Thursday's game will mark the first appearance this season for KU sophomore Jalen Wilson, who missed the first three games to serve a suspension after a DUI arrest in October.
Self was asked earlier this week about how Wilson would work his way back into KU's lineup upon his return, and the veteran KU coach made it clear that finding minutes for Wilson would not be a problem.
"He'll fit right in," Self said.
Whether that's at the 4, the 5 or even one of the guard positions, Wilson's versatility and improved all-around game give Self and company the option to use him in a variety of ways.
The one area that Self believes Wilson will impact the lineup right out of the gate is his ability to push the pace and create more opportunities in transition.
Self has talked extensively in recent weeks about Wilson being KU's best play maker in transition, and it seems likely that Wilson will be looking to make his coach look good by shining in that area in his first game back.
According to KenPom.com, UNT ranks 353rd nationally in adjusted tempo and 352nd in average possession length. Both speak to a team that prefers a slower pace. Wilson's desire to attack at all times could play to KU's advantage.
Super-senior Jalen Coleman-Lands, who stands to see his minutes impacted by Wilson's return, said getting last season's third-leading scorer and top rebounder back on the floor was nothing but good news for the 2021-22 Jayhawks.
"I think it's great," Coleman-Lands said. "Our main goal is to win a national championship. Him coming back is going to be great for us and gives us a better chance of winning a national championship."
3. Use recent experience to your advantage
Self and the Jayhawks have a great deal of respect for North Texas, both because of the style with which the Mean Green play and because of what they've done in the past.
"You guys have seen Purdue play," Self said Tuesday. "They may be the best team in the country. And North Texas beat them last year. And Purdue's playing with the same guys they had last year."
That particular victory came in the NCAA Tournament, where the Mean Green advanced to the second round as a No. 13 seed.
Self also noted that this year's UNT team took Buffalo down to the wire in a 69-66 loss, shortly after Buffalo went toe to toe with No. 6 Michigan in Ann Arbor, Mich.
"They're capable of giving us all we want and more," Self said of KU's Round 1 foe.
The reason? According to Self, it's because this group plays a lot like Tarleton State and Stony Brook, with scrappy competitors making things tough all over the floor and a variety of talented players at multiple positions.
"Interchangeable parts," Self said. "Much like we've played against so far. They will play a big a good part of the time. Maybe not all the time. Their guards and wings are really good. They're balanced."
So much so that Self said North Texas was tougher to scout than a lot of teams.
"You go by, 'Who are the shooters,'" Self said. "Well, there's five who can really shoot it. And who are the drivers? And there's five that can really drive it. They've got a bunch of good players and they go about eight deep.
"They're good. This will be a very difficult game and I hope our guys understand that."
The Mean Green lineup features four players averaging 10 points per game or better, led by junior guard Tylor Perry (5-foot-11, 182-pound junior) at 17.3 points per game. Perry has come off the bench in all three of North Texas' games.
Big man Thomas Bell (6-6, 205, senior) ranks second on the team at 15 points per game and also leads the club at 8.7 rebounds per game.
To Self's point about interchangeable parts, the North Texas lineup includes seven players averaging 13 minutes per game or more, including six of those seven at 20 minutes per game or higher.
Marquee Matchup
KU senior David McCormack vs. the game's first few minutes
Although his slow start this season looks and feels a little different than his early slump a season ago, there's little denying that KU big man David McCormack has yet to find his groove.
In an effort to help him locate it sooner rather than later, Self had a pretty blunt talk with KU's starting forward the other day and he's hoping the conversation will spark something positive starting this week.
"I told Dave this the other day," Self said. "I said, 'Dave, if you look at the first three games, we haven't gotten off to good starts in those games in large part because we tried to play through you.' And he knows that."
As with most things for Self, getting going early is not just about putting up numbers on the stat sheet. He wants to see McCormack more engaged and intense when the opening tip goes up.
"I think a big key for him is just starting a game off faster," Self said. "(Stony Brook's) center was a pretty athletic 6-8 guy and he wins the tip. That's an opportunity for (McCormack) to show everybody that he can jump and (is) explosive and (has) good timing and all that and he didn't win the tip. And he's more than capable of winning the tip."
Because Self has no plans to stop playing the way he always has preferred to play, which features a heavy dose of throwing the ball inside to the big men, the KU coach is looking for McCormack to flip the switch now.
"Play to his size, play with balance," Self said when asked what he wanted to see more of from McCormack. "We're going to throw the ball to our bigs; at least, historically, we have. And they've got to deliver and they've got to be better rim protectors and lane protectors and ball-screen defenders."
Jayhawk Pulse
It's been eight months since KU last boarded a plane to play in a tournament-type environment and, at that one, the Jayhawks barely got to unpack their bags while bowing out of the 2021 NCAA Tournament in the second round.
This time, win or lose, the Jayhawks will be sticking around for a while. And while that will allow them to settle in, the veterans on this team have taken steps to make sure the nation's fourth-ranked team does not arrive in Orlando with a vibe of complacency surrounding it.
"This is when the lights are going to be on, this is what we came here to do — win trophies and championships, compete for championships," Agbaji said Tuesday.
Playing three games in four days an even tougher challenge — schedule-wise — than what takes place in the NCAA Tournament. But the Jayhawks are treating this trip with similar urgency. To that end, Agbaji outlined a few elements of survival this Thanksgiving. Most of it had to do with proper rest and recovery tactics.
From getting enough sleep and staying off of your feet to eating right and staying strong mentally, Agbaji said it was "just little things like that" that will determine which teams have the most left in the tank in Sunday's final round.
Make no mistake about it, though; this KU team is expecting that to be them and expecting to compete in the championship game.
"With the type of players that we have, if we play selfless, move the ball around and keep defense at the forefront, I think we can beat anybody," Coleman-Lands said Tuesday. "Being able to have these experiences only keeps adding fuel to the fire."
Said Self of the challengers standing in KU's way: "I think it's a good field. I just don't think the rankings demonstrate the strength of the field."
KU and North Texas are meeting for just the second time in history. The first meeting came in 2010, when the Mean Green visited Allen Fieldhouse and walked away on the wrong end of a 93-60 loss.
Oddsmakers in Las Vegas list the Jayhawks as a 14.5-point favorite in this matchup.
Probable Starters
No. 4 Kansas
G – Dajuan Harris, 6-1, 180, Soph.
G – Remy Martin, 6-0, 195, Sr.
G – Ochai Agbaji, 6-5, 210, Sr.
G – Christian Braun, 6-6, 205, Jr.
F – David McCormack, 6-10, 265, Sr.
North Texas
G – Mardrez McBride, 6-2, 180, Sr.
G – JJ Murray, 6-1, 180, Sr.
G – Rubin Jones, 6-5, 190, Soph.
F – Thomas Bell, 6-6, 205, Sr.
F – Abou Ousmane, 6-10, 230, Soph.