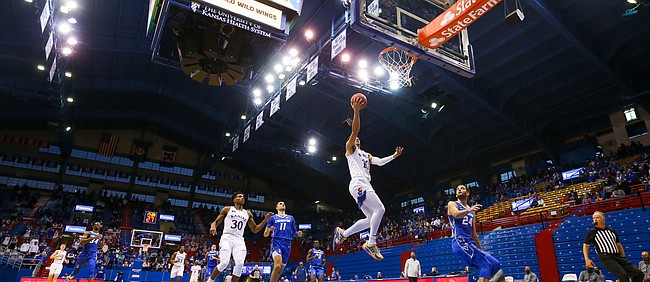 The fourth-ranked Kansas men's basketball program is taking a bruised and battered backcourt to Orlando for this week's ESPN Events Invitational.
But Kansas coach Bill Self said Tuesday that ailments affecting point guards Remy Martin and Bobby Pettiford, along with senior guard Jalen Coleman-Lands' lingering toe injury, were not expected to keep any of the Jayhawks on the bench.
Because the Jayhawks (3-0) had eight days between games on their schedule after last week's win over Stony Brook, Self was given the opportunity to give some of those guys extra rest. He did that with both Martin and Pettiford. Coleman-Lands continued to practice.
When asked if all three would be available for this week's tournament in Florida, Self said, "Oh yeah, yeah, yeah."
Pettiford's injury is the newest of the bunch. Self said he recently strained his hip and was taking advantage of the time to rest.
Martin's back injury impacted him during the Jayhawks' win over Stony Brook last week, and Self said the Arizona State transfer had not practiced since then.
And Coleman-Lands' toe injury has been with him since before the start of the season, but the super-senior transfer said Tuesday that cracked bone in his right big toe was "gradually getting better each day."
"You don't realize (how important it is)," Coleman-Lands said. "You do a lot with your big toe, pushing off, jumping off of my right, things like that. From where it started to where it's at now, it's getting better each day."
If any of the three were to be limited in Orlando because of the injury, the Jayhawks will have an extra body at their disposal.
Thursday's game against North Texas in the opening round — 1:30 p.m. on ESPN2 — will mark the return of sophomore wing Jalen Wilson.
Wilson missed three games — along with KU's exhibition victory over Emporia State — to serve a suspension following his DUI arrest in October.
Self said Tuesday that he still had not decided whether Wilson would start or come off the bench. But it was clear that he's going to play.
"He'll add an offensive threat, he'll definitely add rebounding and the thing that I hope that he adds as much as anything is speed," Self said Tuesday, a few hours before the team departed for Florida. "He's the best that we have in transition. I would've never said that two years ago."
The praise didn't stop there, as Self followed up on that thought with a quick question-and-answer of his own.
"Who you want to get the ball to in transition? Jalen," he said. "Far more so than our guards. Because we just play faster. That doesn't mean I don't want the guards to bring it, but, in an open-floor situation, he's the best we have. So hopefully he can create some easy baskets that way."