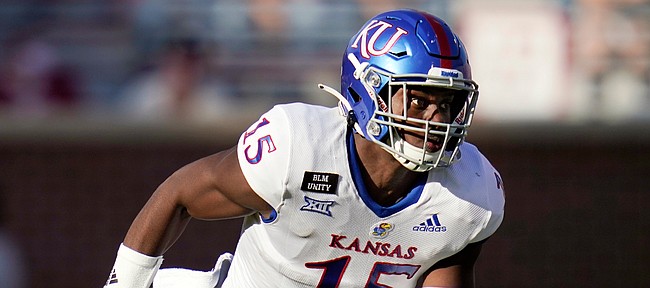 When Kansas football players were informed after practice on Tuesday that a representative from the NFLPA Collegiate Bowl was in attendance and about to address the team, Kyron Johnson "knew something was up."
Even so, Johnson didn't expect he was about to learn that the official was there to extend him an invitation to the postseason all-star game.
"It was exciting. My heart dropped," Johnson said of the surprise. "I was like, 'Lord.' I'm talking, adrenaline was rushing. I was like, 'Really?'"
A super-senior defensive end from Arlington, Texas, Johnson not only leads the Jayhawks in sacks (6.5), but is one of the most likely KU defender to create havoc defensively. Johnson enters his college finale this week versus West Virginia on Saturday (6 p.m., FOX Sports 1) as the the defense's leader in tackles for loss (8.5), quarterback hurries (nine), forced fumbles (four) and fumble recoveries (two).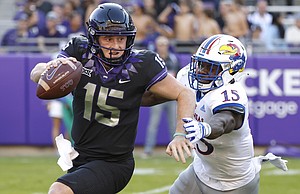 Johnson learned after the fact that many such standout moments were pointed out to the NFLPA Bowl by his mother, Stephanie, who routinely tagged the collegiate bowl in Twitter posts about her son.
"I was like, OK, that's where it came from, really, huh?" a laughing Johnson said of the recognition.
The speedy, 6-foot-1, 235-pound pass-rusher hopes to "showcase more" of his game and abilities when the college all-star game is played on Jan. 29, at the historic Rose Bowl Stadium, in Pasadena, Calif.
The post-practice announcement was followed by a number of Johnson's KU teammates coming up to him and letting the super-senior know they look up to him, which Johnson said caught him a little off guard.
"Now that I see that, it puts me in a whole new perspective of how I carry myself," Johnson said. "It shows that I have a huge impact on the team. And not only that, but a lot of people just really care and love for me."
This is Johnson's fifth season of contributing for the Jayhawks. He played in all 12 games as a true freshman in 2017. The journey has included both growth and some challenges, with various coaches asking Johnson to play different positions.
"Freshman, all the way to this senior year, they just kept bouncing me back and forth, between inside and outside, to nickel, to Sam, to D-end, to stand-up D-end, to D-end in the ground," Johnson said. "I'm not going to say I've been through a lot. I've just done a lot. It helped me grow, it helped me learn and it helped me just retain knowledge that I never knew I had or was there before."
Another KU super-senior, receiver Kwamie Lassiter II has been around Johnson the past five seasons, and respects how his teammate handled going around from position to position.
"That shows that he's got some versatility to his game. I feel like it was just a matter of time for him to blow up, in my opinion. We always knew he had the speed, the explosion, all of that," Lassiter said. "He's just a pure athlete, and he has a knack for the ball. So that's a good thing to have at that (D-end) position."
The past two years, quarterback Jalon Daniels said, he has found Johnson chasing after him plenty of times during KU practices. So the QB is among the many Jayhawks who appreciate what the veteran D-end brings to the team.
"My first time going with Kyron as a freshman, we did a read option and I thought I was going to be able to beat him off the edge," Johnson recalled. "And he definitely closed out on that fast and showed me how fast he was."
Now Daniels knows all about his teammate's speed off the edge. And the QB has respect for Johnson as a leader.
"He's definitely going to be somebody that pushes you. He's always pushed me since I've been here and that's what I appreciate," Daniels said.
Coming off an eight-tackle, one-sack performance at TCU in front to a large family contingent in Fort Worth, Texas, Johnson will play his final game for KU (2-9 overall, 1-7 Big 12) this Saturday against West Virginia (5-6, 3-5).
For his career, Johnson has 23.5 tackles for loss, 12.5 sacks and 187 total tackles.
The fifth-year defender said as his KU career comes to a close, he hopes that he made an impact.
"I was here and I did the best that I could," Johnson said. "I emptied the tank, basically. I put every ounce that I could in KU."