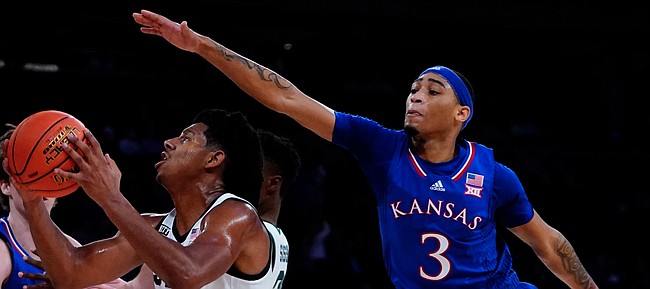 The Kansas men's basketball team maintained its spot at No. 3 in the USA Today coaches poll but dropped a spot in the Associated Press poll to No. 4.
The movement had very little to do with anything the Jayhawks did last week and everything to do with Purdue's convincing win at Villanova.
The Boilermakers jumped from No. 6 to No. 3 in the AP poll, coming in just behind top-ranked Gonzaga and second-ranked UCLA.
UCLA and Gonzaga will face each other in the Good Sam Empire Classic in Las Vegas.
Kansas (3-0) and Duke (5-0) rounded out the top five.
In its only game of the week last week, Kansas knocked off Stony Brook, 88-59, at home. Senior guard Ochai Agbaji topped the 20-point mark (with 25 points) for the third consecutive game to lead KU to its third victory of the season.
Next up, the Jayhawks are headed to Florida to open play in the ESPN Events Invitational outside of Orlando.
KU will play North Texas on Thursday at 1:30 p.m. Depending on what they do in that game, the Jayhawks will play again on Friday against the winner or loser of the matchup between Dayton and Miami. The final round will take place on Sunday.
Tenth-ranked Alabama (4-0) is the highest ranked team on the opposite side of the bracket, setting up a potential top-10 showdown in the championship game if both teams are able to win two games to get there.
The Jayhawks are scheduled to leave for Orlando on Tuesday afternoon and will spend the rest of the week preparing for three games in four days.
AP Top 25
1 – Gonzaga, 4-0, 1,515 (55)
2 – UCLA, 4-0, 1,443 (5)
3 – Purdue, 5-0, 1,391 (1)
4 – Kansas, 3-0, 1,354
5 – Duke, 5-0, 1,225
6 – Baylor, 4-0, 1,154
7 – Villanova, 3-2, 1,090
8 – Texas, 3-1, 1,083
9 – Memphis, 4-0, 1,002
T10 – Alabama, 4-0, 880
T10 – Kentucky, 3-1, 880
12 – Houston, 3-0, 861
13 – Arkansas, 3-0, 754
14 – Illinois, 2-1, 624
15 – Tennessee, 3-1, 558
16 – St. Bonaventure, 5-0, 517
17 – Arizona, 5-0, 474
18 – BYU, 4-0, 449
19 – Auburn, 3-0, 374
20 – Michigan, 3-2, 367
21 – Seton Hall, 3-0, 363
22 – UConn, 4-0, 342
23 – Florida, 3-0, 294
24 – USC, 3-0, 138
25 – Xavier, 4-0, 102
Others receiving votes: Oregon 96, Virginia Tech 91, Ohio State 89, North Carolina 75, Indiana 45, Michigan State 44, Marquette 41, Colorado State 30, Maryland 28, Texas Tech 26, Iowa 6, LSU 6, Mississippi State 4, Florida State 4, Drake 2, San Francisco 1, Loyola Chicago 1, George Mason 1, Ohio 1