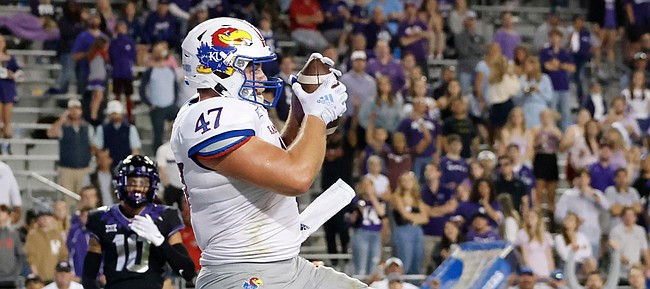 Fort Worth, Texas — No one-hit wonder, Kansas football walk-on Jared Casey proved to be even more productive in his second game contributing as a tight end than he was in his first.
A week after becoming a college football overnight sensation, with his game-winning two-point conversion for the Jayhawks at Texas, Casey was no longer an unknown commodity Saturday night at TCU. And the 6-foot, 254-pound redshirt freshman from Plainville showed he had even more in his bag, pulling in four receptions for 34 yards — a stat line that included the game-tying touchdown with fewer than five minutes to play in the fourth quarter.
The quarterback who helped make Casey famous with their connection for a two-point conversion in overtime at UT, Jalon Daniels reiterated after KU's 31-28 defeat at TCU that he never doubted Casey's play-making ability.
"I knew that he was able to do stuff like this," Daniels said, bringing up again that the reserve tight end routinely creates highlight plays during KU's practices.
"Making miraculous catches like he did today — that one-handed on the sideline — and being able to get that touchdown for us when we needed it," Daniels said of Casey's latest standout receptions, "he's just a baller making plays."
Asked after the narrow road loss what he thought of Casey's followup performance to becoming a breakout star for KU a week earlier, head coach Lance Leipold replied, "Which play?"
The one-handed sideline catch Casey made in the second quarter was his most improbable haul yet, as he leapt to secure it with his right hand while still coming down in bounds to make it a first-down reception.
It seemed to back up what his position coach and KU offensive coordinator Andy Kotelnicki proclaimed earlier in the week, when the assistant said, "hand to God," Casey has the best hands on the team.
Casey was more involved in the game plan for the TCU game, with tight end Mason Fairchild still unable to play after getting hurt in the Texas win. Casey was on the field by the second offensive snap versus the Horned Frogs, and the Jayhawks (2-9 overall, 1-7 Big 12) needed him even more when tight end Trevor Kardell, the starter, got injured at TCU.
Said Leipold: "Pressed into action, he's staying ready. He's showing now that he's a reliable target."
Document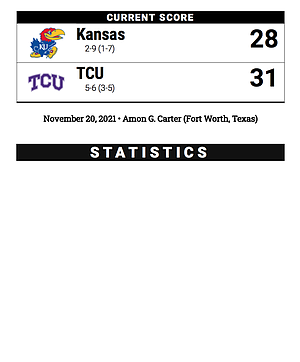 Once again, the head coach pointed out, Casey played even more than he was anticipating but proved capable of stepping up.
Leipold said he was "really proud" of the walk-on and the attention-grabbing story that was Casey's game-winning catch at Texas, fueled by his parents' viral video that captured the unlikely scene.
When Casey followed it up with not only his first career catch at TCU — the two-point conversion at UT didn't actually qualify as a reception because it came in a a point after situation — but also solid blocking and more crucial receptions, Leipold considered it a good sign.
"It shows it's not just a one-play story. And that the young man's a good football player," Leipold said. "And he's there battling and doing things and preparing. All the things he went through last week, it didn't distract him to be ready to perform tonight. And he played well."