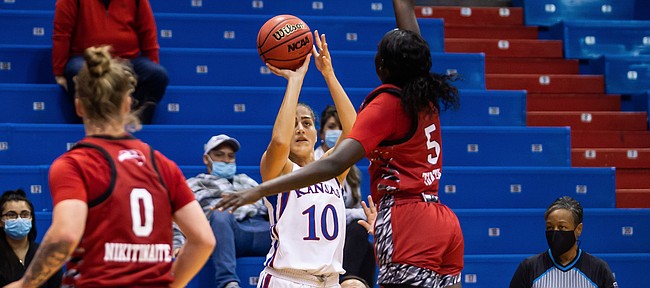 The University of Kansas women's basketball team recovered from a slow start versus St. Louis in the first half Sunday to remain unbeaten.
The Jayhawks, led by sophomore forward Ioanna Chatzileonti's 19 points in a 79-50 victory at Allen Fieldhouse, turned it on in the third quarter to pull away.
The Jayhawks (4-0) led for most of the opening two quarters, but only had 27 points by halftime. They put up 28 in the third and 24 in the fourth, while hitting 58.3% of their shots from the floor in the second half.
KU's surge coincided with Chatzileonti's offensive uptick. The 6-foot-3 sophomore from Greece scored 15 points in the second half, and shot 7-for-8 in the final two quarters.
She had plenty of help against the Billikens (1-3), too. Sophomore guard Mia Vuksic scored 12 off the bench, junior guard Zakiyah Franklin posted 11 points and junior center Taiyanna Jackson added 10 more for KU.
The Jayhawks' subs outscored the St. Louis reserves, 31-11, with Vuksic, super-senior Julie Brosseau (eight points) and freshman center Danai Papadopoulou (seven) all contributing.
"Depth is a strength of our team," KU head coach Brandon Schneider said. "We have had a lot of players out through the first month of practice, but a lot of development and chemistry continues to happen."
Up next for KU is a Thanksgiving weekend trip to Las Vegas, for the South Point Shootout. The Jayhawks are set to take on Tennessee (4-0) on Friday (5:30 p.m., FloSports), and then face UTEP (4-0) on Saturday (8 p.m., FloSports).