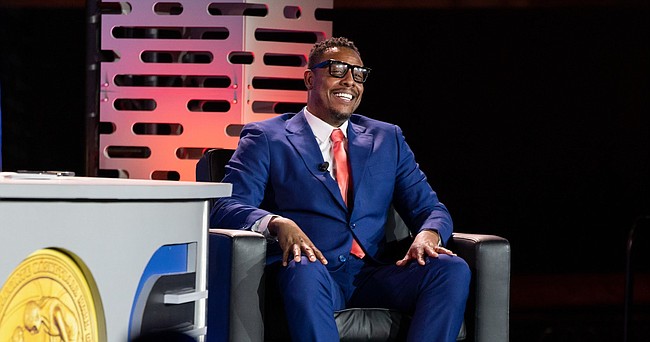 Enshrined in the Naismith Memorial Basketball Hall of Fame in Springfield, Mass., earlier this year, former Kansas great Paul Pierce was one of eight former college standouts inducted into the National Collegiate Basketball Hall of Fame on Sunday evening.
Pierce, who starred at KU from 1995-98, averaged double digits in scoring during each of his three seasons as a Jayhawk.
He was joined in the 2021 class by late Maryland legend Len Bias, UCLA's David Greenwood, Bradley's Hersey Hawkins, Ohio State's Jim Jackson, North Carolina's Antawn Jamison and former coaches Rick Byrd and Tom Penders.
Pierce's crew was the 16th induction class in the college hall of fame's history.
He was the third former Jayhawk to be formally inducted into the college hall, joining Danny Manning (2008) and Clyde Lovellette (2012). Other KU-related members of the hall of fame, which calls Kansas City, Mo., home, include: F.C. "Phog" Allen, Larry Brown, Paul Endacott, William Johnson, Arthur "Dutch" Lonborg, John McLendon, Ralph Miller, Adolph Rupp, Dean Smith and Roy Williams.
During a pre-induction ceremony that featured sit-down interviews with several of the inductees, Pierce recalled his recruitment to Kansas and explained how seeing a game in Allen Fieldhouse for the first time changed his life.
"I've never seen anything like this, and I was like, 'This is the place I need to play,'" Pierce said during the weekend celebration. "I took one visit to Kansas and the crowd was phenomenal. They started chanting my name. I didn't even know they knew I was there, and I was like, chills. That's when I knew I was going to be a Jayhawk."
Pierce also had high praise for Williams' role in his college success, which helped pave the way for a 19-year NBA career that featured multiple All-Star Game appearances and a 2008 NBA title.
The 10th overall pick of the Boston Celtics in the 1998 NBA draft, who later earned the nickname "The Truth," said he always loved playing basketball but felt he truly learned the game when he linked up with Williams.
"It wasn't until I got to Kansas and played under Roy Williams that I got coached," he said. "I learned discipline. I learned very hard work. And these are things that helped me in life and when I played on the next level."
The Inglewood, Calif., native who was recruited to KU by Williams led Kansas to 98 victories in that time, including three conference titles and two conference tournament titles.
Pierce finished his KU career with 1,768 points, with 777 of those coming during his junior season when he was named a consensus first-team All-American after leading the Jayhawks to a 35-4 season. Pierce also was a finalist for the Wooden Award during the 1997-98 season and the Most Outstanding Player at both the 1997 and 1998 Big 12 tournaments.
"He was one of those guys that was difficult to defend," said Jamison, who played against Pierce at various basketball stops as far back as high school. "His size, agility. He could score from the inside, score from the outside. He was the complete package. The nickname sticks. He's the truth when he's out there on the basketball court."
Pierce's No. 34 jersey was retired into the Allen Fieldhouse rafters in 2003, and he has maintained a fondness for his alma mater throughout his post-collegiate years.
"It was the best choice I made," Pierce said of coming to Kansas. "It was just the fans, the people, the relationships that you build in college — growing up from a boy into a man. That's my fondest memories."
Jump to the 1 hour and 20 minute mark for the beginning of Pierce's interview:
National Collegiate Basketball Hall of Fame Class of 2021 Induction