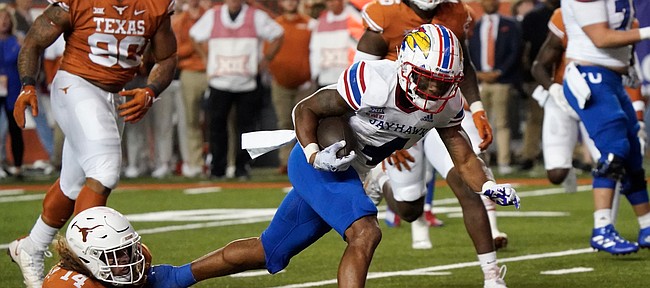 Fort Worth, Texas — The Jayhawks had to try and rally back on the road at TCU Saturday without Devin Neal in the second half.
The Kansas football team's starting running back, Neal appeared to injure a shoulder late in the second quarter. Though he was on the sidelines for the final two quarters, all he could do was watch what turned out to be a 31-28 TCU win.
Head coach Lance Leipold said after the game he didn't yet have an update on Neal. Leipold said he was told by the training staff at halftime that the team's leading rusher needed to be shut down.
"I don't want to get into a guessing game," Leipold said of Neal's status moving forward. "As we know he's got a very bright future, and we want to be very smart on this with him, as well."
Neal ran for 59 yards and a touchdown before getting hurt.
Redshirt freshman Amauri Pesek-Hickson, who replaced Neal as the primary back, had 28 yards on nine carries.
Clark out on O-line
A regular starter on KU's offensive line since 2018, super-senior left guard Malik Clark missed Saturday's game at TCU due to injury. Senior Joey Gilbertson replaced Clark in the starting lineup at left guard.
Clark made the trip with the Jayhawks, but didn't suit up. He wore a protective boot on his left foot.
The 6-foot-4, 323-pound veteran from New Orleans had started 19 games in a row before missing the Jayhawks' road finale. Clark has started 40 games for KU over the course of the past four seasons.
Leipold said he doesn't know whether Clark will be able to play in the team's finale versus West Virginia next week.
Fairchild out
The Jayhawks' offense also missed starting tight end Mason Fairchild, who got hurt a week earlier at Texas — a game in which he caught two passes for 31 yards and scored a touchdown.
A starter in every game this season, Fairchild had a streak of 10 consecutive starts snapped. Redshirt freshman Trevor Kardell started in Fairchild's place.
Leipold said he didn't know the status for Fairchild next week, either.
Bean makes cameo at RB
Though he's no longer KU's starting quarterback, Jason Bean made some brief appearances for the offense at TCU.
Bean played in the backfield at the same time as new starting QB Jalon Daniels on a few occasions.
As a running back, Bean had one carry for 1 yard and one catch for minus-1 yard.
Casey featured on national shows
Saturday morning, hours ahead of the Jayhawks' game at TCU, KU walk-on tight end Jared Casey, the breakout star of the Jayhawks' overtime thriller at Texas a week earlier, was featured on both of college football's national pregame shows: ESPN's "College GameDay" and FOX's "Big Noon Kickoff."
In Casey's interview with FOX's Tom Rinaldi, the redshirt freshman walk-on watched the viral video his mother recorded at the UT game and teared up.
Casey made his first career catch — the two-point conversion a week earlier didn't go on his statistical record — and then some at TCU, finishing with four receptions for 34 yards and a TD.
Talib meets the team
On the eve of the TCU game, the Jayhawks got a special visitor during their Friday night team meeting at their hotel, when former KU star Aqib Talib addressed them.
The retired five-time pro bowler and Super Bowl champion with Denver, Talib spoke to all the players, and later posed for a picture with KU's defensive backs.
Said KU safety Kenny Logan Jr.: "That was my first time meeting him. It was definitely exciting to meet a Kansas legend. He gave us encouraging words, told us to go to and play with our swag and just go out and have fun."
In Talib's final season at KU, in 2007, the Jayahwks went 12-1 and won the Orange Bowl. Talib was named the MVP of the bowl game.
Talib picked off 13 passes in three seasons with the Jayhawks and ranks second all-time in interceptions for the program, behind Ray Evans (17 in the 1940s).
KU's director of football relations, Darrell Stuckey, a KU teammate of Talib's, helped set up the special appearance.
https://www.instagram.com/p/CWe1YmRLlw5/
Kill raves about Leipold
Count interim TCU head coach Jerry Kill among Leipold's biggest supporters. Earlier this week, Kill said KU made a "great hire" when it handed the program over to Leipold, and Kill called the Jayhawks' head coach an "off-the-charts smart guy."
"You watch, he'll get it back to where (former KU head coach Mark) Mangino had it and competing and doing all those things. It won't take him long," Kill predicted.
Document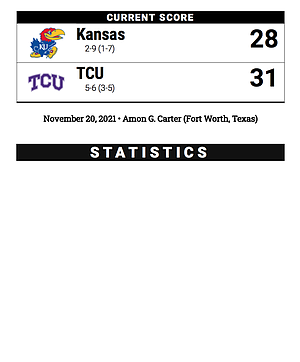 The Jayhawks' Nov. 13 overtime win at Texas made an impression on Kill, as it did many in the college football world.
"You score that many points against Texas, you beat Texas at their place," the Frogs' coach said, "you're doing something right. He's brought a new mentality to that program and to that team."
While Kill, a former head coach at Minnesota and Northern Illinois, said it usually takes three to four years to rebuild a program, he thinks Leipold has the Jayhawks "on a faster track" than he even imagined.
"I can tell you from taking over programs and what they're doing, they're doing exactly what they need to do. I think you'll see a team that's going to be on the rise for the next several years," Kill forecasted.
Born in Cheney, Kill is a Kansas native and graduated from Southwestern College, in Winfield. Formerly the special assistant to Gary Patterson, Kill was selected to lead TCU the rest of the season when the program parted ways with Patterson, its longtime head coach.
Reports have indicated that SMU head coach Sonny Dykes is a frontrunner to become the next coach at TCU.
Academic honorees
The Big 12 announced this week the football players who made it onto this year's Academic All-Big 12 team, and 25 Jayhawks were on the first team.
The group was led by junior cornerback Kwinton Lassiter, who was one of just 11 players in the conference nominated with a 4.0 GPA.
The KU representatives on the first team were: Tabor Allen, Jelani Arnold, Nate Betts, Jacob Borcila, Earl Bostick, Krishawn Brown, Sam Burt, Casey, Nick Channel, Mac Copeland, Jalon Daniels, Ra'Mello Dotson, Dylan Downing, Fairchild, Miles Fallin, Luke Grimm, Colin Grunhard, Jamahl Horne, Kwinton Lassiter, Adagio Lopeti, Ben Miles, Kyler Pearson, Spencer Roe, Jackson Satterwhite and Reis Vernon.
KU's four second-team all-academic honorees were: Joey Gilbertson, Luke Hosford, Steven McBride and Caleb Taylor.
First team members have maintained a GPA of 3.2 or better, and second team members have a GPA between 3.0 and 3.19.