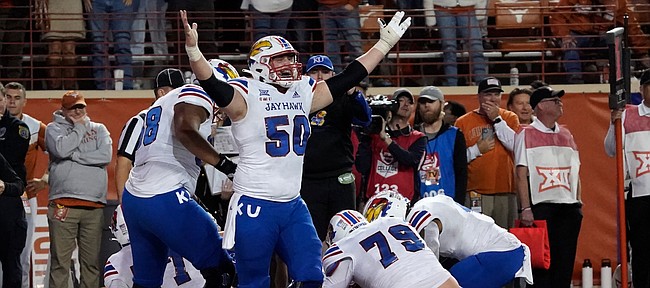 Nearing the end of his sixth year in the Kansas football program, super-senior receiver Kwamie Lassiter II has witnessed more losses than he cares to remember, as well as a handful of victories — 11 to be exact.
Lassiter was a first-year walk-on who was redshirting in 2016, when KU upset Texas in Lawrence. He was a reserve receiver as a redshirt sophomore in 2018, when the Jayhawks won at Central Michigan for their first road victory since 2009. A year later, Lassiter was a part of KU's lopsided road win at Boston College.
But the Jayhawks' latest victory, a 57-56 overtime shocker at Texas that grabbed the attention of the college football world, seemingly was on another level.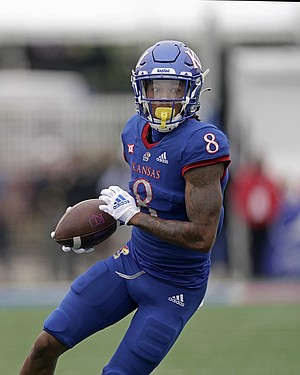 What felt different about it? Allow Lassiter, who led KU with eight catches for 68 yards and a touchdown, to explain.
"Of course you're going to say the first Big 12 away win in forever," Lassiter began, referencing the end of KU's 56-game conference road losing streak. "But I just felt like it showed that this team could actually play football. That's what was big to me. This team can compete in any game. It doesn't matter the team. When we put things together, we can finish games."
The Jayhawks (2-8 overall, 1-6 Big 12) now have just two victories on the season, heading into Saturday's road matchup with TCU (4-6, 2-5). But their collective confidence hasn't been higher.
Head coach Lance Leipold, brought in just more than six months ago to rebuild the long-struggling program, wanted to make sure the Jayhawks knew what to do with the newfound attention that came with their upset win at UT.
"One of the first things I talked to them about was my concern about how they handled success," Leipold said.
Just a few weeks earlier, KU gave Oklahoma a scare before losing to the Sooners at home. Leipold said the team didn't follow up that positive showing with the type of intensity it needed to take the next step the following week, and Oklahoma State handed KU its worst loss of the season, 55-3.
So this week, one of Leipold's primary messages was: "If you want to continue to be successful and experience more of those feelings, what are you doing more than you did a week ago to get prepared?"
The former Wisconsin-Whitewater and Buffalo head coach said that's a process players have to learn and go through, and keep demanding more of themselves.
Plus, Leipold said, KU's coaches have to coach the Jayhawks "harder than they ever have before."
"If you thought we were tough on the little things before," Leipold told the players, "we will even be more so now."
Leipold's longtime offensive coordinator, Andy Kotelnicki said the win at Texas revitalized the team by creating energy and confidence.
"Sometimes you've got to learn how to win, learn how to lose, go through both those things and respond correctly," Kotelnicki added of the win's significance.
While Leipold's staff, Kotelnicki explained, tends to be very process-oriented, and likes to take a steady approach each week, regardless of what happened the previous Saturday, he said the attention the Jayhawks got was deserved.
"It's hard not to smile and be excited, but at the same time," KU's O.C. warned, "we can't listen to the noise. You know what I mean? As I've talked to the guys, it's actually easier, probably, to block out negative criticism or negative noise. It's easier to block that out than it is the positive stuff."
How much did the Jayhawks, who had lost eight straight and been blown out by 25 or more points six times, need the type of result they got at Texas?
"A lot," KU defensive coordinator Brian Borland said. "It just kind of changes your outlook in a lot of ways, gives you a real sense of continued hope and those kinds of things."
Borland has said all along this year that the defensive players, while learning a new system and trying to adapt, consistently put in "real work."
"To finally get a little bit of payback and reward, I think is something pretty special for those guys," Borland said. "I try to talk all the time about, you've just got to keep watering the tree and sometime it's going to sprout the fruit. So I guess there was a piece of fruit that sprouted the other night, which was awesome."
Following those rare KU wins Lassiter has seen up close since 2016, often regression isn't far behind.
KU hasn't won two games in a row since 2018, when the Jayhawks followed up their win at CMU with a dismantling of Rutgers at home.
The program hasn't even won two Big 12 games in the same season — let alone two in a row — since 2008. That's also the last time KU won back-to-back conference games: at Iowa State and versus Colorado.
So how do this year's Jayhawks make sure that the win over Texas isn't fleeting, that it actually makes a difference?
Said Lassiter: "I feel like, just like last week, you minimize the mistakes. On offense at least, you extend drives. Capitalize on third downs — like at a point we were 8-for-9 on third downs (at Texas, and finished 11-for-17). That's how it's supposed to be."
The veteran receiver is convinced, too, that last week's win actually was different and can be a turning point for the program.
"I like what I'm seeing," Lassiter said, "and I'm ready to keep watching — for the future, too."