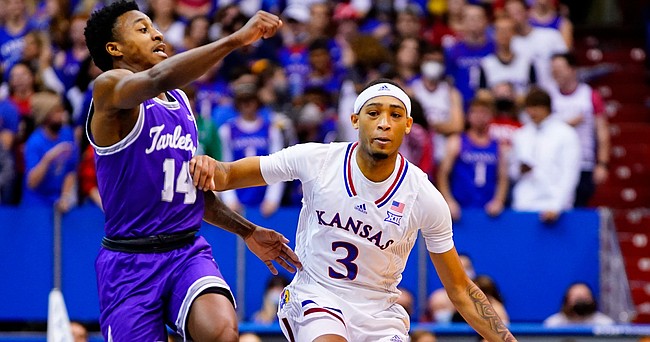 The way Kansas basketball coach Bill Self sees it, last week's battle with Tarleton State was the perfect tune-up for Thursday's matchup with Stony Brook.
"They're going to be small like that," Self said of the Seawolves, who will take on the third-ranked Jayhawks at 7 p.m. Thursday night at Allen Fieldhouse. "That is similar. So our big guys are going to have to chase around (players who stand) 6-foot-5."
How that impacts the way Kansas (2-0) plays remains to be seen, but, against Tarleton, Self chose to play smaller more often, utilizing back-up big men Mitch Lightfoot, Zach Clemence and KJ Adams for a total of just 17 minutes in the 88-62 victory.
At this point, it looks as if Self is committed to playing four-guard lineups, with one big man, for the majority of the minutes. That approach only figures to be enhanced when returning starter Jalen Wilson returns from suspension next week.
With that in mind, the Jayhawks spent at least part of this week emphasizing faster tempo, regardless of who was on the floor.
"We've been playing way too slow," KU sophomore Joe Yesufu said Wednesday. "(With) the lineups that we have, we can definitely get up and down the floor. So we've definitely been putting an emphasis on that."
Yesufu said KU veterans Ochai Agbaji and Jalen Wilson were among the fastest players on the team when it came to game speed. And he surmised that their experience — "they know exactly what coach Self wants" — allowed them to be more comfortable while playing faster.
"I think it's more of we're trying to think a lot, trying to make the right play, when we should just get out and go," he said of the rest of the roster. "That's what our team is good at."
Freshman forward KJ Adams agreed and said the sooner this team can find its groove while running the better off it will be.
"We have really quick guards, like Remy (Martin) and Juan (Dajuan Harris Jr.), so just to push the ball out and play as fast as possible, that'll help us," Adams said. "We have all the pieces."
With his current personnel, Self said he would always like for his team to play as fast as possible. In order to do that, he has to get them to understand the importance of defense and rebounding and how those areas set teams up to succeed in transition.
"We'd like to play faster," Self said. "But I think our emphasis has been actually been our half-court defense as much as anything. I wish I could say it's getting better. I'm not sure that it is yet. But I think guys are getting a little more comfortable."
For the second game in a row, they'll be pushed by a scrappy, smaller Stony Brook lineup that starts five players at 6-foot-6 or shorter.
"I think they're better than Tarleton, offensively," Self said of the Seawolves (0-1). "Better individual players. They've got some guys coming back from last year and then (they added a couple transfers). It's bad matchups. Whoever our 5 man, David or Mitch, was guarding (Tarleton) could catch it and drive it or do whatever, and we kind of hoped they missed when they did that. Hopefully we'll be better defensively where we can actually guard (Stony Brook)."
The Jayhawks' second home game of the season will be televised by Big 12 Now on ESPN+.
Coleman-Lands re-injures toe
Self said Wednesday that super-senior guard Jalen Coleman-Lands recently reinjured the big toe that has been bothering him throughout the early part of the season.
The main issue with Coleman-Lands' injury is pain and how much he can tolerate while attempting to play through it. But Self said the Iowa State transfer has a crack in the bone in one of his big toes. He did not specify which one.
Self said Coleman-Lands is "probably 80%" and also praised his attitude and mental toughness while dealing with the injury.
"It still hasn't allowed him to be who he is yet," Self said. "It's not like it's keeping him from practice, but when (someone steps on the toe) it's painful enough that it could knock him out of practice or whatever for the rest of the day. But he's been good."
Wilson nearing return
Asked Wednesday how Wilson had handled himself during his recent four-game suspension that followed a DUI arrest in late-October, Self had nothing but praise for the third-year sophomore's approach after the incident.
"He's been great," Self said. "I'm really impressed with him."
During the past couple of weeks, Self said it was not uncommon for him to see Wilson running sprints and working out on his own. He also said he was a great contributor to KU's scout team in practice, but added that he also was looking forward to getting him back into the rotation on game nights.
Self said Wilson's return will help the team's pace dramatically.
"You guys will be surprised how much faster we play with Jalen in the game because his ability to push it in transition is by far the best we have from a speed standpoint," Self said. "He's been terrific."
Probable starters
No. 3 Kansas
G – Dajuan Harris Jr., 6-1, 180, Soph.
G – Remy Martin, 6-0, 195, Sr.
G – Ochai Agbaji, 6-5, 210, Sr.
G – Christian Braun, 6-6, 205, Jr.
F – David McCormack, 6-10, 265, Sr.
Stony Brook
G – Jahlil Jenkins, 6-0, 160, Sr.
G – Juan Felix Rodriguez, 6-0, 190, Jr.
C – Anthony Roberts, 6-4, 200, Jr.
G – Elijah Olaniyi, 6-5, 205, Sr.
F – Mo Diallo, 6-6, 215, Jr.