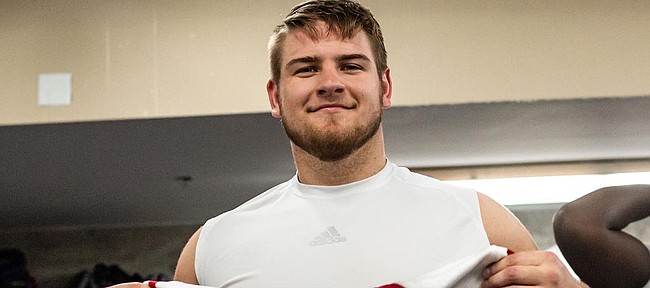 Kansas football walk-on Jared Casey neither asked for nor expected any of this — being approached about NIL opportunities, starring in a commercial, becoming the leading figure in features that will air nationally on FOX's Big Noon Kickoff and ESPN's College GameDay this coming Saturday. But the redshirt freshman from Plainville will humbly ask that you refer to him as a tight end now.
An overnight sensation for the Jayhawks after making the game-winning catch in overtime in Austin, Texas, this past Saturday, Casey was an unknown and listed as a fullback on KU's roster before everything changed.
One of the final questions Casey answered during a lengthy media session on Wednesday had to do with whether he was a fullback or tight end, considering he lined up as a tight end and showed his hands to be trustworthy in bringing in the winning two-point conversion.
"Just give me tight end. I will go with tight end," Casey replied.
KU head coach Lance Leipold joked earlier this week that he didn't think it would be fair to list a "5-9" tight end (Casey is actually listed at 6-foot, 254 pounds) on a Power Five roster. But now that Casey, who said he was on the fourth- or fifth-string offense before the season began, has earned the right to be called a tight end.
"It's a great story," Leipold said. "It kind of, you know, parallels this program in many ways. And you want guys who continue to work hard and do what you ask and be ready when called upon."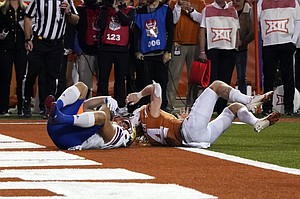 Casey, who just a few years ago was a running back and linebacker on a Plainville High team that had 23 total players, said he never envisioned getting the type of recognition that has popped up in the days since he helped KU football shock the college football world.
"Honestly, I just wanted to get on the field," Casey said of his goal when he joined the program as a walk-on. "I never really thought about touching the ball like that, or being in a big moment like that. I just wanted to be on the field and play."
As fate would have it, injuries to numerous tight ends and fullbacks in recent weeks opened the door for Casey to line up for KU's offense for the first time in his career this past weekend. And on the same day that a video of his parents watching Casey's clutch catch went viral, KU football players had an NIL meeting back in Lawrence on Sunday, with 6th Man Strategies.
Casey admitted he wouldn't have even attended the meeting if he hadn't made the catch. But it was then that he learned Applebee's wanted to offer him an NIL deal and he would be in a commercial. The shoot was Tuesday, and Casey entered it with no acting experience — not even in a school play.
"It was kind of weird," Casey said, grinning. "It took a while, to be honest. I never really thought being in a commercial was in the picture, but it was pretty cool."
The commercial, which is expected to be finished this week, will debut on Applebee's Kansas social media channels, as well as on Casey's personal social media accounts. And it's possible it could air in local markets after that.
As a result Casey will receive $800, as well as $1,000 worth of Applebee's gift cards. He plans to use those gift cards on KU teammates, including some offensive linemen and sophomore quarterback Jalon Daniels, who found Casey open in the end zone to beat Texas.
There also are unfinalized talks of Casey potentially getting a new car for himself out of his newfound college football fame. He described his current automobile, the family's KIA Spectra, as "a little aged," with about 230,000 miles on it.
"I don't know how it still works. The cruise kicks on and off sometimes," a smiling Casey shared.
All of this attention was more than the young backup tight end expected. Casey said the past few days have been "a little hectic." And while his big moment will always mean a lot to him, Casey also said to an extent he wants to "move on and get ready for TCU," KU's opponent on Saturday (3 p.m., ESPN+).
Similarly, Casey, when asked about the football that he caught at UT, said he wouldn't be interested in holding on to it as a keepsake. Casey would rather see the ball inside of Anderson Family Football Complex, on display for anyone to walk past it and remember the win.
As hard as it is for Casey to believe all that's transpired in the past week, he said his "determination and heart" put him in position to succeed when an opportunity came out of nowhere.
He said his message to other small-town football players in the Sunflower State would be to "put the work in," because if you do, it can pay off.
"Don't be discouraged. Keep going and don't let anyone tell you any different," Casey recommended.
Said Leipold: "Some of the most unlikeliest guys get called upon at certain times, and to step up, make a play, it's great."