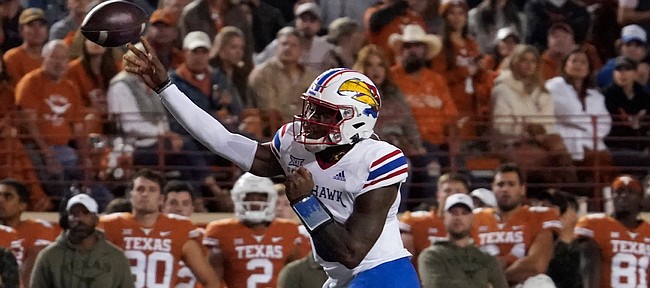 An emergency No. 3 quarterback who was planning to redshirt just a couple weeks ago, sophomore Jalon Daniels could remain the Kansas football team's starting QB after helping the Jayhawks pull off an upset win at Texas this past weekend.
Although KU head coach Lance Leipold said Tuesday during his weekly press conference he's "probably not" going to officially name a starting QB heading into this week's road game at TCU, Leipold said Daniels is "all in" on playing during the final two weeks of the season, even though that would mean no longer redshirting.
Asked if Daniels would start in the road finale, Leipold replied: "It could be that way." The coach also said Daniels is "going to play."
Daniels completed 21 of his 30 passes for 202 yards, threw three touchdowns and ran for another in KU's striking 57-56 overtime victory in Austin, Texas.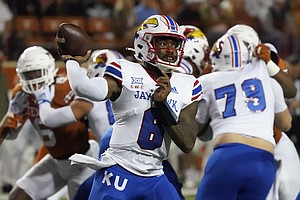 After Daniels played so well, the coaches knew they needed to find out whether the QB would be interested in diverting from the previous plan for his 2021 season, which was to redshirt. Leipold said he had "a lot of conversations" over the past few days, with offensive coordinator Andy Kotelnicki, quarterbacks coach Jim Zebrowski and Daniels, as well as the QB's parents.
"We told the family that we would respect their decision on what they want to do," Leipold said.
KU's head coach said the whole process was one of the more positive collaborative decisions he's been a part of.
The result of the Texas game and Daniels' role in it, of course, changed everything.
"He sees the momentum of what this team is doing, what it's done for our locker room and he's all in to help us build this program and he wants to play," Leipold said of Daniels' ultimate willingness to scrap a redshirt year and play in KU's final two games.
The start at Texas was the 6-foot, 215-pound QB's first of the season. Though Daniels competed with junior Jason Bean and senior Miles Kendrick for the starting job throughout the preseason, Bean won the top spot on the depth chart and went on to start KU's first nine games.
However, both Bean and Kendrick suffered injuries during the first half of KU's home loss to Kansas State on Nov. 6. That made it necessary for Daniels to finish that game at QB, marking his third appearance of 2021 as a reserve. When Bean's injury lingered in the days leading up to KU's trip to Texas, Daniels prepped for the potential start, and no one was sure whether he would play beyond that this season.
The 19-year old from Lawndale, Calif., hadn't started a game since 2020, when he spent most of the pandemic-shortened season as KU's No. 1 QB, even though he was a true freshman at the time. In seven appearances (six starts) a year ago, Daniels only threw one TD pass while going 76-for-152 (50%) through the air, with 718 passing yards and four interceptions.
This past Saturday, after completing 70% of his throws, not turning the ball over and hitting fullback Jared Casey for a high stakes two-point conversion to win the game, Daniels told reporters he's "definitely a totally different quarterback out there" this year.
The contrast in his abilities to execute as a QB, Daniels said, has to do with the mental aspect of playing the position.
"Being able to see blitzes coming pre-snap, being able to see coverages pre-snap, seeing what they're doing," Daniels said of how he has improved since his freshman year.
He now has a much better feel for what his receivers are about to encounter and what certain defensive fronts mean for the play KU is about to run.
"These are things that coming into college I had to learn," Daniels said. "I had to learn over time. Honestly, this offseason really did that for me."
If Daniels plays for KU at TCU on Saturday (3 p.m., ESPN+) as planned, it will mark his fifth appearance of the season, officially putting an end to the previous plans, because four is the maximum number of games for a redshirt player.
However, Daniels, like any player who was on a roster in 2020, can still take advantage of the NCAA's blanket eligibility waiver from the pandemic. That would allow him to enter the 2022 season as the equivalent of a sophomore, with three more full seasons left to play. Leipold also pointed out that if for some reason Daniels needed to redshirt in a future season, he still will have that option, as well.
Leipold said the initial decision to redshirt Daniels, which came earlier in the season, was not based on the young QB's play or talents. Rather, the coach said, the staff wanted to give him some extra time for his maturation process as a QB.
When it came time to revisit that idea over the past few days, Leipold said he didn't want to dictate to Daniels and force the QB to play. The coach wanted to go with whatever decision the QB thought was best for him, because Leipold wants his players to know they can trust their head coach.
"If I break that and tell him he has to play," Leipold said, "what does that do? What does it do to the locker room? What does it do for the future of the program?"
Leipold said the coaches were hoping Daniels would reach the decision that he did.
"It was one of the more unique balancing act decisions that I've had to make," Leipold said. "But I was very comfortable with how I stated it, because I know that I'm being true to the player himself."