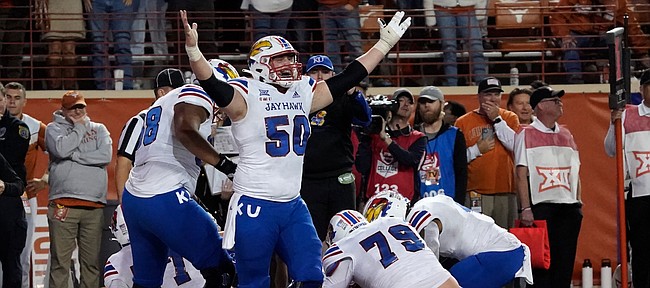 Kansas football head coach Lance Leipold didn't wait until Saturday night's game in Austin, Texas, was on the line to figure out how the Jayhawks would handle overtime.
"We made the decision early. If we scored, we were going for two — going for the win," Leipold told reporters after KU's dramatic 57-56 shootout victory at Darrell K. Royal-Texas Memorial Stadium.
Leipold said he resolved to take that route instead of the safer one — kicking an extra point for a tie — before the OT session even began. The head coach let offensive coordinator Andy Kotelnicki know ahead of time, too, that the Jayhawks would be going for two.
"I've got one," Kotelnicki responded.
The play Leipold's longtime O.C. had in mind wasn't specifically designed for seldom-used backup fullback Jared Casey. But when quarterback Jalon Daniels was pressured and had to make a throw on the move, Daniels found Casey in the front of the end zone to complete KU's upset bid — extinguishing the program's 56-game Big 12 road losing streak in the process.
A redshirt freshman walk-on from Plainville, Casey was on the field due to recent injuries — Mason Fairchild got hurt during the Texas game and fullback Spencer Roe suffered a season-ending injury at a recent practice.
It was the final play on an electric night for Daniels, KU's sophomore QB who made his first start of the season and went 21-for-30 passing, for 202 yards with four total touchdowns.
Daniels said he saw UT's man coverage before the snap.
"I knew I had a whip route and a corner to the right side. I ended up having to get flushed out the pocket, rolled out to the right. Saw Jared waving his hands wide open in the end zone. I just had to lob it over one defender. Jared made the catch and I was able to make a throw over somebody," Daniels said.
Casey, who grew up a KU fan, described it as an incredible moment.
"I just saw the play open up. I saw JD scramble out to the right. I was going to the right, and just popped in my hands, so it was a surreal moment," he said.
The must-have touchdown that made the winning two-point conversion possible for KU (2-8 overall, 1-6 Big 12) came from true freshman running back Devin Neal. It was one of many impact plays for Neal, who contributed 143 rushing yards on his 24 carries, scored three rushing TDs and also caught a TD pass from Daniels.
"We had a game plan going into the game obviously, and I think we executed it perfectly," Neal said after KU put up 420 yards of offense and converted 11 of 17 third downs.
"I give all the credit to the O-line, the big fellas up front," Neal added. "They worked their tails off all week. I respect those guys so much, and to see there in the trenches how hard they work — the bumps, the bruises, the grinding that they face every day."
Leipold said the night was filled with "so many gritty performances and plays" from the Jayhawks, who didn't turn the ball over and had four defensive takeaways.
Super-senior defensive end Kyron Johnson recorded two sacks, and both of them resulted in fumbles that KU recovered, too.
Freshman cornerback Jacobee Bryant delivered a pick-six late in the second quarter, and another freshman defensive back, safety O.J. Burroughs, intercepted a fourth-quarter heave in the end zone.
"We're David, they're Goliath, and we go out there and play," Leipold said of KU delivering as a massive underdog and ending his team's eight-game losing streak.
At halftime, the head coach said, the locker room discussion involved a game the Jayhawks felt like they should've won three weeks earlier, at home versus Oklahoma. They didn't finish off that upset bid after leading in the fourth quarter.
Saturday night against another traditional Big 12 power, KU came through, even after Texas forced OT and took its first lead of the game soon thereafter.
"They've been starving," Leipold said of his players. "It's one win. We've got to build on it. This'll be a great 24, 48 hours, but you've got to keep working at it. We've got to get back to work and see if we can finish this thing even stronger."
KU is right back in Texas next week for a road game at TCU (4-6, 2-5).