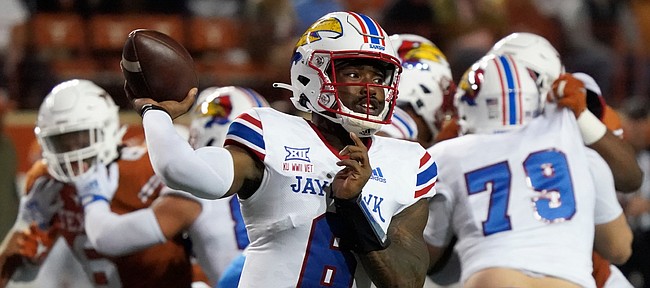 The Jayhawks didn't know for certain this past week whether junior quarterback Jason Bean, the Kansas football team's starter in each of the first nine games, would get the green light to play at Texas on Saturday night.
But when Bean wasn't able to play, the Jayhawks figured sophomore Jalon Daniels, who ended up making his first start of the season, was more than ready to step in.
"We're very fortunate to have him," KU head coach Lance Leipold said about Daniels earlier in the week.
Indeed, Daniels helped the Jayhawks win a 57-56 overtime thriller on the Longhorns' home field. Daniels threw for 202 yards, completed 70% of his 30 passes, and finished with four total touchdowns in the road upset.
After the win, Leipold summarized Daniels' showing in two words: "Outstanding. Amazing."
Even so, it remained unclear immediately after the Jayhawks' monumental win — their first Big 12 road victory since 2008 — whether Daniels will start next week.
The Jayhawks have just two games remaining, and if Daniels plays in one of them, he will not be able to use this as a redshirt season, which was the plan before injuries to both Bean and Miles Kendrick changed everything.
Asked after the game whether he will play next week at TCU, Daniels didn't want to address the matter at the time.
"I'm just going to enjoy the night," Daniels replied.
Leipold said earlier in the week he particularly appreciated that Daniels, who already had decided to redshirt, was willing to play, and possibly even burn his redshirt season in the process.
"Some guys would go, 'No, coach. I'm good. You told me we were doing this, and that's what I planned on.' He's looking at the longterm and he didn't bat an eye. He got ready," Leipold said of Daniels.
The sophomore QB from Lawndale, Calif., of course, had to come in unexpectedly on Nov. 6, when the Jayhawks lost both Bean and backup Kendrick to injuries in the first half against Kansas State. That emergency appearance marked Daniels' third game this year, and when he took over at QB at Texas on Saturday, it put him at four — the maximum amount of appearances anyone redshirting can make.
KU offensive coordinator Andy Kotelnciki said earlier this week that Daniels did an "awesome job" of stepping into a larger role when needed.
The Jayhawks' coaches thought during the preseason, when they were considering Bean, Kendrick and Daniels for the starting job, that they had depth at the QB spot.
"Well, that statement has been challenged here," Kotelnicki said of what transpired over the past week. "And it's shown to be, somewhat accurate in the sense that Jalon could come in, you know, cold off the bench, so to speak, and go in there and perform pretty well in the second half (versus K-State) for us."
KU's O.C. said Daniels followed that up with "a great week" of practice and preparation, too, leading up to the road game at Texas.
Running back Devin Neal has taken on a starring role for the Jayhawks as a true freshman this year, much in the way Daniels did in 2020, when he started six games for the Jayhawks.
"I'm so proud of the effort that Jalon has put in throughout this season to get himself ready for this point," Neal said earlier this week.
During practices this past week, Neal said Daniels took control with the offense and showed his leadership abilities while preparing to potentially start at QB again.
"He's a leader off and on the field," Neal said of Daniels. "He's charismatic and he's a big fiery guy. You just love to see it. He just takes command. And all the quarterbacks support each other, which you also love to see. And so, when you do get in situations like this, they're all prepared."
Leipold on Big 12's newest head coach
Leipold hasn't known newly named Texas Tech head coach Joey McGuire long. But as it turned out earlier this week, KU's head coach was among the first to congratulate the former Baylor assistant on his new gig.
Leipold said he saw some reports this past Monday morning that McGuire was close to taking over the Red Raiders' program, so KU's head coach texted to wish McGuire luck "if it was true." McGuire texted Leipold back to thank him, and let Leipold know it "was about an hour away from being official" at the time.
Tech announced McGuire's hiring on Monday, after firing Matt Wells in late October.
A Baylor assistant from 2017 until just last week, McGuire met Leipold for the first time earlier this season, when the Bears played in Lawrence in Week 3.
"He came up to me before our game against Baylor and introduced himself," Leipold shared. "He had worked for (former BU coach Matt) Rhule, and I got a chance to know coach Rhule when he was at Temple."
Leipold said McGuire, who is considered a high school coaching legend in Texas after a long career at Cedar Hill, has a "great" reputation in the college football world.
"It's really unique how these hires are (happening)," Leipold added of Tech hiring its next head coach while the season is still going on. "People are getting dismissed during the season and even now it's even taken another step, where these jobs are being filled with games to play."
McGuire joined Tech's athletic department upon being hired, and will completely take over the program at the conclusion of the season. Interim head coach Sonny Cumbie is remaining as the acting head coach until the Red Raiders' offseason begins.