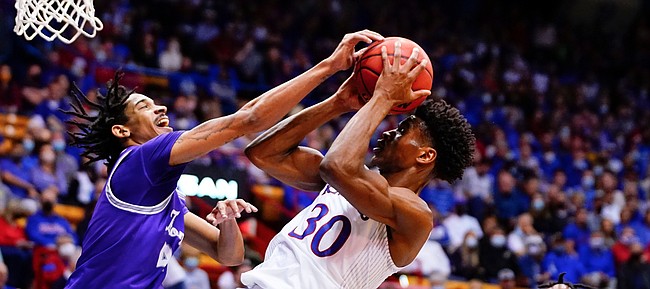 Kansas senior guard Ochai Agbaji continued to shine as the Jayhawks handled Tarleton State, 88-62, Friday night at Allen Fieldhouse.
Agbaji followed up his 29-point explosion against Michigan State earlier this week by putting up 25 in KU's home openr.
KU (2-0) had four players in double figures, as Christian Braun (15), Remy Martin (14) and Jalen Coleman-Lands (10) joined Agbaji.
Photo Gallery
Kansas basketball v. Tarleton State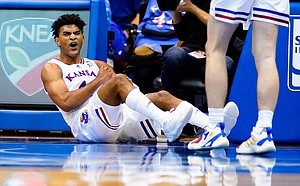 View a gallery of images from Friday night's game between the Jayhawks and Tarleton State at Allen Fieldhouse.
The Jayhawks shot 59% from the field, went 9-for-20 on 3-pointers and outscored the Texans, 40-34, in the paint. KU also controlled the glass, 41-25, with Braun and senior big man David McCormack grabbing 8 boards apiece.
The Jayhawks took their biggest lead of the game up to that juncture (15) about 8 minutes into the second half, when graduate transfer Coleman-Lands leapt out of bounds to save the ball, then hustled back onto the court to catch a pass in the corner and bury a jumper. Coleman-Lands was a perfect 4-for-4 from the floor in 12 minutes off the bench.
KU took a 39-31 lead into the locker room at halftime. The Jayhawks led by as many as 13 in the first half, but the Texans went on a 9-0 run to cut the deficit to four with less than seven minutes left.
The Jayhawks began to get back on track when freshman K.J. Adams came in off the bench and promptly energized the team with a put-back jam to ignite an 8-1 run.
With Agbaji (6-for-10, 13 points in the first half) leading the way, KU shot 50% from the floor in the opening 20 minutes.
Agbaji also led the way on the glass in the first half, grabbing 6 boards and helping the Jayhawks out-rebound the Texans, 22-14.
KU's 10 offensive rebounds boosted its energy, too. Braun had 3 offensive boards in the first half, while Adams and McCormack accounted for 2 apiece. But the Jayhawks only had 4 second-chance points in the first half.
The Jayhawks will have a six-day break before returning to action on Thursday vs. Stony Brook.