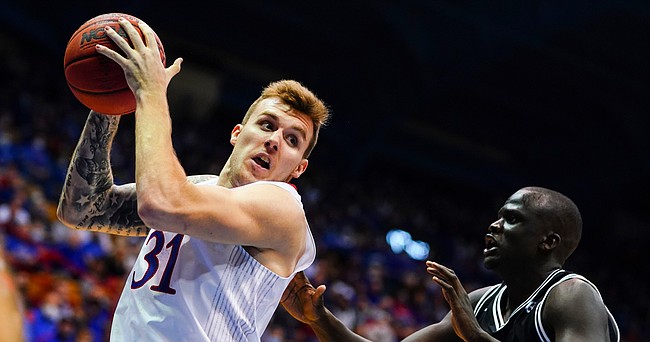 Kansas senior Cam Martin said Thursday that his decision to redshirt the upcoming season came down to wanting more time to improve his game and his body.
However, despite not being able to play a single minute or record any statistics for the Jayhawks this season, the super-senior transfer from Missouri Southern State University still plans to contribute to the team in any way he can.
"Just showing up to practice every day and making the guys better and making myself better, too," Martin said Thursday. "(That's) a thing we talked about; not just using this as a year off, but a year to take my game to a whole other level."
After talking with KU coach Bill Self about the pros and cons of redshirting shortly before the team left for New York, Martin said he came away convinced that this would be the best plan for him.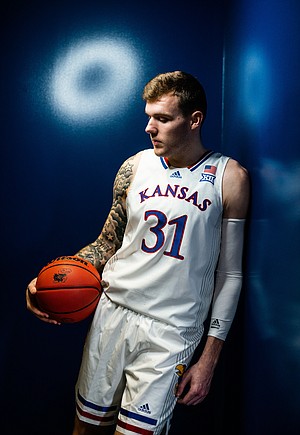 "It was my decision," he said. "I talked with my family and they want whatever's best for me and they supported my decision no matter what I do."
Self said that Martin's decision to sit out this season would benefit the Jayhawks in the future, as well.
With KU expected to lose big men David McCormack and Mitch Lightfoot to graduation after the season, Martin's presence on next year's roster will give the Jayhawks some experience in the front court.
Martin said the idea of a bigger role next season excited him, but he also said he was well aware that he would only get that if he continued to put in work the rest of this season.
Already down 20 pounds from the time he arrived, Martin said he's in the best shape of his life and is looking forward to continuing to add strength, agility and stamina to his game. An intense competitor, Martin said he would have to shift his competitive spirit from game nights to his sessions with KU strength coach Ramsey Nijem in the weight room.
"I'm excited to be able to work out with Ramsey for this whole year and continue changing my body," he said. "We talked about just using this time to guard on the perimeter, practice for a whole year working on switching ball screens, 1 through 4, and just working on lateral quickness."
Not playing while the rest of his teammates are will be a challenge for Martin. But he said his ability to stay locked into the action from the bench during the Jayhawks' season-opening win over Michigan State showed him it was manageable.
"I think it's going to be hard having to sit out a year like that just because I'm so competitive and I want to play so bad," he said. "But I'm just going to have to be there for my teammates to try and help them. I still want to win this team to win national championship so I'm going to do my part."
As for the academic side of the equation, Martin said his decision to stay in Lawrence for two years instead of one would give him the opportunity to complete the sports management master's program he's currently enrolled in.
The 23-year-old Martin said being in school for a sixth year was "probably the last thing I thought about," when he committed to KU, but he has embraced the idea entirely in the past week.
"I thought it was the best situation for me," he said. "Being able to just have a year playing against great competition and learning the system, learning how coach wants us to play. I just want to keep making strides to be the best version of myself."