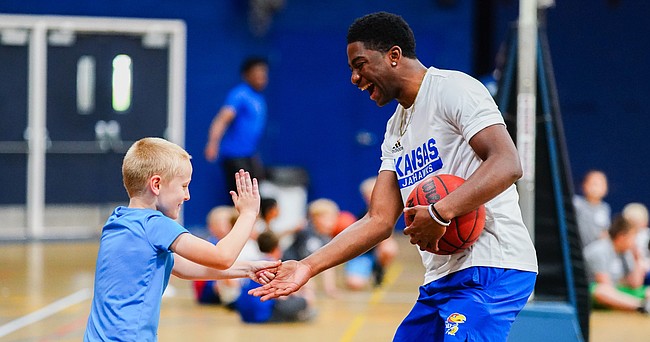 The Kansas basketball redshirt picture for the 2021-22 season is now clear.
Kansas coach Bill Self said after Friday's 88-62 victory over Tarleton State at Allen Fieldhouse that freshman guard Kyle Cuffe Jr. had decided to redshirt the season.
Cuffe did not suit up for Friday's home opener and also did not play in the Jayhawks' season-opening win over Michigan State in New York on Tuesday night.
Asked about Cuffe's preseason progress at Big 12 media day in October, Self said simply that the 6-foot-2, 180-pound guard was "not ready yet."
"He's doing fine, but he's not ready yet," Self said. "I don't mean that in a negative way. The kid should be a high school senior. He may be further along than what he thought he would be, but he's not ready to be an impact player for us, especially early in the season."
Cuffe joins super-senior forward Cam Martin and walk-on forward Dillon Wilhite as KU's redshirts this season.
Self announced Martin and Wilhite's decisions to redshirt prior to the Michigan State game. He said Friday that the decision by Wilhite should not be overlooked.
"I know you won't think that's a big deal with Dillon, but actually I think Dillon's going to be a pretty good player. Now I'm not talking about (Joel) Embiid or Markieff (Morris), but he's going to be a guy that will be an efficient player for us in a similar way that (former KU guard Conner) Teahan has been or somebody like that."
Meanwhile, Cuffe's decision to sit out the season gives him an opportunity to take full advantage of his age and still be on pace for a solid college career. Cuffe reclassified up into the 2021 class to come to Kansas a year early out of Blair Academy in New Jersey. The Harlem, N.Y., native is the son of former St. John's standout Kyle Cuffe Sr.