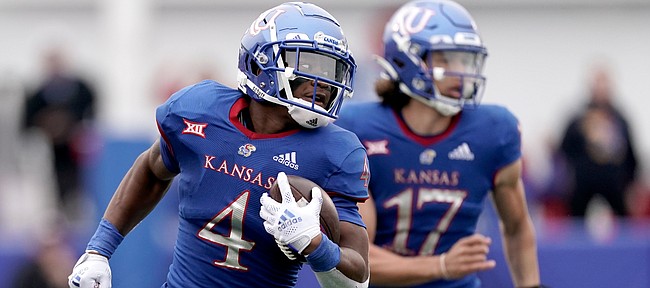 — Kansas (1-8 overall, 0-6 Big 12) at Texas (4-5, 2-4) • 6:30 p.m. kickoff, Darrell K. Royal Texas Memorial Stadium • Game-time forecast: 62 degrees, clear, 0% chance of rain • TV: ESPNU • Radio: KLWN, FM 101.7 / AM 1320
Keys for Kansas
1. Rediscover the run game
Regardless of whether it's Jason Bean or Jalon Daniels at quarterback for Kansas, the Jayhawks need to get back to effectively running the ball if their offense is going to stay on the field and have a chance to challenge Texas.
In each of the past two games — a blowout road loss at Oklahoma State and a 25-point home loss to rival Kansas State — KU totaled fewer than 100 yards as a team (99 on 33 rushes at OSU and 88 on 30 carries versus K-State).
The Jayhawks' starting running back, Devin Neal was limited to 25 rushing yards on nine attempts against the Cowboys and 62 yards on 19 runs vs. the Wildcats. In Neal's four previous starts — against Duke, Iowa State, Texas Tech and Oklahoma — he averaged 86 rushing yards a game and scored three touchdowns. In KU's two most competitive games in recent weeks, Neal topped 100 rushing yards vs. both Duke and OU.
KU head coach Lance Leipold said both OSU and K-State deserve credit for stymying the Jayhawks on the ground. But Leipold also said the run game needs to be better, otherwise the Jayhawks won't be able to achieve any type of offensive flow.
"When we've been able to do things, it's it's been a complementary type game," Leipold said.
Last week K-State stopped Neal in the backfield four times and tackled him before he could get farther than 2 yards on four other carries.
While KU offensive coordinator Andy Kotelnicki appreciates a big 60- or 70-yard run as much as anyone, he also emphasized that teams that are able to maintain drives and get first downs are consistently efficient with running the ball.
"And we're not quite there yet," Kotelnicki said. "But we're going to try. We're going to keep trying to make sure that we can establish that, because that's what's going to be necessary for the long term success of the program."
Neal, a true freshman from Lawrence High who leads KU with 505 rushing yards and four rushing TDs this season, said going back and watching video clips of his runs helps him reassess and prepare for the next game.
"I think we can all just look back and just see some few mistakes that we've all made on film," Neal said of KU's run game struggles the past couple of weeks. "Especially like me, I can create better running lanes for myself by setting up different blocks, and there are other things that are going on in the run game that we can do to clean up and then just make it more efficient, as well. But other than that, we've just got to keep focusing on on the little details on each and every play, and just keep trying to execute."
The Longhorns' run defense hasn't been as stout as Oklahoma State's or K-State's this season. UT is allowing 201.67 rushing yards per game and 5.2 yards per carry — both of which rank 116th out of 130 FBS teams.
2. Keep UT's QB situation unstable
First-year Texas head coach Steve Sarkisian said this week the Longhorns plan on playing both of their top two quarterbacks — redshirt freshman Hudson Card and junior Casey Thompson — against KU.
Most of this season, UT started Thompson, and Card played sparingly. But that changed a week ago,when Thompson struggled at Iowa State and Card came in to take over.
With the Longhorns' QB situation currently unsettled, the best thing the Jayhawks can do to keep UT out of rhythm is make sure neither QB ever gets comfortable.
Texas has allowed 2.56 sacks per game this season (87th nationally), so the Jayhawks, who average just 0.89 sacks a game (127th) might be able to apply more pressure than usual if Texas native and super-senior defensive end Kyron Johnson and his fellow pass-rushers can hold their own against UT's O-line.
Card, a 6-2, 200-pound QB who started the first two games of the season, enters the weekend having completed 38 of 62 throws (61.3%), for 415 yards, with three TDs and no interceptions. Thompson, a 6-1, 200-pound QB who started the previous seven games, has gone 114-for-181 (63%) through the air, for 1,556 yards, with 17 TDs and six interceptions.
Said Leipold of UT's two-QB approach: "I look at it as they're using both (QBs) to the best of their abilities of what they can do. There's a lot of similarity, yes, carryover. And I know that they've got themselves two productive quarterbacks, and we have to be prepared for both of them."
Borland said facing multiple QBs this week hasn't impacted the defense's preparation.
"I don't think they did anything significantly different depending on whoever was playing. I just think they have a system that they use. Maybe each guy has a strength or something like that, but didn't really see a whole lot of difference in most of what they were trying to do," Borland said. "So we're preparing for whoever shows up and is out there. We'll be ready."
3. Take the next step defensively
No one in the KU football program is boasting about the way the defense played last week against K-State, in a 35-10 home loss. But Borland said there were some positive signs.
"One of those things I think is there were several plays that we had actually fitted up and defended pretty good," KU's D.C. said.
The problem many times, though, was finishing the play.
"Getting the guy to the ground, sometimes that doesn't always equate," Borland said of the defense, which tied its season-low by giving up 14 second-half points, a number the defense had failed to duplicate or improve upon since the season opener, when South Dakota also scored 14 points in the second half.
"In terms of doing what we wanted to do versus what they were doing and being in the right spots, I thought we had several plays that we (did that). Again, we just didn't finish them all," Borland said of the defense in the loss to K-State, when the Wildcats produced 499 yards of offense.
Now the Jayhawks have to improve upon those bright spots and make sure they're executing on tackles — especially if UT running back Bijan Robinson, who is a gametime decision after a neck injury, is available. Robinson through nine games has 1,057 rushing yards (5.8 yards per carry) and 11 touchdowns, plus 23 catches for 247 yards and three TDs.
"Being in the right spot and understanding an offensive scheme and knowing what your fit is is important, and I feel like we're getting better in that area," Borland said.
"Again, got to finish those plays off sometimes with tackles and different things," he reiterated.
Prediction
Texas 41, KU 17