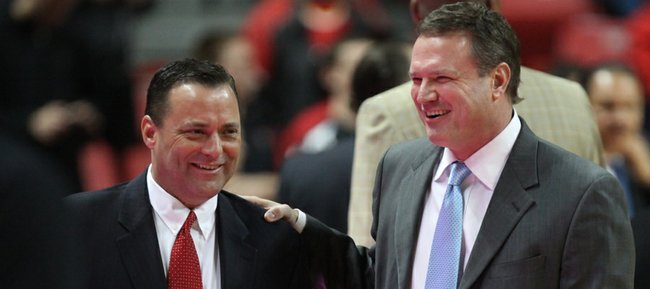 While last year's opportunity at a reunion with longtime friend Billy Gillispie was erased because of a COVID-19 issue, Kansas coach Bill Self said Thursday that KU promised to put Gillispie's Tarleton State squad on this season's schedule as soon as the 2020 game was canceled.
So, after an 11-month wait to match wits, Self and Gillispie will square off as foes at 7 p.m. Friday night at Allen Fieldhouse. The game will be televised by Big 12 Now on ESPN+.
It will mark the first time since 2012, when Gillispie was at Texas Tech, that the two friends and former colleagues are standing on opposite benches in the same game.
And Self said he told his team to prepare for a fight.
"They're very small and they're very quick and they're very aggressive," Self said of the Texans. "Billy's got a good team. They're capable, and they try their butts off. He'll have them jacked to play here."
In their 12-point, season-opening loss at Stanford earlier this week, the Texans started five players who stand 6-foot-6 or shorter. Self said that lineup and Gillispie's general philosophy will make it hard for the Jayhawks to play big in this one.
Beyond that, Self pointed out that Tarleton State actually led Stanford by two at halftime on Tuesday night before getting outscored 38-24 in the second half of a grind-it-out, low-possession type of game.
"They can all dribble drive it and create mismatch problems offensively, and, on the flipside, they pressure so much that sometimes you forget about your bigs," Self said. "It'll be a hard game."
Self had Gillispie, whom he calls by his middle name, Clyde, on his staffs at both Tulsa (1997-2000) and Illinois (2000-02) and said that he saw several staples of his program show up on teams that Gillispie later led at UTEP, Texas A&M;, Kentucky and Texas Tech from 2000-12.
Asked for one of his favorite memories of their time together, Self shared a quintessential Gillispie moment, which took place in the days leading up to the Illini's Sweet 16 matchup with Kansas in early 2000s.
"He had the (scouting report) and he was talking about how cocky Kansas was," Self said. "Walking around, strutting around like they think they invented the game. And then he said, 'Oh, wait a second. Maybe they did.' That's kind of Clyde in a nutshell. He's an ultra-competitive dude."
Here's a quick look at a few keys for Kansas in Friday's matchup with Gillispie and the Texans.
• Get McCormack going
KU senior David McCormack got off to a slow start in Tuesday's win over Michigan State. He finished with 10 points (on 11 shots), but grabbed just two rebounds. Self said Thursday that he wants to see more from McCormack on the defensive end because his size, strength and opportunity should create endless opportunities on offense.
"Bigs have to play big," Self said. "I'll talk to Dave (and say), 'Just worry about doing the simple things, running, rebound, playing to your size and you'll score points."
McCormack said that mindset was something that he already had committed to in the aftermath of Tuesday's game.
"It's always just about how you respond, how you grow from it," he said. "And that's what I'll continue to do."
• Be strong with the ball
If you're trying to get your brain around Tarleton State's defensive attack, picture five Dajuan Harrises on the court at the same time.
That type of in-your-face, relentless pursuit of both the basketball and superior positioning is the preferred style for Gillispie's team, and it has a tendency to wear opposing ball handlers down.
Kansas did well in the opener in that department, giving up just nine turnovers against Michigan State. McCormack said that was the product of the coaching staff emphasizing ball security during the preseason. But Self attributed at least some of it to Michigan State's willingness to sit back on defense rather than extend its defense out high.
That may be part of the reason," Self said. "But I do think we did a decent job of handling the ball."
In two games so far this season, TSU has forced an average of 19.5 turnovers per game.
• Avoid a letdown
The Jayhawks have two things going for them in this department that should keep them from overlooking the Texans.
The first is the desire to play well in front of a rabid bunch of Kansas fans in their home opener at Allen Fieldhouse. The second is the fact that their head coach has the utmost respect for the opposing coach and his ability.
Still, human nature being what it is, it's not hard to see how the Kansas players could look at this game as being in a completely different universe than the season opener at Madison Square Garden against a two-time national champion program led by a Hall of Fame head coach.
Beyond that, Self said he thought his team was tired after traveling to New York, but he stopped short of using that as an excuse because he realizes that Tarleton State, which is located in Stephenville, Texas, just traveled to traveled to and from the opposite coast on the same time frame.
"We're probably a little tired," Self said. "But, you know, they played in Palo Alto (Calif.) and they flew commercial so they may be tired, too.
"He gets them to play so hard, and they all buy in," Self said of Gillispie. "He'll be really successful there."
Now in his second season of leading the former Division II program into the Division I ranks, Gillispie is off to a 10-11 start at TSU.
The Jayhawks (1-0) are ranked third in both the Associated Press poll and the KenPom.com rankings, while Tarleton State is ranked 214th by KenPom. That's 125 spots higher than TSU was ranked heading into their scheduled meeting last December.
Probable Starters
No. 3 Kansas
G – Dajuan Harris Jr., 6-1, 180, Soph.
G – Remy Martin, 6-0, 195, Sr.
G – Ochai Agbaji, 6-5, 210, Sr.
G – Christian Braun, 6-6, 205, Jr.
F – David McCormack, 6-10, 265, Sr.
Tarleton State
G – Montre Gipson, 5-11, 200, Sr.
G – Shamir Bogues, 6-4, 190, Soph.
G – Shakur Daniel, 6-6, 185, Sr.
G – Freddy Hicks, 6-6, 210, Soph.
G – Jonathan Jackson Jr., 6-6, 230, Sr.