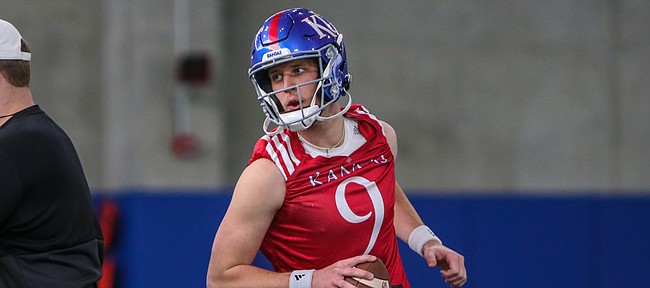 Two of the least experienced quarterbacks on the Kansas football roster aren't expected to be needed any time in the final weeks of the season. But that doesn't mean freshmen Conrad Hawley and Ben Easters are taking an idle approach to their development.
The two QBs KU signed in its 2021 recruiting class, both Hawley and Easters are redshirting during their first year with the Jayhawks. Offensive coordinator Andy Kotelnicki described them as "two young guys who quite honestly have a passion to improve," adding that the first-year college QBs are "super, super coachable."
Though KU is dealing with significant injuries in the QB room, with Miles Kendrick out for the season and starter Jason Bean trying to be healthy enough to play on Saturday at Texas (6:30 p.m., ESPNU), there are still other QBs ahead of the freshmen on the depth chart.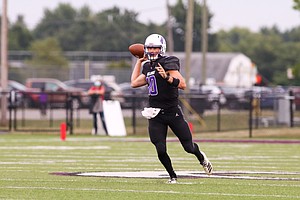 Sophomore Jalon Daniels, who started for KU in six games as a true freshman in 2020, will fill in for Bean in the starting lineup this week if necessary. And if Bean can't play, redshirt senior walk-on Miles Fallin will back up Daniels.
Kotelnicki said KU's quarterbacks coach, Jim Zebrowski, is always hearing from Hawley and Easters that they want extra work after practices, and the staff is happy to see that and offer ways to help facilitate those requests.
"They're hungry to improve their craft and their game," Kotelnicki said.
A 6-foot-5, 220-pound QB from Raymore, Mo., Hawley was rated a three-star prospect by Rivals in the Class of 2021. Easters, a 6-3, 210-pound QB from Brownsburg, Ind., also received a three-star grade.
Both QBs graduated from high school early and were able to enroll at KU this past spring, enabling them to train and practice with the team months in advance of most of the incoming freshmen.