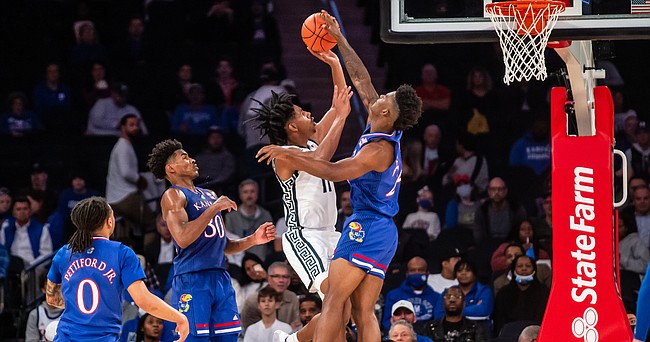 New York — On a night when Kansas senior Ochai Agbaji carried the Jayhawks' offense, three freshmen playing the first game of their careers showed that this KU team already has reliable pieces on the bench.
"The young guys were perfect," junior guard Christian Braun said in a social media interview after the victory. "Those guys came in and provided energy and that's what we're going to need. It's going to take them a while, but if they're this good, this early, we're going to have a really good team."
Playing in their first games as Jayhawks, at world-famous Madison Square Garden, forwards KJ Adams and Zach Clemence, along with guard Bobby Pettiford, all provided highlight plays and memorable moments for the third-ranked Jayhawks.
And each did it in his own unique way.
"Bobby's and-one, Zach's 3 and then KJ's block," a smiling Agbaji said after the victory.
While those three plays were the signature moments, there were others, too. Pettiford dished a nifty slip pass to Clemence for an easy layup to put the Jayhawks up 32-31 late in the first half and Kansas never trailed again.
Two possessions later, Pettiford's hard drive for the layup and the foul made it 37-31, and that came just a few minutes after Clemence buried a 3-pointer on his first college attempt and then went full-Broadway with his celebration near mid-court.
Photo Gallery
KU basketball vs. Michigan St. — Champions Classic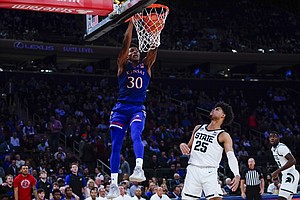 KU basketball vs. Michigan State at the Champions Classic, in New York, on Nov. 9, 2021
"I hit that 3 and it was an experience I've never had before," Clemence said after the game. "I don't even know how (to describe it). Something about my body just went crazy."
The freshman surge to end the half was punctuated by a block at the buzzer by Adams that sent the Jayhawks to the locker room with even more momentum than their 39-32 lead had already given them.
KU's leading scorers, Agbaji (29 points) and Remy Martin (15), agreed that Adams' block of AJ Hoggard at the buzzer was their favorite of the freshman moments on Tuesday night.
And Adams later delivered another hustle play, running down a loose ball in the corner and saving it to Braun, who went up between two MSU defenders for a hangtime layup that put Kansas ahead 63-52 with 11:06 to play.
Kansas coach Bill Self praised all three for their contributions after the game, marveling at Clemence's efficiency in just four minutes, calling Adams' hustle plays "unbelievable" and saying that Pettiford was "really good."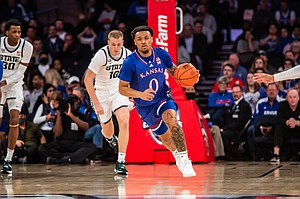 That feedback was nice for the young trio on game night, but Pettiford said it has been there throughout the preseason, as well.
"Coach, he puts that confidence in us," Pettiford said. "He told us he trusts us with the offense, he trusts us to make plays, he trusts us coming in and giving us productive minutes."
The fact that they were able to do it on such a big stage against an opponent of the caliber of Michigan State merely added to the experience for the first-time Jayhawks
"First ever college game in the Garden against Michigan State; I played pretty well, I was productive so, I mean, it was fun," Pettiford said. "Even when we got in here for shoot-around, I was like, 'I'm really in the Garden.' My favorite team is the New York Knicks, so it's crazy."
Added Clemence: "Man, it was great just to be in the arena. (It was my) first time in New York, actually. It was just a great experience. I wasn't nervous, I was just out there playing. The freshman squad's looking good. We're going to have a good future."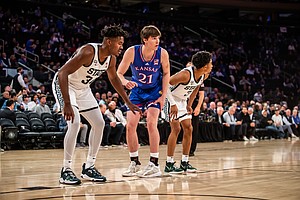 After the victory, Agbaji, Braun and Martin all said they could not have asked for anything more from the newcomers.
"They did what we ask them to do," Agbaji said. "Come in, bring energy, make plays. Whether that be scoring or rebounding or blocking shots, they did exactly what we ask them to do."
Added Martin: "Those guys, they put in the work, as well. That's what a team is."