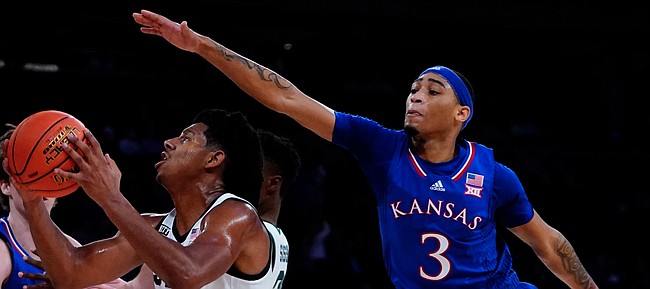 The No. 3-ranked Kansas basketball team lived up to its preseason billing in its season debut Tuesday night at Madison Square Garden, where the Jayhawks handled Michigan State, 87-74.
A four-point game five minutes into the second half of the Champions Classic matchup in New York, the Jayhawks began to pull away as two of their starting guards led a surge.
Senior guard Ochai Agbaji at times was unstoppable, en route to a career-high 29 points on 9-for-17 shooting, with no turnovers in 36 minutes.
When KU was able to pair Agbaji's breakout performance with the brand of basketball that made Remy Martin one of the most important transfers in the country, there wasn't much the Spartans could do to keep pace.
Martin's first official shot attempt as a member of the KU basketball team didn't come until the second minute of the second half, as Martin came off a screen to bury a deep 3-pointer. The former Arizona State star didn't need any more reminder than that to go back to his veteran scorer ways. Martin produced all 15 of his points in the final 20 minutes.
The Jayhawks only turned the ball over nine times and shot 48% from the field. KU won points in the paint, 44-40, but got outrebounded, 37-30.
KU improved to 6-5 all-time at the Champions Classic, and 2-2 against Michigan State in the event.
KU led, 39-32, at halftime, despite Big 12 preseason player of the year Martin going scoreless — he didn't attempt a shot in 11 minutes — in the opening half of action.
Photo Gallery
KU basketball vs. Michigan St. — Champions Classic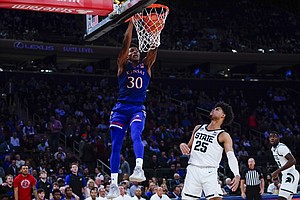 KU basketball vs. Michigan State at the Champions Classic, in New York, on Nov. 9, 2021
Agbaji carried the load offensively in the opening 20 minutes of the season. The senior guard from Kansas City, Mo., was the only player in the game to reach double figures before intermission, as Agbaji put up 12 points on 2-for-5 3-point shooting and got to the foul line (4-for-4).
The Spartans outscored KU, 20-16, in the paint in the first half, helping them keep up with the Jayhawks. KU, meanwhile, took advantage of MSU's 11 first-half turnovers, converting those chances into 12 points.
Michigan State won the battle on the glass in the first half, 19-12 — KU's bigs combined to grab just three rebounds and David McCormack had zero boards in 10 minutes. KU's starting senior big finished with 10 points, tw rebounds and two blocks.
Coming off the victory in their season-opening marquee matchup in New York, the Jayhawks (1-0) return to Allen Fieldhouse on Friday for their homeowner versus Tarleton State.