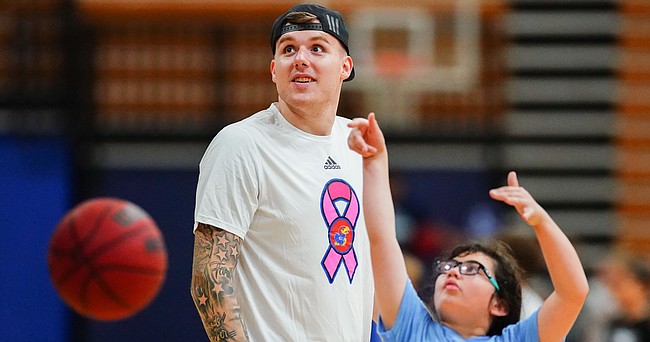 New York City — Super-senior forward Cam Martin did not play during Tuesday's 87-74 victory over Michigan State at Madison Square Garden because he has decided to redshirt this season.
Kansas coach Bill Self announced the move during his pregame radio appearance.
A 6-foot-9, 230-pound transfer from Division-II Missouri Southern State, Martin was a multi-time All-American for former KU guard Jeff Boschee at MSSU.
He committed to Kansas this summer and was expected to bring both size and 3-point shooting to KU's lineup.
Now, he'll move forward with his career with time to make the adjustment to major college basketball while also providing KU the Jayhawks with a veteran presence in the front court for the 2022-23 season.
"Cam wants to redshirt, and I think it's a good idea because at least it gives us a veteran guy coming back next year," Self said after the victory. "And Zach (Clemence is) kind of coming (on)."
Photo Gallery
KU basketball vs. Michigan St. — Champions Classic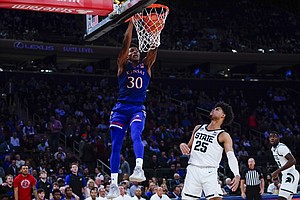 KU basketball vs. Michigan State at the Champions Classic, in New York, on Nov. 9, 2021
With Martin not in the lineup on Tuesday, senior forward Mitch Lightfoot played 10 minutes as David McCormack's primary backup, with Clemence logging just under five minutes of court time.
The two reserves combined for 11 points and four rebounds and contributed a handful of energy and momentum-changing plays, as well.
"I thought Mitch played pretty well, he just fouls a lot," Self said. "But Mitch gave us some nice minutes."
Champions Classic record
Tuesday's win moved Kansas to 6-5 in Champions Classic history. The Jayhawks have won five of their last six games in the event, with the only setback being a two-point loss to Duke in 2019.
KU's season-opening victory evened its record against Michigan State in the event at 2-2.
Kansas now leads the all-time series with MSU, 8-7. The series dates back to 1960.
Ochai moves up a spot
Tuesday's start moved KU guard Ochai Agbaji into a tie for 11th place — with former KU center Greg Dreiling — on KU's all-time consecutive starts list, with 78.
Dating back to a regular season game at Texas on Jan. 29, 2019, and carrying through into his senior campaign, Agbaji has started every game for the Jayhawks during the past two and a half seasons.
"I can remember that moment when I was getting introduced at Texas," Agbaji said recently, when asked about the streak. "It was a big deal. And from then on it was just like, 'All right, you're expected to start.'"
After initially planning to redshirt, the 6-foot-5 guard from Kansas City, Mo., started the final 16 games of his freshman season in 2018-19. He followed that up by starting all 31 games during the 2019-20 season and all 30 a season ago.
"I've never really thought about that (but) 77 games is a lot of games, a lot of starts," Agbaji said. "I'm just trying to continue that and stay healthy throughout the season."
Next on the list within Agbaji's reach is Devonte' Graham, who sits in 10th place with 82 consecutive starts. Kansas legend Danny Manning owns the school record at 141, from 1985-88.
Jayhawks vaccinated
The Kansas men's basketball team arrived in the Big Apple on Monday evening with a roster full of coaches and players who were fully vaccinated.
Self said on his "Hawk Talk" radio show last Thursday that many players and staff members had even received their booster shots.
"Some of our athletes, if not all, had that available (on Thursday)," Self said. "Maybe not every one of our guys got it, but the majority of our guys got a booster as well."
While the vaccine status of players throughout sports has been a hot-button topic in recent weeks, it took on significance for the Jayhawks because of the rules in place at Madison Square Garden.

According to the Garden's website, the arena is following the "Key to NYC" vaccination requirement, which went into effect in mid-August. It requires individuals to show proof of vaccination to gain entrance to all of the city's entertainment venues.
Champions Classic extended
Early Tuesday, ESPN announced a three-year extension of the Champions Classic, carrying the season-opening tipoff event through at least 2025.
Kansas will play Duke in Indianapolis next year and then will face Kentucky in 2023, Michigan State in 2024 and Duke in 2025. Sites for those next three matchups have yet to be announced.
Prior to Tuesday's matchup with the Spartans, Self again sang the praises of the neutral-site doubleheader that debuted in 2011.
"It's a great way to tip off the basketball season," Self said. "All eyes (are) on the four teams that are playing there. You do this for a long time because there's certain things that kind of get your motor running and your juices flowing. This is a great way to do that, not only with players, but for coaches, as well."
3 on Naismith watch list
Kansas seniors Ochai Agbaji, Remy Martin and David McCormack were three of the 50 players named to the 2022 John R. Wooden Award Preseason Top 50 on Tuesday.
KU is one of three schools with three players on the list, joining UCLA and Gonzaga.
The trio of Jayhawks who also were named first-team all-Big 12 preseason picks are vying to join Danny Manning (1988) and Frank Mason III (2017) as KU Wooden Award winners.
This and that…
Tuesday's victory improved Kansas to 1-0 for the 16th time in Self's 19 seasons… Former Jayhawks and current New York Knicks Wayne Selden Jr. and Quentin Grimes were in attendance at Tuesday's game… Self played 11 players on Tuesday night and all of them played at least 3:46 or more.