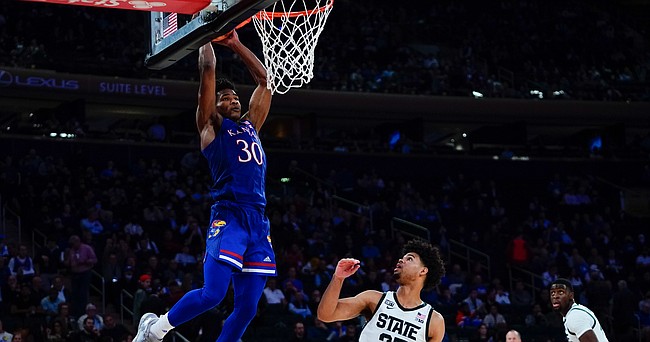 New York — Kansas senior Ochai Agbaji recently admitted that he occasionally found himself daydreaming about what life would be like right now if he had elected to jump to the NBA instead of returning to college.
Tuesday night, inside an NBA arena, no less, Agbaji showed beyond a shadow of a doubt that the college game still suits him just fine.
Playing like a man possessed and a wily veteran on a court with a bunch of youngsters, the senior from Kansas City, Mo., exploded for a career-high 29 points to lead third-ranked Kansas past Michigan State, 87-74 at the Champions Classic at Madison Square Garden.
Agbaji's 29-point outburst was the eighth 20-point game of his career and the highest single-game total scored by a Jayhawk at the Champions Classic.
In the 11-year history of the event, just seven other Jayhawks have topped 20 points in a Champions Classic game.
To put that in perspective, Agbaji is now averaging 20.3 points per game for his career at the Champions Classic.
"He was terrific tonight," Kansas coach Bill Self said after the victory. "He's had some big games in the past, but I don't know if he's had a bigger game on a bigger stage (under) bright lights. We had a lot of individuals labor from an offensive stance, and he just basically carried us. I was really happy for him and he was really good."
Agbaji shot 9-of-17 from the floor, 3-of-6 from 3-point range and cashed all eight of his free throw attempts.
He finished in traffic, dropped in three highlight-reel dunks and even added two steals and a couple of rebounds to his final stat line.
After each of the dunks, Agbaji flashed something that was not always there in the past — attitude.
Whether it was the look of being amused or energized by the big finish or even the cockier version, which carried with it the body language that seemed to say, 'This game's too easy,' Agbaji's performance was befitting of a senior leader who was projected to be an all-conference player during the preseason.
"There's still another step he has to take in order to be an elite player," Self said. "And that is he's got to become an assassin. He certainly did that tonight."
The act was so convincing that freshman guard Bobby Pettiford made sure to take time out to tell Agbaji on the court exactly what he thought of his big night.
"I told Ochai he's the best player in the country," Pettiford said. "And I truly believe that. (I told him that) on the court because I wanted him to close the game out. He's our best player, so let's get this win."
Photo Gallery
KU basketball vs. Michigan St. — Champions Classic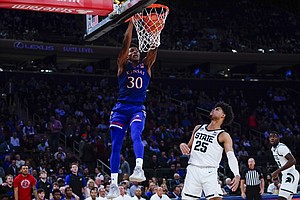 KU basketball vs. Michigan State at the Champions Classic, in New York, on Nov. 9, 2021
Added fellow-freshman Zach Clemence, offering his perspective of Agbaji's night: "Ochai's crazy. He's just a freak. He's an unbelievable player."
Clemence and Pettiford, along with fellow-freshman KJ Adams, all contributed to Tuesday's victory, be it on offense or defense. In his postgame meeting with the media, Agbaji listed one key play made by each and settled on Adams' vicious block at the halftime buzzer as his favorite of the bunch.
KU point guard Remy Martin agreed.
Asked if he knew Agbaji had a game like Tuesday's in him, Martin — Agbaji's roommate — laughed at the question.
"Yeah, man. I practice with this guy all the time. And the stuff he does in practice, he deserves it," said Martin, who tallied 15 points and six rebounds after a strong second half. "He puts in the work and he can have a night like that any night. He's just a player."
Through all of the superlatives that described a sensational opening night by KU's most experienced player, Agbaji was the first to give credit to those praising him.
At no point during Tuesday's victory did he ever think about his night, his numbers or what he was doing to put up numbers. His goal, like that of his teammates, was simply to find a way to score one more point than the Spartans (0-1).
"Just lead my team, will my team," he said of his mindset on Tuesday night. "They all trust me and kept me confident throughout the game. It's just great knowing that they have my back."
After a back-and-forth first half ended with Kansas (1-0) leading by seven at the break (39-32), Agbaji found a way to spark some separation.
He finished a lob out of a timeout to put Kansas back up five after MSU had wrestled away the momentum and trimmed the Kansas lead to three. And he followed that up with a steal and a one-handed hammer dunk to bump the lead back to seven. Just like that, all of the work the Spartans had done to cut into the halftime lead was erased. Less than five minutes later, the Jayhawks were up by double-digits and they never looked back.
The signature moment of Tuesday's victory came with 9:25 to play, when Christian Braun (six points, eight rebounds in 34 minutes) hit Agbaji for a transition lob that put the Jayhawks up 69-54.
The two delivered drastically different reactions to the play.
Braun roared like a mad man toward the Kansas bench as the Garden crowd joined him. And Agbaji, the senior version who learned so many valuable things from his NBA combine experience this summer, responded with a slow-motion walk and smirk.
He knew the game was over at that point. And everyone in the building probably did, as well. It was moments just like that, and the joy that comes with them, that aided Agbaji in making his decision to come back to Kansas for one more run.
"For this," he said of the reason behind his return. "To be on this stage, be in this moment and lead my team and will my team to a win."