The Kansas football offense lost two key reserves to season-ending injuries this past weekend, head coach Lance Leipold revealed on Monday.
Leipold said during the Jayhawks' loss to Kansas State, both redshirt senior quarterback Miles Kendrick and redshirt sophomore running back Torry Locklin suffered "lower leg injuries." Neither will be healthy enough to play during the final three weeks of the season.
What's more, Leipold disclosed during the Big 12 coaches' media teleconference that starting QB Jason Bean, who also got hurt during the K-State game, didn't practice on Monday morning and is considered "questionable at best" for Saturday's road game at Texas (6:30 p.m., ESPNU).
Kendrick was Bean's backup before he got hurt, so that leaves sophomore QB Jalon Daniels — whom the Jayhawks were planning to redshirt this year — as the possible starter for this week's game versus the Longhorns (4-5 overall, 2-4 Big 12).
Whether KU will still be able to redshirt Daniels this year — so far he has played in three games, and four is the limit for a redshirt season — remains undetermined at this point, Leipold said.
If Bean is able to return and play either this week or next, Daniels could still potentially avoid playing in five games.
"We're still hoping to (redshirt Daniels)," Leipold said. "But Jalon understands the situation, as well."
Kendrick only appeared in four games for KU this year, going 12-for-18 as a passer, with two touchdowns and one interception to go with his 106 passing yards. Kendrick came in late in the Jayhawks' loss to Texas Tech on Oct. 16 and helped KU avoid a shutout, leading the offense on two late-game TD drives.
Locklin's season ended with him as KU's third-leading rusher (117 yards), behind starting running back Devin Neal (505) and Bean (399). Locklin averaged 3.3 yards per carry and scored two TDs — both of them coming at Duke in Week 4.
Both Bean and Kendrick got hurt and had to be carted out of the stadium during the first quarter of KU's home loss to rival K-State (6-3, 3-3). Bean tried to reenter and play through pain after Kendrick got hurt, but ultimately Bean wasn't close enough to 100% to keep going, and Daniels played quarterback for the Jayhawks' final five possessions, beginning in the second quarter.
Seeing significant in-game reps for the first time since 2020, when Daniels started six of KU's nine games as a true freshman, the 6-foot, 215-pound QB from Lawndale, Calif., went 13-for-19 against K-State. Daniels threw for 105 yards and one TD, with no interceptions and one sack.
Earlier this year, Daniels came in late during blowout losses to Coastal Carolina and Baylor.
How close is Bean to returning?
Leipold said it's "too early to tell" how soon Bean will be able to return to action.
"He was dressed for practice today, but did not do anything," Leipold said. "So we'll wait and see."
The starting QB for the Jayhawks (1-8, 0-6) throughout this season, Bean has completed 102 of his 182 passes (56%), with six touchdowns and six interceptions. Bean is averaging 139.1 passing yards a game and 44.3 rushing yards a game.
As of Monday, Leipold described Bean's status for the game at UT as "questionable to doubtful." Leipold said he may have more information on Tuesday, at his weekly press conference.
Who's backing up Daniels?
If Bean is unable to play this week at Texas, and Daniels starts at QB, Leipold knows who the No. 2 QB will be.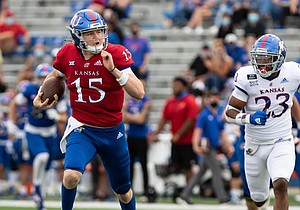 "Miles Fallin took reps today," Leipold said after Monday's practice.
A 6-6, redshirt senior walk-on from Canyon Country, Calif., Fallin has only appeared in one game as a reserve since joining the Jayhawks in 2017, and has yet to attempt a pass or record any statistics.
"Miles Fallin has been an outstanding squad member," Leipold said, "as far as a team guy, stays locked in — all the things you want. He's very mature. So he's next man up after (Daniels)."
Neither of KU's true freshman QBs from its 2021 signing class — Ben Easters and Conrad Hawley — have appeared in a game this year, and will both be able to redshirt, even if one or both had to play in one of KU's three remaining games.